Pandora Loses Nearly 2 Million Listeners In October…
Does this look 'resilient' to you?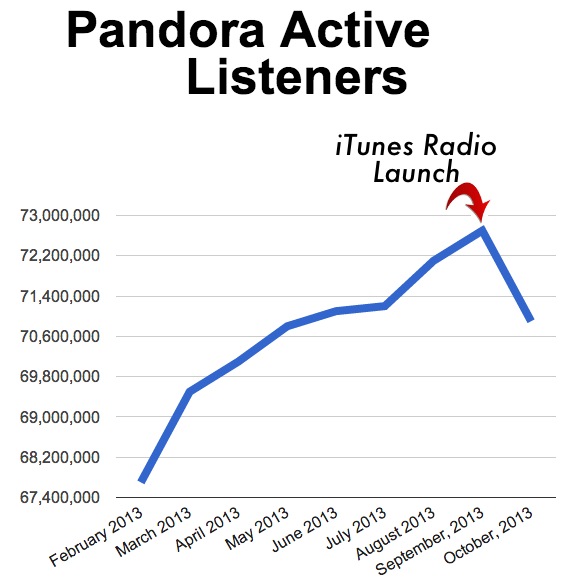 Pandora's CFO Michael Herring says listening hours have actually improved after iTunes Radio's launch.  The only problem is that active listeners are eroding, while iTunes Radio's active users are absolutely surging.
Which might explain why Pandora is contacting nearly every major media outlet and investment group to prove that Apple isn't having any meaningful impact.  "October data was in line with our expectations and showed the resilience of our business," Herring assured investors at a Morgan Stanley investor conference.
All of which begs the important question: if iTunes Radio isn't a threat, why is Pandora spending so much time telling us that iTunes Radio isn't a threat?
Here, you decide if this looks 'resilient' or not.
Pandora Numbers, October 2013.
(source: Pandora)
Active Listeners: 70.7 mm (down 1.8 million, 2.5%)
Total Listening Hours: 1.47 billion (up 9%)
Total Share of US Radio Listening: 8.06% (up from 7.77% in September).
Total Time on Market: 9+ Years.
Countries: US, Australia, New Zealand; no further expansion on roadmap.
Licensing Status: Insecure (hostile rights owners, massive Congressional and federal court campaigns to lower federally-determined rates).
Latest iTunes Radio Numbers
(source: Apple)
Total Time on Market: 5+ weeks
Active Listeners: 20 million (already 28.3% of Pandora's total)
Total Share of US Radio Listening: No data available.
Countries: US, expanding into UK, Canada, Sweden, Norway, Denmark, surrounding European countries by 2014; 100+ countries over the next several years.
Licensing Status: Secure (directly-negotiated deals with top content owners on recording and publishing sides).