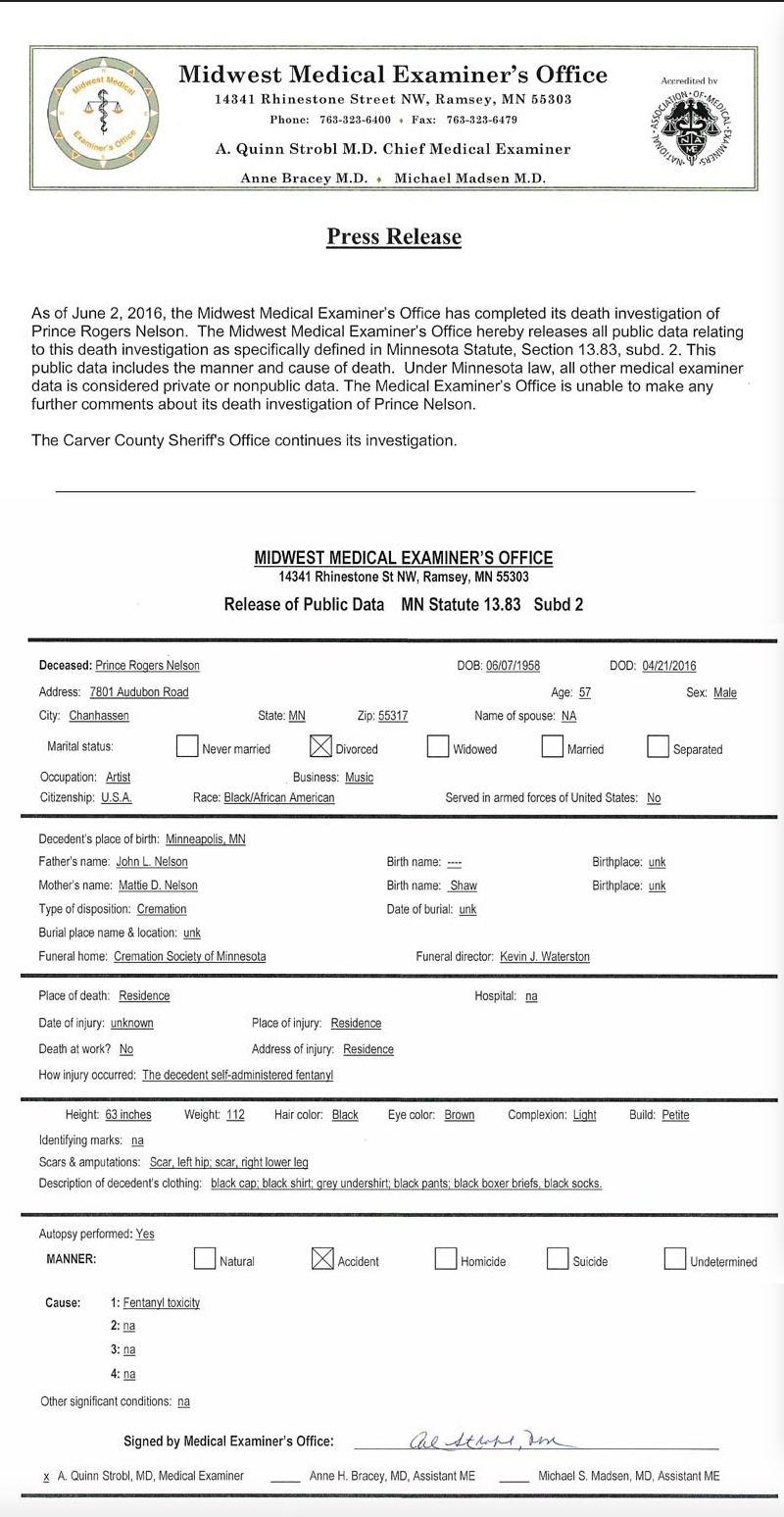 A number of critical details have now been confirmed, including the specific drug that killed the singer.
Specifically, the official cause of death is listed at 'Fentanyl toxicity,' i.e., a drug overdose from an extremely potent type of painkiller.  Fentanyl is prescribed for limited situations like heart surgery and late-stage cancer victims, and features an immediate burst of extreme opioid effects.  This is one of the most powerful drugs in the world, and is described as carrying 100 times the potency of morphine, and 50 times the potency of pure heroin.
All of which opens the question of how Prince obtained such a powerful prescription, which was obviously too much for his body to handle.  Typically, the drug is administered to people experiencing excruciating pain, and carries a very high risk of fatal overdose.  Already, the names of suspect doctors have been published, with a fallout potentially resembling that of Conrad Murray, the doctor who injected the fatal last dose to his client, Michael Jackson.
Another possibility is that the drug was obtained illegally, either through a prescription not intended for Prince or through the black market.  The tragic death highlights the growing use of opioids in America, with sharp spikes in heroin use believed to the be caused by tightening regulations around legal painkiller prescriptions.  In that light, Prince's tragic death is already being viewed as a potential wake-up call for America's latest lethal addiction.
The autopsy ruled out suicide, though some critics — including Kiss bassist Gene Simmons — has asked if there's really a difference here.  "But how pathetic that he killed himself," Simmons blasted.  "Don't kid yourself, that's what he did. Slowly, I'll grant you … but that's what drugs and alcohol is: a slow death."
Simmons later apologized for the remarks.
Prince's autopsy report also confirms that the singer was cremated shortly after his death, a development that will hopefully curb lingering conspiracy theories related to the singer's final resting place.  Thankfully, conspiracy theories about faked deaths and other nonsense have been minimal.
The date of death was confirmed as April 21st, 2016, which is when Prince was found unresponsive in the elevator of his home.