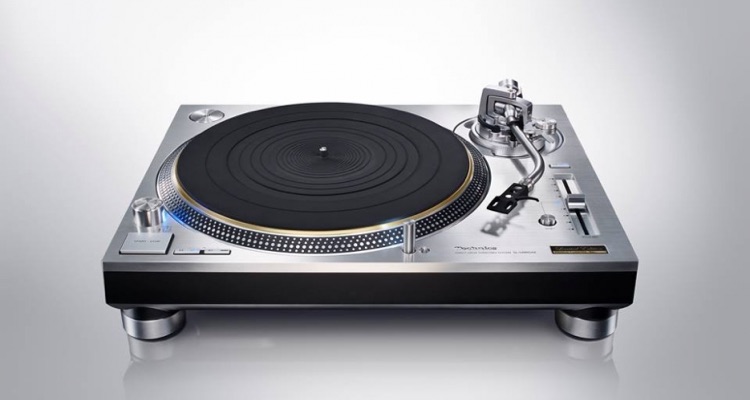 After teasing hardcore vinyl fans with an extremely limited run, the classic Technics SL-1200 (or 'Technics 1200' for short) is being more widely released.
Last year, Panasonic shocked the vinyl community by announcing the return of their classic, Technics SL-1200 turntable.  Hip-hop and vinyl aficionados sometimes just refer to the 'Technics 1200,' a phrase etched into hip-hop and DJ culture back in the 70s, 80s, and 90s.
That comeback announcement was roughly one year ago, with a limited run of SL-1200GAEs quickly selling out in Japan.  Just 300 of the limited-edition units, priced at more than $3,000 each, sold out in roughly 30 minutes.
Now, Panasonic is readying a broader push, with 'Grand Class' SL-1200Gs hitting the British market this month, according to an announcement just made at IFA in Berlin.   IFA is the largest electronics show in Europe, rivaling CES in the United States as a venue for product unveilings and announcements.
The newest Technics 1200s will retail for £2,799, or roughly $3,720 in USD (and of course, post-Brexit, those currency conversations are rapidly changing).  The SL-1200G will be almost identical to the GAEs in Japan (pictured above), with just a few minor tweaks.
Panasonic is leaving a bunch of details out, all part of a well-tuned, hype-raising marketing strategy.  Missing information includes exact release date, exact quantities, and broader global rollout plans, though lower-priced units could take some time to materialize.
Details about the turntable itself are readily available.  So here they are:
Grand Class SL1200G Specification
Twin-Rotor Surface-Facing Direct Drive motor
Direct Drive Motor Controller
High Sensitive Tonearm
Brass-Top Turntable Platter
Insulator
Technics Definitive Design
Inherited design from the SL-1200 series
Heavy Aluminum Top Plate
Turntable Section
Type: Direct Drive Manual Turntable
Turntable Speeds: 33 1/3 rpm, 45 rpm, 78 rpm
Variable Range Pitch: ±8%, ±16%
Wow and Flutter: 0.025% W.R.M.S. (JIS C5521)
Rumble: 78dB (IEC 98A Weighted)
Turntable Platter : Weight: Approx. 3.6kg (including rubber sheet)
Tonearm Section
Type: Universal, Static Balance
Overhang: 15mm
Arm Height Adjustment Range: 0-6mm
Applicable Cartridge Weight Range:

Without auxiliary weight 5.6 – 12.0g; 14.3 – 20.7g (including headshell)
With small auxiliary weight 10.0 – 16.4g; 18.7 – 25.1g (including headshell)
With large auxiliary weight 14.3 – 19.8g; 23.0 – 28.5g (including headshell)
General
Terminal: Phono Output x 1 / SIGNAL GND x 1
Power Supply: AC110-240 V, 50 Hz / 60 Hz
Power Consumption: 14 W / Approx. 0.2W (Standby)
Dimensions: W: 453 mm H: 173 mm D: 372 mm (Height including dust cover)
Weight: Approx. 18kg
More details ahead!