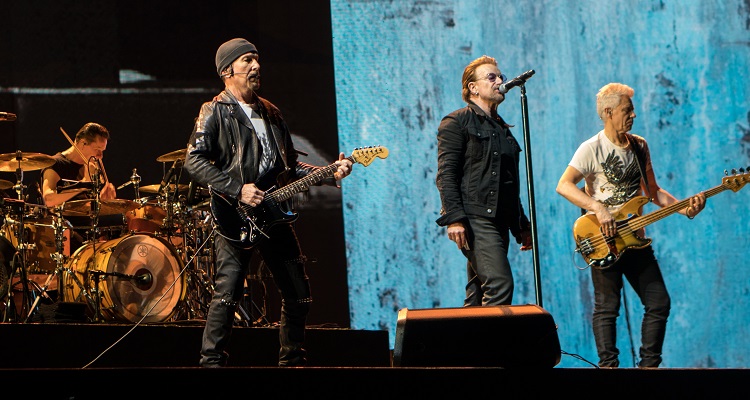 How will U2's No Line on the Horizon perform during its debut week?
After its first full day of release on Tuesday, the album continues to draw bearish predictions.  On Tuesday evening, retail analysts canvassed by Digital Music News offered a weekly sales range of 400,000-500,000, based on first-day purchasing activity.  On Wednesday, experts polled by Hits Magazine offered a range of 400,000-450,000, suggesting a potentially slower result.
Those ranges are easily enough for a number one album, though the unit story is far more important.  Elsewhere, sources within Interscope and Universal Music Group are pointing to something similar, based on pre-release radio response and online activity.  That is stirring considerable concern, based on a solid, mid-800,000 first-week on the previous U2 release, How to Dismantle an Atomic Bomb.
Those are the projections, at least.  But isn't this U2, one of the last mega-superstar acts left standing?  Indeed, the mere mention of U2 is enough to rally the longtime faithful. But like everyone else, U2 still needs a sizzling single to drive tonnage, and that appears missing from the current equation.
According to information compiled by exclusive data partner BigChampagne, response has been rather tepid on lead single "Get On Your Boots," across online and offline formats.  Through its BC Dash interface, BigChampagne aggregated a number of important chart positions, including a peak spot of #68 on US-based terrestrial radio tracker Mediabase (across all formats), reached on February 7th.  Currently, "Boots" is ranked #106 on traditional radio, though the song is #12 across rock formats.
Hardly a runaway smash, and the story online is similar.  On the BigChampagne TopSwaps chart, "Get On Your Boots" recently peaked at the lowly #540.  Separately, downloads of the entire leaked album reached a modest 445,649 on BitTorrent channels through March 3rd, over a two-week, pre-release window.
Of course, the label gets nothing from a stolen copy, but those illegal downloads offer a great gauge of overall demand.  And the BigChampagne figures on P2P and BitTorrent protocols suggest only lukewarm interest, and a modest leading indicator for paid albums.
But there's also good news to consider.  The album is currently hogging both the #1 and #2 slots on the iTunes Store, also according to the BC Dash.  How is that?  The first is the standard release, and the second is a deluxe edition.  The album is also the top-seller on AmazonMP3, thanks partly to a $3.99, featured album offer.
Still, a-la-carte downloads of "Boots" are moving in the wrong direction on iTunes.  As of Tuesday, the song was resting at #65 on the US-based iTunes ranking, down from a peak of #16 established on January 21st.