Chris Brown has plenty of problems these days, though the latest viral video on YouTube is not one of them.
No, this isn't the recent apology video Brown delivered to the public.  Rather, it's a wacky wedding ceremony in which the procession dances to the beat of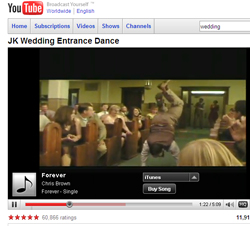 Brown's "Forever," a huge surprise to guests – and Brown label Jive/Zomba/Sony Music Entertainment as well.
The "JK Wedding Entrance Dance" has already blown past 12 million views, and revitalized a song well past its prime.  "'Forever,' a year-old song, hit number 4 on iTunes," said Jordan Hoffner, director of Content Partnerships at YouTube, during a keynote presentation at the Digital Media Summit at UCLA on Wednesday.  "This is a good story, these are the types of things we like to see."
The song has slipped a bit on iTunes since the video first surged, though everyone is happy with the bump.  Hoffner used the result to showcase the auto-identification system within YouTube that detects a song and triggers ad-based payouts to rights holders.  The wedding dance bumped sales through buy links, a picture-perfect case for a company attempting to build bridges with more traditional media companies.  "The owners of Chris Brown's song were able to claim it through the audio technology, and then they were able to patch in another feature which ws click-to-buy," Hoffner described to several hundred attendees.
Okay, so nice story, but is any of this producing serious cash?  Warner Music Group obviously thinks not, at least in the aggregate, and even Hoffner noted that one-off spikes are hardly a solid revenue stream.  "We have to go from making these one-offs to something more ongoing so that people can do some planning around that over time," Hoffner conceded.
And, for artists without a pre-established channel, the missed opportunities can be huge.  The poster child for that is Susan Boyle, who now has one of the most-viewed videos ever on YouTube – and not a penny on the action.  "Who knows what the ratings impact was," Hoffner said, spinning a question on the lost revenues.  Perhaps the Boyle situation shows that wins also have counterbalancing losses, especially for those unprepared for their fleeting YouTube moment.