If you think the concert industry is simply toughing it out, then you might want to take a look at the latest numbers.
According to a survey from Edison Research, 12-to-24 year-olds are going to just 0.9 concerts per year on average, down from 2.1 in 2000.  That represents a 57.1 percent drop.
Moreover, this downturn appears to be striking different types of fans – heavier attendees, lighter attendees, and those in-between.  Consider the following:
*In 2000, 24% surveyed attended 3+ shows annually
*In 2010, that number moved to just 12%
*In 2000, 43% reported not going to one concert
*In 2010, that figure expanded to 64%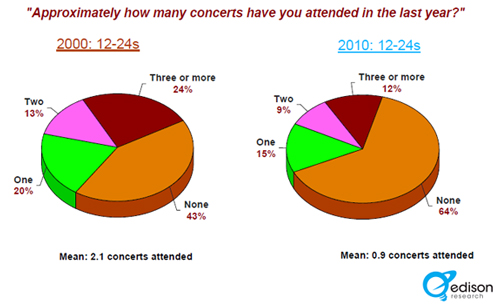 So what's happening here?  Edison put huge blame on the Great Recession, though broader, secular effects are harder to pick apart.  "The concert industry – once seen as the great hope of music – has been whacked by the economy," the Edison report declared.
The concert finding is part of a much broader demographic report, one actually more geared towards traditional radio listening.  And predictably, Edison surveys showed huge dips in terrestrial radio listening.  But radio still plays a critical role in discovery – both for new music, new artists, and upcoming concerts.