(#musicindustry, #rap) Dozens of pirate and counterfeit sites were yanked down over the Thanksgiving holiday by the US Government, and most were asking for trouble.
But serious questions now surround a number of hip-hop sites caught in the mix, particularly OnSmash.com.
According to several sources to Digital Music News, those inside the rap industry hardly regarded OnSmash as a pirate.  Instead, OnSmash was treated as a critical promotional and tastemaker vehicle.  In fact, prior to the shutdown, a large number of rap labels and
 divisions were prioritizing OnSmash for leaks, premieres, mixtapes, and other buzz-generators.  "They have [founder] Kevin [Hofman]'s number on speed dial," one major label executive relayed.  "OnSmash was in marketing meetings, marketing plans – it's not considered a dark or rogue site at all."
This is part of how hip-hop marketing works.  Pre-release, free tracks are always leaked to the 'street,' and the most successful rappers – starting at the top with heavyweights like Rick Ross and T.I. – understand that gratis is a critical part of the success equation.  "The label guy is there to break artist careers – and the way you do that is by giving music away for free," another source described.
So why the yankdown?  This is painfully reminiscent of a misguided RIAA-directed raid on DJ Drama's offices in early 2007, and the result of what appears to be a disturbing lack of intra-industry communication.  "The RIAA and the majors see anything free as illegal, while the rap community knows that you have to give stuff away to develop an artist," another executive relayed.
Exactly how OnSmash got on the s-list remains unclear, though Hofman was apparently cooperative when anyone asked for content removal.  Futhermore, these requests were typically direct calls, not DMCA notices, often coming from the same person that asked for placement in the first place.
So what next?  At best, the shutdown has created marketing headaches for a number of labels, though Hofman may find it incredibly difficult to stage a recovery.  And a federally-shuttered site is hardly the best starting point for a negotiation.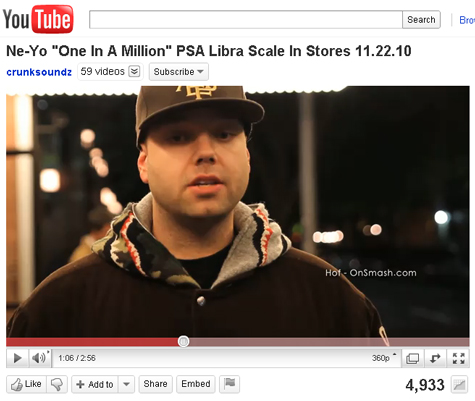 OnSmash founder Kevin Hofman – ie, 'Hof' – is featured in this Def Jam Recordings promotional video for Ne-Yo's latest.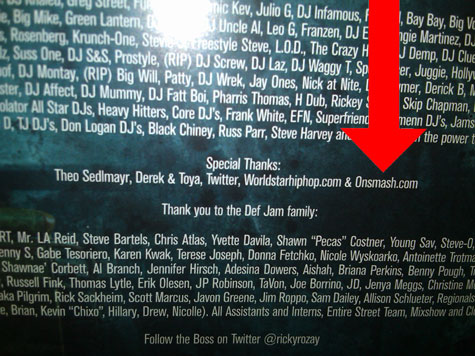 Def Jam Recording artist Rick Ross gives OnSmash 'Special Thanks' in the liner notes for Teflon Don.
Report by publisher Paul Resnikoff.