This may be the biggest pullout to date, and potentially part of a serious licensing problem. According to information confirmed Wednesday, UK-based digital distributor and label management company STHoldings Ltd. is now pulling 234 member labels from Spotify, Rdio, Simfy, and Napster.  The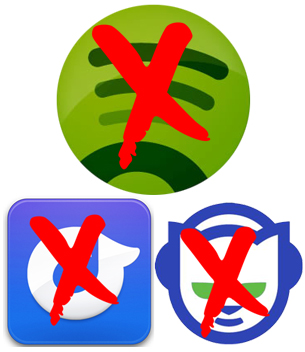 decisive action was motivated by continued complaints from these member labels, specifically related to payouts, though it appears that a recently-released joint study from NPD Group and NARM ultimately triggered the move.
Here's a formal and detailed statement from the group.  A complete list of member labels is here.
"STHoldings can confirm that we have taken the decision to remove all STHoldings distributed content from the following music services: Spotify, Simfy, Rdio & Napster.  
"Despite these services offering promotion to many millions of music listeners we have concerns that these services cannibalise the revenues of more traditional digital services. These concerns are confirmed in our own accounts and a recent study by NPD Group and NARM.
"As a distributor we have to do what is best for our labels. The majority of which do not want their music on such services because of the poor revenues and the detrimental affect on sales. Add to that, the feeling that their music loses its specialness by its exploitation as a low value/free commodity. Quoting one of our labels, 'Let's keep the music special, fuck Spotify.'
All the labels we represent have been given the choice to have their music to Spotify, Simfy, Rdio & Napster. As of today (16.11.11) from the 238 labels we distribute, 4 have expressed that they would like to be on these services."

The group also shared some depressingly-low payout figures to bolster its case.
(1) During the third quarter – the first full quarter STHoldings supplied content to Spotify and others – digital revenues dropped for the first time.  The year-over-year decrease was 14 percent.
(2) During that same period, iTunes revenue dropped 24 percent.
(3) During that same period, Spotify, Rdio, Simfy, and Napster accounted for 82 percent of all content 'consumed,' but just 2.6 percent of overall revenues.
(4) During that same period, Spotify paid £2,500 ($3,376) for 750,000 total streams.