In the moments immediately following the MegaUpload shutdown, global internet traffic dipped an astounding 2-3 percent.
Unfortunately for the feds, that didn't last for long.  According to an assessment recently published by DeepField Networks, file-trading volumes basically returned to 'normal' as rival services started picking up the slack.  "The main impact of the MegaUpload takedown? Well, file-sharing has not gone away," a researcher from DeepField wrote.  "It did not even decrease much in North America."
So, not much for a victory there.  But the raids have created a disturbances in file delivery and ease-of-trading, for what it's worth. "Mainly, file sharing became staggeringly less efficient," the assessment continued.
The reasons for the inefficiencies are complicated or simple, depending on how you look at it. Essentially, there are really a lot of file-trading lockers and swapping services, but a very limited number of mega-hosting and delivery hubs to handle all of that traffic.  "Although there are hundreds of file sharing sites, an extremely small number of colo-location providers (six of them) provide infrastructure to these sites that generate more than 80 percent of all internet file sharing traffic."
MegaUpload employed significant server infrastructure in the US, which means the action is now more-or-less shifting across the Atlantic.  "Instead of terrabytes of North America MegaUpload traffic going to US servers, most file-sharing traffic now comes from Europe over far more expensive transatlantic links."
Here's the 'before,' right before the raids (check out MegaVideo at the bottom).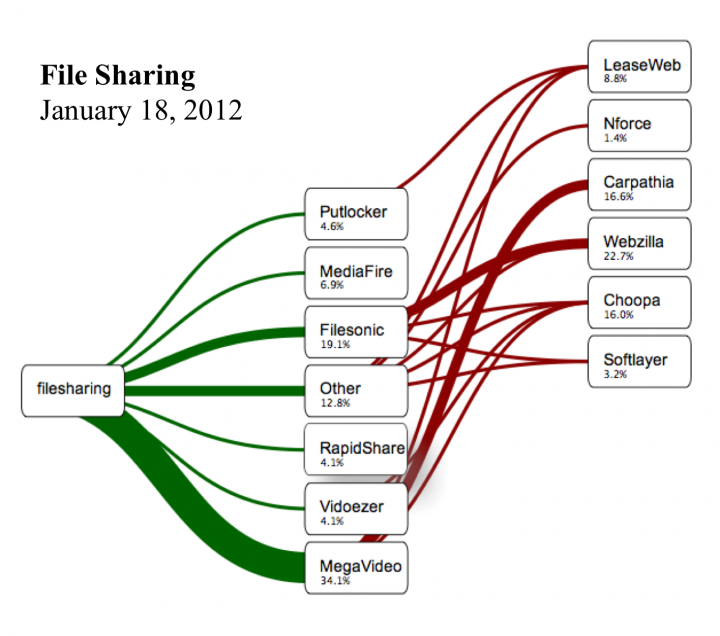 And the 'after,' the day after the raids (check out Putlocker).
So, same volumes, less snappiness and cost-efficient delivery, at least in the short term.  Or, maybe the long-term, depending on how over-the-top this anti-piracy enforcement campaign grows.  But does that mean the shutdown was essentially useless?  Outside of file-trading volumes and routing details, the 'ripple-effect' of policy changes and shutdowns is getting a lot of attention.  Most recently, the shut-and-run list includes BitTorrent tracking giant BTjunkie, with others likely to follow.