Looks like 2011 may have been a bit 'frothy' for music, to use some VC-speak. Which basically describes a funding climate in which a lot of money is flowing, often on ill-researched, speculative bets.  That certainly describes the crash-and-burn Beyond Oblivion, which couldn't even burn through its $77 million before imploding last Christmas.  That grandiose meltdown helped to put year-to-date financing a massive 38.1 percent below the 2011 mark.
Music financing, YTD 2012:
$83.25 million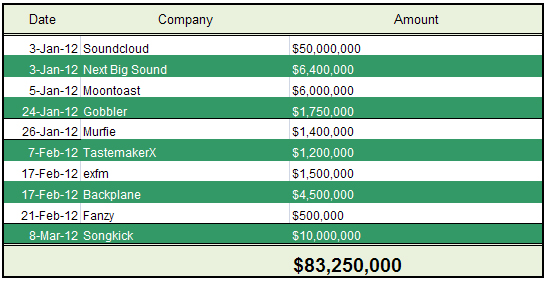 Music financing, same point in 2011:
$134.4 million
The Difference:
– 38.1%
And, for additional kicks, here's a graph of all funding levels, starting in 2011.