Spotify is no longer requiring users to register with Facebook accounts — that is, in Germany.
We're not sure what prompted the decision or if this will expand to other countries, though Spotify confirmed the shift to Digital Music News on Wednesday.  "We are introducing this new sign-up option in order to offer non-Facebook-connected users in Germany a choice of ways to access Spotify," the company stated. "Spotify remains absolutely committed to our global strategic partnership with Facebook."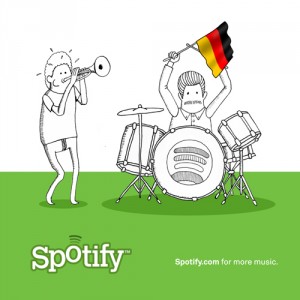 Looks like Ping will go down as a rare Apple flop.  The iTunes-embedded social experience never quite gained traction, and the Wall Street Journal is now pointing to a closure ahead.  That makes sense given Apple's planned Facebook integrations with iOS 6; the broader commentary is that it represents the extreme difficulty that older tech companies have experienced while navigating social waters.
She was a decades-long fixture and pioneering female executive at BMI; Frances Preston has just passed at 83.  Preston retired as President of BMI in 2004.
Looks like there's actually intense competition to administer the as-yet-unreleased .music domain address.  ICANN just released the names of 8 competing companies, including several named .music, dot-music, or some variant thereof.  Amazon and an RIAA-backed group are in the running; Constantine Roussos' .MUSIC is also a promising group.
The greatest hits often have the greatest beats, which is why BeatStars is opening an online marketplace focused on beats, breaks, and other ingredients for the finished product.  The concept was founded by former INgrooves exec Abe Batshon, and has lots of early industry buy-in.  The marketplace can also be widgetized for downstream sales, including for consumers.
And to think, it all started with a giant middle finder.  Now, Amazon is playing nice and licensing the majors for its cloud-based play – just like Apple.  C|Net reports that Universal Music Group, EMI and Sony Music Entertainment are in the bag, with negotations swimming along with Warner Music Group.
So, how many times do people really listen to their favorite songs on iTunes?  It was once an academic question, but now its front-and-center given serious concerns about Spotify per-stream payouts.  We're just scratching the surface on this buried data set and hoping to pull together some meaningful research…
It first started rumbling at SXSW, now TastermakerX is officially launching on iOS. The app encourages users to place bets and own shares of artists, with points accrued for success stories.  The greatest players will be spotting the biggest trends early; Forbes just interviewed Digital Music News about the New York-based company.