It's been months since the TuneCore Board abruptly and unexpectedly fired Jeff Price. But the cofounder, former CEO and all-around identity of this company has now agreed to disclose considerable detail about his departure to Digital Music News.  This is our exclusive interview with Jeff in Los Angeles.
Digital Music News: On stage recently at Digital Music Forum West, you mentioned that you were extremely unhappy with the current situation at TuneCore.  What's going on?  What's the problem?
Jeff Price:  I have absolutely no idea.  That's why I have no faith in its ability to succeed.  I don't know who the CEO is.  I don't think there is one. I don't know if there's an interim CEO, or if there is, no one's communicated it to anybody.  From what I understand, it seems that a banker with zero experience in the music industry, with no understanding of the nuances of the sector, is running the company.
What's the vision?  Where is it going?  Where does it want to go?  I mean, a company needs a vision.  What is it?
Digital Music News: So, are you describing a company that is getting run into the ground?
Jeff Price: That's my concern.  I mean, I'm literally at the point where I believe the company is going to be run off a cliff.  I don't understand it.  It is staffed with great people, the COO, the CTO, the controller, the artist support staff, the finance team, the President of Publishing Administration, the head of Product Development, everyone's great.  The whole thing's been setup, it just needs a leader.
…the story up until now
Digital Music News:  So explain to me, why did you get pushed?
Jeff Price: I wish I could provide a simple clear explanation, I can't.  It's getting close to half a year since [cofounder] Peter Wells and I were pushed out and still no real reason has been provided.  As far as the three original founders, advisors and investors know, there is no new CEO, no interim CEO, no plan, no vision, no leadership and no innate understanding of the music industry or the needs of artists at the top of the company.
From what we can tell, a venture capital banker with no true, solid experience in the music industry, no experience in digital distribution, copyright, licensing, digital music services or the overall emerging digital music market place is running the company.  He has few or no connections or relationships with anyone in the industry and can't speak to and understand artists.
Digital Music News: There's the emotional tug of being the company's cofounder.  But there's the very real string of being an investor.  How much do you own?
Jeff Price: I own 13% of TuneCore.  Peter invested the money left to him by his father to help get it launched. The original founders and team invested a lot in both money and sweat. We have a lot at stake and a lot of reasons to want it to succeed.
That said, due to a confidentiality agreement that TuneCore wants enforced, I can only say limited things.  Also, as an ex-officer and director I also have certain restrictions imposed on me by the legal system that prevent me from speaking my mind.
But here's what I can say, and I thought it might help if I provide some context:
In the middle of 2008, I met with Gill Cogan.  According to the Opus Captial website, Gill is the founder and a General Partner at Opus Capital.  He convinced me to allow Opus to invest $7 million into TuneCore in return for owning a percentage of our company.  We issued a press release around the investment.
Move forward four years to 2012.  According to the Opus and TuneCore websites, Gill is still an active sitting board member and General Partner of Opus and, since the investment, is a board member of TuneCore.  At the beginning of 2012, there were certain things that occurred internally at TuneCore that I didn't expect or authorize.  It was these actions that, in my opinion, severely jeopardized TuneCore's existence.
"I can't comment further as to the specifics but I can say a number of months later I was terminated 'without cause' by Gill on behalf of the board."
No specific reason was provided.  Last week, almost four months after being fired, TuneCore's lawyers implied that if I sued, they would respond by making absurd and Kafkaesque claims about me.
I can't believe things have gotten this stupid.
…ugly, uglier, ugliest.
Digital Music News: So you're inside the building one day, abruptly 'on the street' the next.  What next?
Jeff Price: After I left, I really wanted to make sure TuneCore didn't go down. I put together a very detailed 12 page letter containing a list of specific things I thought TuneCore should address and follow – a sort of blueprint – and delivered it to the board.
I then got thrown off the board of directors of TuneCore.
I was then offered a "separation and general release agreement" that offered me cash if I agreed to give up:
– all my voting rights as a shareholder,
– all involvement with the company
– the right to sue TuneCore both as an employee and shareholder.
There is no way I can do that.
Then, they came back to me with a new offer; according to my lawyer, they would pay me $125,000 to buy back my 13% equity position. This means they were valuing TuneCore at less than $1 million.  The reason for the low value and offer as told to my lawyer is because it is now "personal".
"Great.  Now instead of doing what's best for the company it appeared to me that this was about a grudge."
And it gets worse.   On September 22nd, this year, I was set to give a keynote presentation at the NY IMSTA conference.   On September 17th, I got a ridiculous letter from TuneCore's lawyer warning me about speaking; apparently they read something on the internet about the keynote and sent a letter to tell me they would be "closely monitoring" me.
You've got to be kidding me.  There is no one on this planet that cares more about TuneCore than I and they're worried I'm going to hurt it?   This was getting insane.
While all this had been going on, I had been working on finding a buyer for TuneCore.  I figured I could get Opus a healthy return on its investment, get the Common share stockholders and exit and get the company back on track. Two companies were interested.  Both circled back to me stating TuneCore was non-responsive.  Now this I really don't get.  How in the world can they turn down an option they don't even have?  I mean at least get the offer in first.  If things were really so horrible that they needed to kick out the CEO, then they should have been thrilled to get the opportunity to sell the company and make a return.
Despite those two possibilities apparently getting shot down, last week, I was able to play a role in delivering one more opportunity that would have really helped artists, provided a service that was needed and made the company a lot of money.
I was informed by the outside entity that one of the conditions of a deal required me to be involved. I was worried about the tension but figured we were all seasoned professionals and with the right opportunity, we could all line up and work together.  Unfortunately, I was told by my lawyer that TuneCore's lawyer stated there were pre-conditions set by Gill that must be met:  I would not be allowed to work out of the TuneCore office, I could not have any operational role, no one was allowed to report to me or work for me, I could not have any signing power, I could not be the voice or face of TuneCore, I could not appear on panels or do press interviews on behalf of TuneCore.  In addition, they demanded I change my Twitter handle from "@TuneCoreJeff" to something else as my current name may imply I was still involved with the company.
"As of this interview it seems like these pre-conditions most likely killed the deal."
This is really coming across as if it's personal.  And that's what concerns me the most.  This focus and goal should be around what's best for TuneCore.
…a post-Price Tunecore.
DMN: What about the artists, is there an attachment to Jeff Price?  You are the charisma of TuneCore, or were the charisma of TuneCore.
Jeff Price: I don't know. I received a lot of emails directly from people.  I saw a Hypebot survey, which asked if people would stay or not.  TuneCore is nothing without the artists.  Now, the only reason I had a voice is because the artists gave me one.  If I didn't have the customer base at TuneCore and I ranted on stage, it wouldn't have mattered.
The company was always supposed to be the voice of the artist.  You've undoubtedly read about Tim Westergren and Pandora discussing royalty rates.
"Well, you've got Westergren, you've got the CRB, you've got labels, you've got the publishers, where's the fucking artist's place in that conversation?  That's what was supposed to be happening."
I believe the best model for artists is one of service with transparency and accountability.  I think the best music business
model for a venture capital organization to invest in is a company built to
serve, not exploit, the artist.  That's
what I was trying to create with TuneCore.
It wasn't that I was sacrificing a great possible financial exit for
moral reasons; it just so happens the moral reasons and the philosophy
coincide with a great freaking business model.
People that aren't in the music industry can't understand the nuances of
why that is.  It's very frustrating.  I'm frustrated.
DMN: Is Jeff Price irreplaceable?
Jeff Price: Someone
needs to tell me how that company is worth more now with me gone than with me
there, because I don't see it.  No one
should be irreplaceable, but couldn't there have been another way to have done
it, or a transition or something?  Was
this the best way?  How is the company
worth more today than it was when I was still there?  Cause I don't understand it.
…'there's a method to my madness'
DMN: My next question revolves personality.  You're certainly one of the most controversial executive in this industry.  You wear no boxing gloves, and you take people to the mat.  Did that work against you and lead to this result?
Jeff Price: I don't know the motivations behind the decisions of the Board of Directors to terminate me.  I can only speak from a business perspective.  Tunecore became the largest digital distribution entity in the world with 4 or 5 percent marketshare of all digital music sales, the leader in its space, it's competition was gone, we're launching a global publishing music initiative, you know…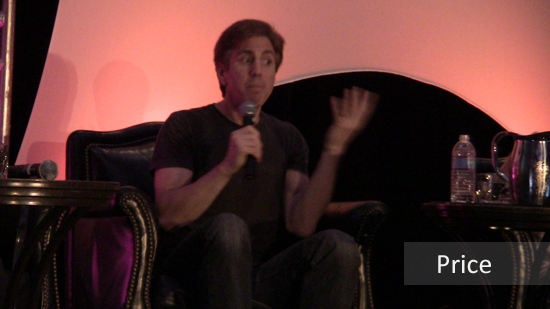 So, I don't know the answer to that question in regards to the way I do things.  It's kind of funny.  There's always a method to the madness.  There's a strategy behind what I do.  I never wanted it to be about me.  I wanted it to be about TuneCore because if you can pick up media on your company, it's free advertising.  It helps you to acquire customers, but it also pushes forward the agenda.
"The things I say and how I say them and when I say them aren't done because I like to fight with people. They're done because I'm trying to to run a successful business and accomplish goals."
This is a tough fucking business.  I mean, it's been operating for what? Over a 100 years and some punk, snot-nosed like me shows up six years ago and wants to change the whole industry.  I have to be loud.  I have to be really loud to get above the static level.  The first thing I have to do is become educated.  The devil is always in the details, understanding copyright laws, money flow, contracts, how the whole system works, and technology.
As one example, I'm in World War III with some entrenched old school people on the PHO list by stating IRC codes are not required for digital distribution.  People think I killed their firstborn child.  When I say you don't need an IRC code for distribution you actually don't.  You don't need it.  I may as well killed someone, but the truth is that's the truth.  And getting to the truth is important as you need the information in order to understand how to change things or accomplish goals. Getting to the very grain or level detail of things you have a deep understanding.  You have to have a deep understanding.  It's only when you understand the way the whole thing is built from the bottom to the top you then figure out how to change it. Then, once you understand how the whole thing operates, the whole Rube Goldberg mechanism, if you're familiar with Rube Goldberg.
DMN: Of course.
Price: How the whole thing works, then it's like, 'Okay, now I have to have the voice to get heard' because the only voice that exists is the RIAA on Capitol Hill and they are representing their constituents, which is funny, but there is no voice for this whole industry.  How do I get the attention?
Alright, you take the facts, then I have a moral opinion and a philosophy, there's right and there's wrong, okay, I can build on the facts.  You confront someone over something that they've done that's wrong.  You just hammer on the point.  It's not too difficult, and I get surprised that people tell me I'm so controversial or I'm so bombastic and cantankerous.
"I'm like, what is so cantankerous or bombastic about approaching someone and saying you didn't pay this person all their money? You needed the license and you didn't pay them.  And when that other entity is a multinational, multi-billion dollar organization that gives me the middle finger, what am I supposed to do then?"
I have two choices: you go cower over in the corner and say 'Okay, well, I'm building a company.  I want to enact change.'  But I'm lucky, I have access to media.  I'll scream and see if that can help move the needle.
…on his fight with Grooveshark.
Price: It worked with Grooveshark.  It did, it actually worked.  It worked with some other —
DMN: In the sense that the NMPA —
Price: No, Grooveshark actually ended up contacting TuneCore.  I guess I'm not allowed to disclose what ultimately went down.
DMN: Oh, so this is over the mechanical licensing issue.
Jeff Price: It was the whole PHO list thing that you read.
DMN: Okay, so this is really interesting.  They reached out to you, got the list of artists.
Price: From there, I guess I can't comment on it anymore because I guess it's confidential.  I'm not allowed to comment, but I'll just say it ended up in an end result which I was hoping for without having to hire [litigators].
DMN: So you were happy with the way Grooveshark behaved?
Price: Well, I was happier than I was, it went in the right direction in my opinion.  So there's a method to the
madness. 
…on his fights with Digital Music News.
Price: When you wrote your article [ref: '99% of TuneCore Artists Make Less Than Minimum Wage'],
I'll be candid, you wrote your article I was pissed off because I don't
like the way you phrase things sometimes because… not because it's true or
false, but because I think it provided a perception that TuneCore… to suggest
it was disenchanting us or trying to rip people off.
That's not what we're trying to do, but
that might have been the unintended consequence, and that frustrated the hell
out of me.   That thing I wrote on
Thanksgiving in response to what you had written… probably should have gone
through another couple drafts on it.
DMN: [Laughs] It was great.
Price: It was like 10 drafts to get that thing written, and it was still 300 pages long, but there's a reason.  You can't lose if you're on the side of the artist. If you're honestly on the side of the artist and you mean it and your voice is simply… it lets them keep the rights to their music and keep their money, provide transparency and get their voice heard. You gave me something to respond to to get the artist voice heard.
…on his fight with Tommy Silverman.
Price: Tommy Silverman, I might disagree with some of the things he said but, God bless him because when he opened his mouth to Wired and he made the stupid statement about how all that music from TuneCore is cluttering the space, stopping the good music from selling and 80% of it is crap, I couldn't have asked for a better entre.   It allowed me to be able to respond and get heard and defend the artist.  Because, number one, it's a stupid statement.  Number two, 'Oh, great, now I have a position to be heard to defend the artist simultaneously, bring up the brand of the company.'  Then with more artists, I'm able actually to have a legal base, all that through copyright, so we're administered to go force entities that aren't doing the right thing to do the right thing. That's the right business model.
Tunecore: profiting from artists' hopes and dreams?
DMN: There's a very dark accusation that DIY companies are merely dangling hopes and dreams in front of artists' eyes, when the reality is almost none of them will experience success.  Yet the end result is a profit for these companies because
there's a price of admission no matter what.
Price: I agree with you.  It's frustrating to me and that's why I started TuneCore.  Those companies are what inspired me to start TuneCore.  If you went to the [TuneCore] homepage, you'll notice — at least when I was there — it was a very utilitarian message.  Music on iTunes, keep your copyrights.
DMN: You basically saw that problem. That was a pretty basic thing.
Price: I didn't promise snake oil and it really frustrated with me when people said, 'Well, you're taking advantage of the artist because you're telling them they're going to succeed.'  That's just not the case.  Artists had one choice before to get onto iTunes – give up rights and money, at least now they have another choice.
"There's nothing within TuneCore that says you're going to succeed or fail.  It says what it does.  It doesn't promise you the possibility of something.  It says it's going to do something and does that thing specifically."
Artists have their own hopes and dreams.  Nobody wants to think they suck, but you'll notice all the videos that I've done, everything I've written, it's all about understanding the mechanisms of how this works and have the information to determine if this is what you want to do and if so, how to get there.
"I can't tell you how many times I put in writing publicly most artists aren't going to make it."
DIY optimism. deflated. crushed. 
DMN: There's almost a depressing pall that's set over the space since Tunecore arrived back in 2006.
Price: Right, 2006.
DMN: At that moment, six years ago, there was this idea — fueled by Long Tail, fueled by a lot of things — that this was a completely disintermediated environment.  And finally the artist could reach his or her or their audience in an environment no longer controlled by major labels.  The euphoria that resulted from that was just enormous.  Now that's flattened.
Price: Well, two things in response to that, but first, I didn't even think about it like that at the time.  The reason I started TuneCore is because my label spinART had been approached by IODA and The Orchard.  This was a long time ago.
This must have been 2004, for God's sake, almost 10 years ago.  So I want to be clear that, ten years ago, they wanted to do spinART Records' digital distribution.  But the fee they wanted to charge was they wanted to control the rights for a term of three years, five years, and they wanted to take 15% to 30% of the revenue off the exploitation master recordings.  And my response to them was, 'Why? What are you doing?'
'Oh, we're going to market and promote you.'
But you can't market and promote me because you represent 10,000 labels and it doesn't scale.  Besides, I'm doing all the co-op buying and tour support and mailing shit off to radio.  So how do you justify the backend?  The point was they couldn't.
It upset me.  I thought it was wrong.  You'll find at that time that if I was screaming, yelling, no one would have listened to me.  I didn't have the weight of the artists behind me.  I saw something that was wrong and I wanted to fix it.  I didn't think about if every artist is going to succeed or fail; I thought there's a wrong in the world and I want to right it.  This shouldn't be.  There should be an easy way to put music onto Apple's hard drive and not have to transfer copyrights and give up revenue.  I just thought the old model was wrong.
If you're going to take back in revenue, earn it. It was simply, 'This is wrong; let's provide something that to me is right.'  The impact was incredible.  Many artists made so much freaking money.  I mean, literally you had over a 1,000 artists every month getting, at least, $1,000 bucks.  I know that that sounds like peanuts to some, but I go back to my days of running spinART Records.  I mean, I would have been thrilled to send royalty checks of a $1,000 a month to our bands.  They would have loved it.  No band gets $1,000 a month in the old system.  No one ever recoups their advance, let alone get $1,000 in band royalties a month.  Sure there's a lot more than a thousand artists and a lot more making a lot less but, Jesus, that was an improvement. I took great pride in that.
It was very frustrating for me see people point to that as a reason something wasn't working because in my mind, are you kidding me?  This didn't even exist.  Now these people are getting money when they were getting nothing before.
Who the hell knows where it's going to go from here?  Maybe next month they'll take off, maybe next year they'll take off, maybe they'll never take off but, Jesus, at least let them in the game.  It's funny. You know the movie Rashomon, the Japanese movie where you see the same story from different perspectives.  To me it was like, 'Wow, the glass is half full.'  For some it was, 'Wow, the glass is half empty.'
"I would scratch my head. 'How can you say it's half empty.  Before it was completely empty, now it's halfway full'.  At least that's the way I look at it."
…on his fight with David Lowery.
DMN: Critics like David Lowery would argue that the well-being of artists is far worse now than it's ever been.
Jeff Price: Honestly, I don't get it.  I read the same things you read.  I wrote a blog response to that, which is I agree with David that artists should be compensated for the use of their works.  I don't understand some of the things he said.  They're just contrary to empirical facts…
[quoting Lowery]
"Most artists made money on the road…"
No, they didn't, most artists made no money on the road.
"Most artists made their money off the sales of their recorded music…"
No, they didn't, they never recouped their advance.
"Most artists got paid their mechanical royalties…"
Well, there were multiple songwriters, the money had to be split between them, it was a three-quarter split with a 10-song cap that was reported by the label, that was the middleman between them, and the entities of that owed them the money.  You never knew if the royalty accounting was accurate anyway.
"Oh, most artists made money off of the advance…"
No, they didn't, they took the advance, they recorded, what was left over they split it between the four band members after paying their lawyer and the manager and, maybe, ended up with $5,000 in their pockets.
My problem with David in that one article he wrote wasn't that I didn't agree with his position, I agree with it.  My concern was he stated things that were empirically false, giving his detractors a sideshow to argue about which would ultimately undermine his own argument.  We should be sticking to the point, which is in the music industry artists should be fairly compensated for the use of their recordings and composition.  He stated things that were just empirically false.  It made his whole argument look weak.  It was a diversion.  That was my problem with what David wrote, which is, 'Jesus, if you're gonna go down this path, fight with the truth because if you don't you're going to get your ass handed to you.' He got discredited because he said some things that weren't accurate.
…what happens next.
DMN: What's next? I view this as being a big setback for you.
Jeff Price: I do too, for the industry.
The setback isn't about me, it's about what I perceive as the declining influence of TuneCore.  If there were somebody else within the organization that was a visionary, that was leading it, taking it somewhere, okay.  It is what it is and I'd be frustrated by it would make sense. But right now there is no one.
You look at the landscape over the last couple of months, IODA, The Orchard, INgrooves consolidations, competitors to TuneCorp falling off the wayside.  The TuneCore creation of the global publishing and administration pipeline, which never existed before, for potentially millions of songwriters globally, direct licensing deals with digital music services that otherwise were infringing on copyright, getting people back more money, more quickly with transparency, the leadership position in the market of revenue generation, the growth representing 5% of all digital music sales.
Fucking EMI'' is at 7.5%.  TuneCore did it  in three-and-a-half years.  It took EMI a 100 years and what, $20 billion to get that market share?
Now, I look at the marketplace and all I see are… not meant disrespectfully, but companies not of the same caliber as TuneCore.  It has very little competition in a rapidly shifting environment that is moving completely to streaming.  It could solve a global problem for artists and the digital music services.  At the moment, TuneCore has no voice.
DMN: What do you do next?
Jeff Price: So far, this change has led to incredible opportunities for me.  Change sometimes forces a person to take on new challenges and to work on new and better creations.  I have been approached by so many name brand companies it is amazing.  The people in the know in the industry obviously have a different opinion of me than does the TuneCore Board.
Right now I'm consulting for SOCAN. I found that really interesting. Number one, as you can imagine I want to get more educated in that sector.  The more educated I am, the more intelligently I can speak about it, then the more I can argue or use the strategy to enact change.
Number two, I would like to find a path to re-involving myself with TuneCore.  I suspect that will be a challenging path based on my understanding of some of the things that have occurred, but that's my goal.  I want to make sure that door remains open until it seems like there's no reason to keep it open.  To that end, I want to apply my skills and my knowledge towards continuing the vision, because the pieces necessary to change the industry currently exists out in the marketplace right now.
You can literally couple them together. Take TuneSat, a TuneCore, a SOCAN, a CD Baby, whatever it might be, I mean, literally you could put together the pieces of a new music industry right now.  With TuneCore I was trying to build it all up myself from the ground up, get the market share, and customer base.  But instead of building it up, maybe cobble together other entities to achieve it.
DMN: Why not create another TuneCore?
Jeff Price: TuneCore already exists. I think an easier path would be to re-engage with the company. If there was a way to do that that made sense to everyone involved, I would do it.  Why reinvent the wheel when if it's already there?
DMN: Okay, fair enough.  Well, thanks so much for our time.
Jeff Price: Your welcome.
DMN: That was quite enlightening.
Jeff Price: I don't even feel I revealed that much.
DMN: Well, no, I'm happy you revealed what you could. I think I can connect a lot of the dots, so can my readers.