America's got a pretty dirty history when it comes to race, but at least the situation is getting better.  And some would argue, completely transforming: after all, we just inaugurated our first black president a second time, on Martin Luther King, Jr. Day, a federally-observed holiday.
So why isn't the music industry transforming, as well?  After more than a decade of disruption, it actually feels as if this industry is getting worse.  Anecdotally, I used to work at a heavily-alpha, suffocating, nepotistic major label (Sony Music Entertainment in New York), yet I was surrounded by some very powerful women and well, lots of people who weren't white.  These days, a large percentage of my interactions through Digital Music News are with white men, a fair number of whom are ridiculously wealthy.
Don't believe me?  On MLK day, I took a look at Billboard's recent 'Power 100' list, marking down every gender and race.  Of course, Digital Music News' list would feature a lot of different disruptors, but these are undoubtedly some of the most influential (and rich) people in this business.
Here's what I found.
I. Overall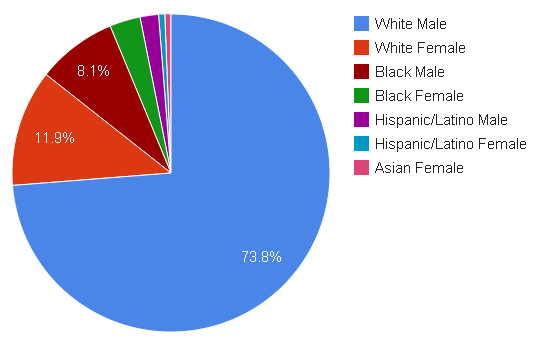 II. Male vs. Female
III. White vs. Non White