This is what the war between the music industry and Google now looks like.  Because by law, Google doesn't have to remove anything from Search without a proper takedown notice.  But they do have to act when the notice arrives, even if there are millions of them.
See the new strategy?  As of this morning, the RIAA has now sent a collective 10,000,000 takedown demands, for member labels Universal Music Group, Warner Music Group, and Sony Music Entertainment.
This is the latest official DMCA takedown report from Google (updated January 31st).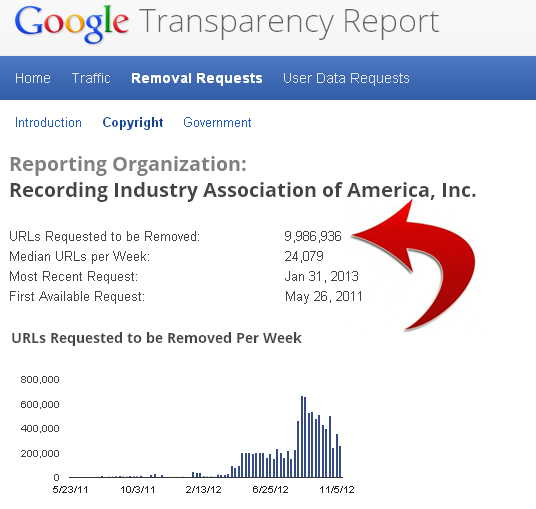 Let's call this the 'avalanche method,' with the expressed goal of burying Google with compliance chores.  Aggressive indeed, but effective?  The RIAA is notorious for spending millions on ill-conceived, losing strategies, but this one could bear fruit.  In December, Google legal director Fred von Lohmann publicly complained about the ratcheted volume, which is saying something for a company with billions in resource reserves.
Which means the tactic could be extremely effective outside of the Google theater.  After all, Google can bitch all they want, but they can handle it.  But what about smaller, struggling opponents, like Grooveshark?  Here's where a massive avalanche could be extremely effective: after all, Grooveshark is currently saddled with massive legal bills and, according to our sources, exiting personnel.  All of which makes a sudden avalanche a major compliance problem, and a serious legal vulnerability.
Sadly, both Google and Grooveshark have used legal loopholes to continuously refresh infringing content.  And that's glaringly obvious in this breakdown of Google top offenders.