It's hard to say what exactly went wrong at eMusic.  One thought is that the eMusic model was born in a 90s world of walled gardens and scarcity, and simply never evolved.  Another theory is that eMusic alienated its smaller, niche following by ingesting mainstream content and trying to please a lower common denominator.
Whatever the explanation, this is a company now engaged in survivalism.  As of this morning, eMusic is now dropping its longtime subscription requirement, and letting anyone browse, interact, and buy content on emusic.com a-la-carte.  It's hard to say if any of this prevents… this: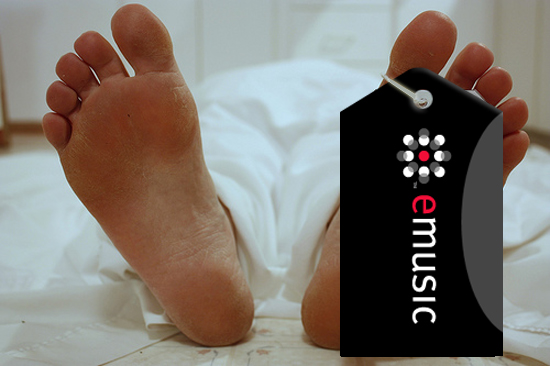 What's clear is that that forced bundle just isn't working for eMusic.  But we knew that: eMusic has been around for 14 years, but its subscriber base has been eroding for years.  The company started to plateau at roughly 400,000 subscribers several years ago, though estimates now peg current subscriber tallies at about half that.
"We hope the new business model will encourage an even broader audience to become buyers of music and, ultimately, music collectors," eMusic CEO Adam Klein said.
For those sticking around, the new eMusic will look something like this:
(1) Subscription still available, but not required.
(2) Anyone can browse and buy, for a-la-carte download pricing.  One-off tracks are typically 99-cents, but can dip to 49-cents.
(3) No subscription streaming option.
(4) Subscribers will still 'buy in bulk,' with the following plans (and some bonus downloads sprinkled in):
$11.99/month for 24 downloads
$15.99/month for 34 downloads
$20.99/month for 46 downloads
$31.99/month for 73 downloads