This week, a truly unusual ad appeared in the Guardian's media section.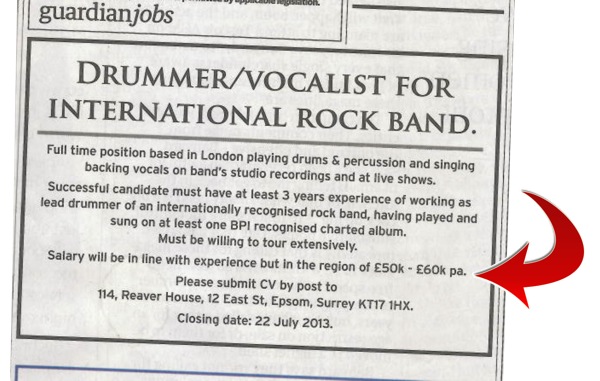 Why is this strange?
It's an ad for a drummer/vocalist for an internationally renowned rock band. Since when does such a band need to advertise?
Since when do bands place ads in a national newspaper's media section – and in the print version? The ad has appeared twice, at the cost of £1,650 ($2,500)?
The candidate "must have at least 3 years experience of working as lead drummer of an internationally recognised rock band, having played and sung on at least one BPI recognised charted album".  Not only does the drummer have to be a proficient live backup vocalist – he/she must have sung on records that have been in the charts.  We hear both Phil Collins and Don Henley are previously engaged.
The salary "will be in line with experience, but in the regions of £50k – £60k per year [$77k – $92k]" – that's almost three times the average UK wage.  The average income of a UK working musician is around £16k ($24,500) a year, according to union figures. Which bands can guarantee such salaries today?
The band clearly does not want the drummer/vocalist to get a share of royalties or touring and merchandise, instead preferring to pay him/her a salary, which indicates that the band members' income would exceed that amount, probably quite a bit – yet it doesn't appear to be a session gig.
The only way to apply for the job is via snail mail, to a leafy suburb of London, no name of the addressee supplied (which leads to a website that is under construction). It's as if they've turned back time, at least by a decade.
Who is this mystery band?