The internet has broken down the barrier between artists and fans, allowing anyone to distribute their music without the help of a record label via services such as iTunes and Spotify.  So how come spending on live gigs is more concentrated on the top 1% of touring acts than ever before? A decade old study may hold the answer.
The study, based on Pollstar figures, shows that between 1982 and 2003 the share of concert revenue that went to the top 1% of touring acts more than doubled, from 26% to 56%.  The digital era doesn't seem to have reversed this trend either, as numbers from February through June this year show that top percent grabbing 56.3% of live revenue.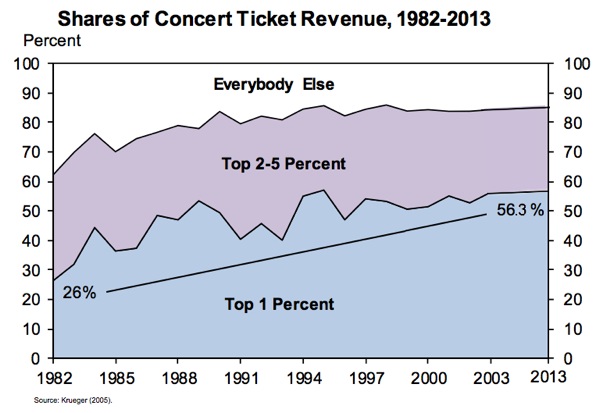 Now, let's take a look at the average age of the top grossing artists.  If one ever needed proof of the live industry belonging to artists that launched at least 30 years ago, one need only look at this summer's festival season in the UK.
Having already played Wembley Stadium (capacity 90,000) a couple of weeks ago, 63-year-old Bruce Springsteen came back to headline Hard Rock Calling (capacity 60,000) last weekend.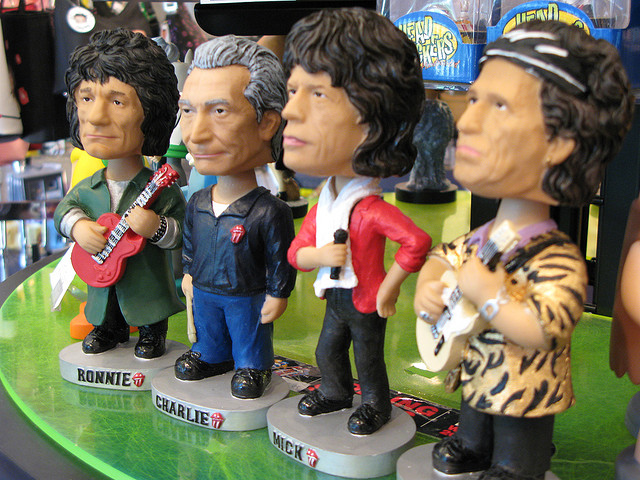 Meanwhile, the 50-year-old band the Rolling Stones helped make the legendary 43-year-old Glastonbury festival "the best yet," according to its founder Michael Evis, with a record-breaking 100,000 people of all ages heaving in front of the Pyramid stage to catch a glimpse of the band.
Both acts received huge critical acclaim for their performances – as opposed to Mumford and Sons, who headlined Glastonbury's Sunday night slot.  The performances by Chic (Nile Rodgers is 60 years old) and Kenny Rogers (74) were also lauded as particular highlights of the festival.
This coming weekend, Bon Jovi and the Stones play the 65,000-capacity Hyde Park – with Elton John (66), Ray Davies (69), Elvis Costello (58) and Lionel Richie (64) playing the following weekend.
So far it looks like the average age of the world's top 10 highest grossing touring acts of 2013 could push above last year's average age of 54, when, apart from the Stones and Springsteen, the list included Fleetwood Mac, the Eagles, Roger Waters, Aerosmith, Metallica, and Madonna, who topped the list.
Not only has the concentration stayed the same – the majority of top earners have largely remained the same, as all the artists mentioned above, apart from Roger Waters, were also among the 10 highest-grossing acts back in 2003.
In other words, the chart continues to be dominated by artists who broke through when income from touring was spread out over a much larger number of artists.
Note that in 1982 almost 40% of the revenue was divided between the "bottom" 95% of artists, while in 2003 they received only 15% of all revenue.
Could it be that these top-grossing artists benefited from launching in an era when artists didn't have to be in the top 1% to develop a healthy live following over years of touring?
It appears that while music fans are happy to listen a broad range of artists online, they prefer to spend their hard-earned money ona few big concerts a year rather than spreading it out on a higher number of mid-range gigs.
Not only is the wider middle class in society shrinking, so is the musician middle class.
As artists are increasingly expected to earn their living from touring instead of record sales, will artists starting out today be able to stick around long enough to become the festival headliners and stadium fillers of 2043?
The graph, originally published in 2003 by Alan B. Krueger, Chairman, Council of Economic Advisers, was modified to include more updated stats.