The research report, authored by well-respected economist Will Page (now an employee of Spotify), comes on the heels of a high-profile pullout from Thom Yorke of Radiohead.  And what it says is this: not only is there no negative correlation between streaming and downloading (ie, 'cannibalization'), but streaming holdouts typically suffer much higher levels of piracy, and far lower relative levels of paid downloads.
The focal point for this study was the Netherlands, with holdout artists like Rihanna and Taylor Swift compared to non-holdouts like One Direction and Robbie Williams.  "At one end of the spectrum, take two releases that appeared on Spotify at the same time as iTunes and other sales channels: One Direction's album Take Me Home and Robbie Williams' single 'Candy'. Both were successful on Spotify and sold 4 copies per BitTorrent download."
"At the other end of the spectrum, Spotify holdouts suffered higher levels of piracy: Rihanna's Unapologetic and Taylor Swift's Red sold only 1 copy per BitTorrent download."
Case Study #1: One Direction vs. Rihanna.
"One Direction's Take Me Home was the most popular album on Spotify from
our sample and also had the highest (best) sales to piracy ratio of 3.79 copies
sold per BitTorrent download," the report states.  "Unapologetic, by Rihanna, was released the
following week but did much worse, selling only 1.36 copies per BitTorrent
download.  This ratio is evident in the gap between the sales and BitTorrent lines
on the charts below."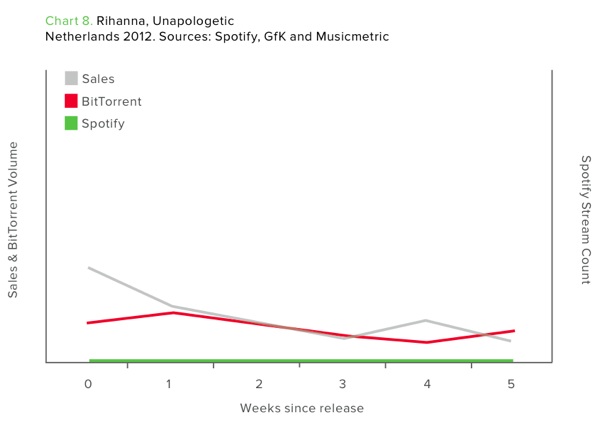 Case Study #2: Robbie Williams vs. Taylor Swift
"The pattern is repeated by Robbie Williams' Take The Crown and Taylor Swift's Red albums," the study continues.  "Like Take Me Home, Take The Crown was released on Spotify on the same day as through other channels and it suffered a lower level of piracy."
"By contrast neither Unapologetic nor Red were on Spotify and both suffered relatively more piracy."