Let the critics vilify Thom Yorke, Nigel Godrich, and Atoms for Peace all they want.  And, they have: just days after the pullout, Spotify released an entire research paper discrediting artist holdouts (curious timing), and Radiohead manager Brian Message has publicly disagreed with his own client on BBC.  Others have been far less kind.
Then again, critics don't get you paid.  And from the perspective of Thom Yorke and Nigel Godrich, neither do fans on Spotify.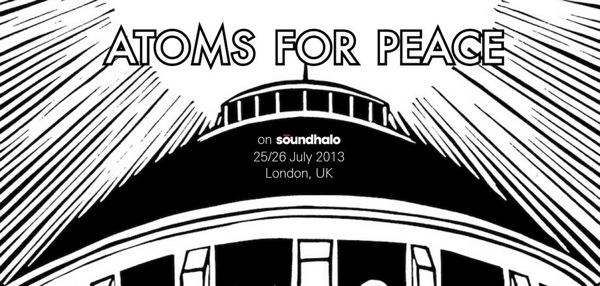 Which brings us to this: Yorke (along with Radiohead producer Nigel Godrich and Atoms for Peace) are now focusing on better-paying platforms.  Yorke and his 'supergroup' band have now inked a deal with soundhalo, a company focused on recording and quickly re-distributing hi-def concert performances across the web (for a premium price, of course).
All of which brings us to London, where Atoms for Peace will be rocking three sold-out shows next week.  Two of those performances (on Thursday the 25th and Friday the 26th) will be available for purchase on the soundhalo platform, which means fans worldwide can enjoy the gig (with a slight delay) across their desktop, tablet, smartphone… whatever.
Perhaps more importantly, fans will be paying a modest premium to enjoy these performances.  And, none of this is ad-supported or fractions of a penny.  Instead, each gig costs £9.99 (or about $15), with one-off songs available for 99 pence ($1.50).  Or, you can go to the gig for about £65, where fans can then decide to purchase the video files for later viewing (it's quite the targeted audience).
All of which is a whole lot more than Spotify pays.  And, Atoms for Peace will be getting a far better percentage of a far greater amount, on a far more unique asset that they control.
The re-broadcast is a major coup for soundhalo, not to mention the concept of digital concert redistribution.  Others swimming in this awesomely-emerging space include iRocke, Evntlive, Lively, Ustream, and StageIt (just to name a few), with arrow-in-back pioneers like Control Room and mega-simulcasts like Live 8 opening the potentially vast frontier.
Soundhalo, still in beta, delivers MP4s straight from the stage, with hi-res the norm (for those that can handle it).  Preview clips are available for free, and shareable across Facebook.  Once purchased, performances can be synch'd across different devices, including a majority of iOS and Android handhelds.  At present, soundhalo is optimized for Chrome, Safari, and IE10, with Firefox next.  Blackberry and Windows mobile devices are also on the plate (for whatever reason 😉
Written while listening to Atoms for Peace (on, err… YouTube (for free)).  But that's another story entirely.