The following guest post comes from Chelsea Van Bloom at Feedbands.com. Feedbands is a crowdsourced vinyl startup that finds one music group every month, presses their album to vinyl, and sends it to subscribers. Artists get paid and keep all the rights to their music. 

It's no secret that for most, "musician" is not a lucrative career choice.  Like many professions in the
arts, a select few musical artists make it big and live large, and the rest struggle.  According to this chart
from Berklee College of Music, the pay for the vast majority of jobs in the music field varies widely, but independent artists playing club gigs are definitely at the low end of the spectrum.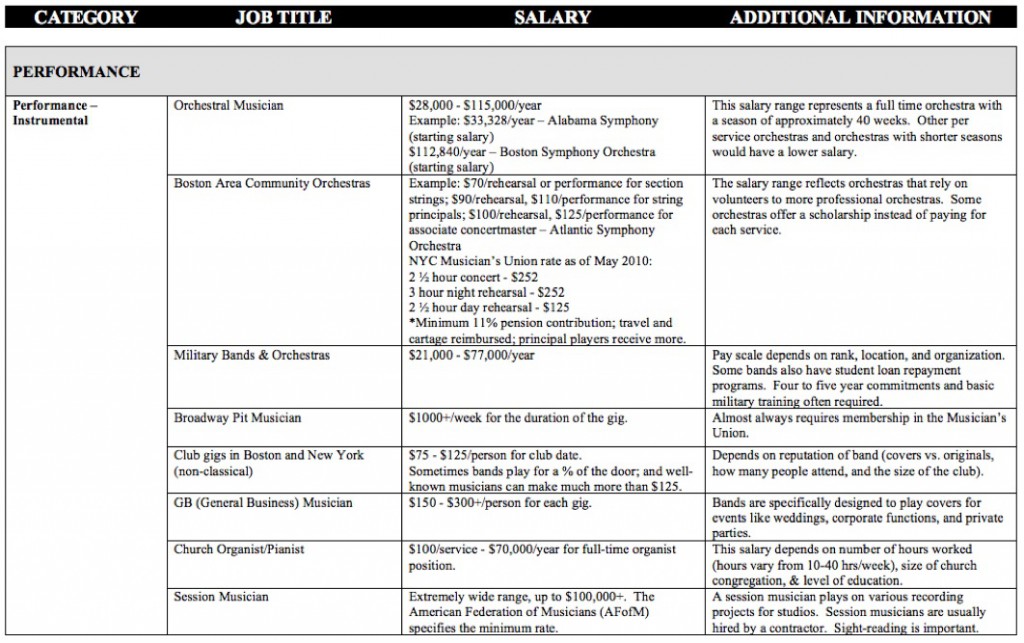 So hypothetical: let's say you're a in a band.  Let's assume, for the purposes of this exercise (and for the
fact that it's probably true), that you would like to make a living.  How are you, a musical artist, going to
go about exchanging your skills for monetary value?
Well, you've got a few options: streaming, shows, merch, and music sales. 
I. Streaming.
Streaming seems to be the latest format for music distribution, at least, that's what the kids these days (and, apparently, the French) are doing.  But there's been quite a lot of
controversy over just how much – or rather, how little – artists make from services like Pandora and Spotify.  I'm not here to get into that; I'll just say I think we can all agree that there's clearly a debate
about it.
II. Live Shows
You can play live shows, which is usually part of the gig anyway but doesn't pay much unless you're at
the point in your career where you're attracting a solid crowd.  According to Future of Music Coalition,
who did a very informative study about artist revenue which I highly recommend should you be
interested, live performances constitute on average about a third of your income as a musician.
Shows are clearly important to the performing musician, but they also take a lot of time and money to put on.
Logistically, they can be quite complicated.
III. Merch
Alright, what about merch?  The truth about merchandise is that despite the average BitTorrent­ user's
claim that "bands make their money on t­-shirts," musicians tend to make about 2 percent of their income from
the sale of non-­musical physical merchandise like t-­shirts, hats, and posters.
Now, that's not a lot any
way you slice it, but it is important to note the discrepancies between genres regarding merchandise
sales.  And by that I mean it's not hard to find a rock, indie­ rock, or hip-­hop band tee (heck, there's half
a dozen in my closet), but good luck spotting a Dave Brubeck or Bill Evans shirt on the street.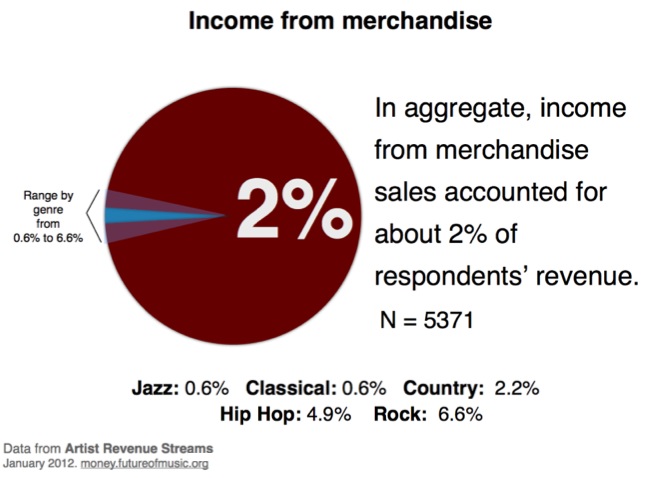 IV. Actual Music Sales
So that leaves us with actual music sales. According to the Nielsen Company & Billboard's 2012 Music
Industry Report, overall music sales are at an all-­time high of over 1.65 billion units. Digital sales are ever on the rise, increasing 9.1% from 2011 to ­2012.  CD sales (unsurprisingly) decreased by 13%.
Despite the rise in digital sales – the rise in
digital everything, in fact – physical music
purchases still exceed digital ones.

The thing I find most interesting is that, for the fifth consecutive year, sales of vinyl records are higher
than they have been in the history of Nielsen SoundScan. Yes, that's correct: records are breaking records. (I'm so sorry; I just couldn't help myself.)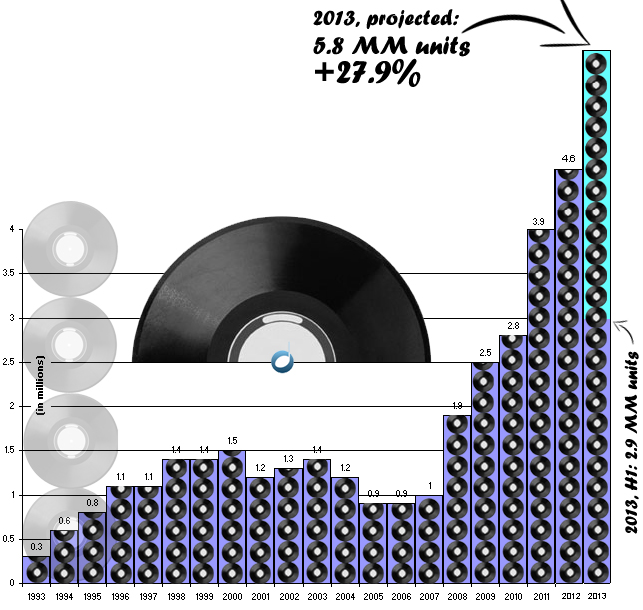 It's clear that there has been a resurgence in vinyl (even a vinyl library just opened in London). Feel free to speculate and pontificate on the possible reasons for this rapid swell in vinyl enthusiasm (not the
least of which I'm sure also helps explain the sudden appearance of handlebar mustaches on everything
from t­shirts and keychains to pushpins and ice cube trays.  I wish I was making this up.)
At least we can
all agree that people love having a physical form of the music, and still purchase physical more than
digital.
Because physical music sales are greater than
digital sales, and because the trending physical
format is vinyl, independent artists are missing
out on a huge income stream by not having vinyl.
To the artist who's never released vinyl, there are many questions:
(a) How do you go about getting a
record pressed?
(b) What would it cost you?
(c) How much can you charge for a record?
(d) What does one
need to know before getting a record made?

For the purpose of today's article, we're going to discuss the risks/benefits of pressing vinyl.  Further down the road, we'll discuss the ins and outs of the actual process.  For now, let's assume you have a full length album that you want to invest in pressing, so that you can sell your vinyl at shows and increase
your income.
When pressing your record, you have a
bevy of options including the weight of
your record, the color of your record,
and whether or not you're going to
include a digital download card.
We will quickly go over the cost breakdown, and what it will take to get 500 black records in standard
weight.  Below is a breakdown of the pricing for Quality Record Pressings, arguably the gold standard for record pressing right now in the US: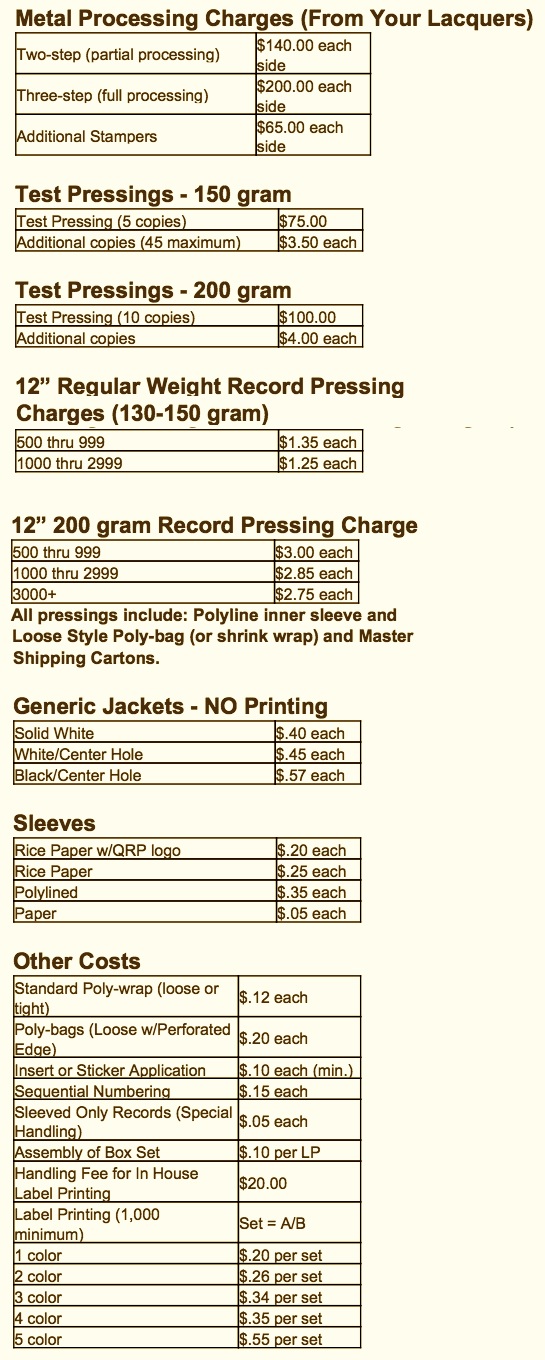 So let's go ahead and press 500 records in black 150 gram. Our costs are as follows:
(i) Full three step processing: $200
(ii) Test pressing: $75
(iii) 500 records @ 1.35 each: $675
(iv) 500 Jackets, full color @ .60: $300
(v) 500 Center Labels @ .35 each: $175
(vi) 500 Sleeves on Rice Paper @ .25 each: $125

Estimated shipping for 500 records: $200
Which brings the total cost to press 500 records
to $1,750.
And what can you expect to make from these records?  For a real vinyl record, fans will happily pay
$15 to $20 to support an artist they love and get their music on vinyl.  Today, there are countless music
fans out there that only look for the vinyl at a show, and simply won't buy CDs.
People love collecting
vinyl. If you are on tour, and will be playing regularly to decent crowds, you should be able to sell 5
records per show. This will take you 100 shows to sell all your vinyl, but here's what you gain.
500 records sold at $15 each means
$7,500 in extra income for you or your
band.  Could this finance your entire tour? If you're scrappy, then quite possibly.
And there you have it, the vinyl opportunity for your touring band.
In closing, I just want to touch upon one more thing for artists considering investing in vinyl. There is
another benefit, above and beyond the monetary, and that is the emotional factor.  From art school
hipsters to old school misters, people are drawn to vinyl; drawn to it as something more than just an
audio format. And yes, part of that is just image. Part of that is just people wanting to be "cool."  Part of
that is the aura of elite intellectualism surrounding the appreciation of an antiquated commodity.
But I
wonder why that is.  What is it about vinyl?  For me, it's like the difference between books and Kindles:
one has the practical appeal of being very small and having a large capacity; the other just… feels good.
Books are like vinyl. Vinyl is tactile. It's physical. It is, for lack of a better word, realer.
When people explain why they love vinyl, it's usually for visceral and experiential rather than practical
reasons. They say it sounds better, it feels better, and I have to agree.  Yes, the debate as to whether or
not vinyl is actually acoustically better rages on, and whether or not you think it is, the point is that the
debate is there.
Still. Vinyl is undeniably reemerging as a trending format that many people are deeply
emotionally connected to. I don't mean to say that vinyl is the be­-all, end-­all of music listening. (I don't
think there even is or ever should be a be­all, end­all when it comes to music.) However I do think that, just like physical books, there will always be a place for it.
And as an artist trying to pay rent, eat, and go on
tour, I guess all you really need to know is that it's selling.