This is the reason why it's so easy to book an artist for free.  And, why the whole concept of a musicians' union seems so far-fetched.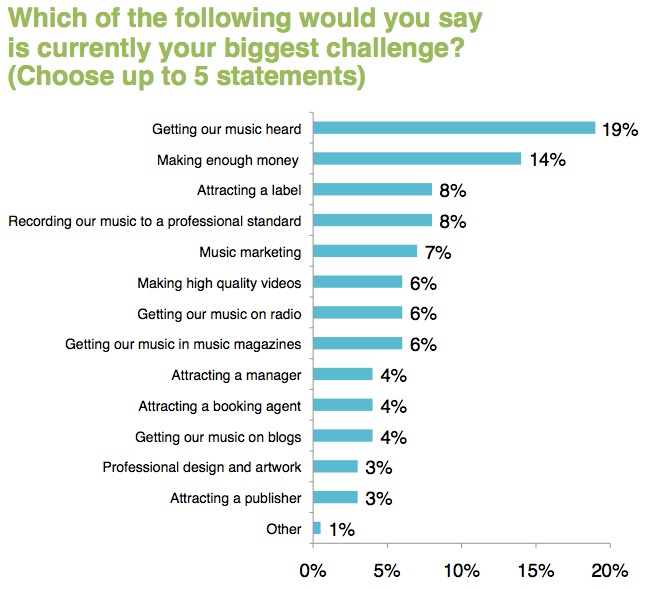 The survey (here), conducted by Right Chord Music and Farida Guitars, involved more than 200 mostly unsigned and indie artists.  By far, these artists are making most of their money on the road, with downloads and CDs a distant second and third, respectively.
Welcome to the riddle of the modern-day musician: most of the money is coming from shows, yet it seems like there's always an amazing group willing to play for free.
Which leads to some bad economics: even among the paid, the study's authors (based in London) were quick to dismantle the idea that the road is a lucrative place for artists.  "Although average incomes from live shows were not captured in this survey Right Chord Music would expect  income from live shows at this level to be between £20-£50 per London show, and a band to be playing a maximum of three paid shows within an average month.
"It's clear once income is divided up between 3-4 band members and petrol, parking, hire, and rehearsal costs are factored in, income does not necessarily mean profit."
Unsurprisingly, streaming and merchandise ranked extremely low on the income list.  But perhaps most surprisingly, more than a third of the surveyed artists are selling CDs on a table at shows.  That's roughly double the number for the next outlet, Bandcamp.
This just scratches the surface: check out the much larger study over at Right Chord Music, which dives into methodology, management, recording, and all sorts of other areas.