Streaming is marginalizing the file-swap, but the same can't be said for lyrics.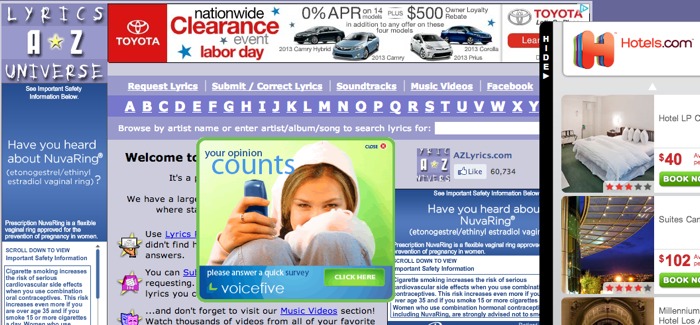 According to one major publishing executive, the web has been 'infested' with unauthorized lyrics sites for nearly two decades, with most fans unaware that any laws are being broken.
"Limewire's out of business, AZLyrics isn't."
(Update 08/31: there's some disagreement over whether AZlyrics has been recently licensed; it appears that some agreements may have been signed several weeks ago.  We'll be updating soon.) 
Fast-forward to 2013, and lyrics sites are among the most heavily-trafficked destinations online, with zero going back to lyrics writers or publishers. "You can't really tell the lyricist to sell t-shirts exactly," the executive continued.
The oft-outspoken David Lowery, a professor at the University of Georgia, estimates that the lyrics business is actually worth more in the internet era, regardless of who's getting paid.  In a just-published study on the matter, Lowery ranked the 50-largest illegal lyrics destinations and found a large percentage profiting from major advertisers.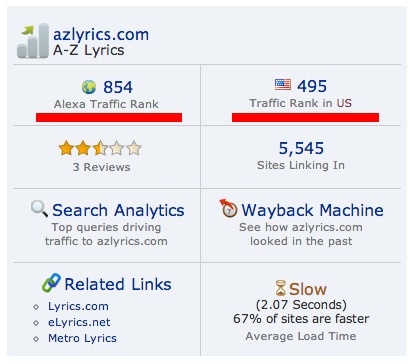 The impressive list demonstrates that this is not only big business, but that big advertisers are also benefitting.  "The vast majority of these websites seem to have well-established monetization schemes based on advertising," Lowery notes.  "Many of the sites appear to have accounts with major online advertising exchanges and prominently feature advertising from major brands.
"There are even companies that appear to specialize in matching specific lyrics to key demographics for advertisers."
According to Lowery, there are several reasons why all of this is flying under the radar:
(1) Most people are completely unaware that lyrics are protected under copyright law, or care.
(2) There is very little legal action against massively-illegal lyrics websites.  "There are no law enforcement actions that I am aware," Lowery notes.
(3) Online lyrics are generally regarded as a low-revenue game.  Lowery points to sheet music as the analog equivalent to lyrics and tabs destinations, a far less flashy and low-revenue sector.
Lowery hasn't put a valuation on this sector (yet), but clearly thinks it's bigger than most think.  "The industry is robust and flourishing," Lowery notes.  "Just like their music streaming and music download counterparts, licensed lyric sites compete with many unlicensed sites that are not burdened with royalties to songwriters and publishers."
(Ranked by search result rankings)
(update: looks like songmeanings.com is licensed after all, per Lowery and lyricfind.com)
Website
major brand ads
1
 songlyrics.com
yes
2
 musicsonglyrics.com
yes
3
 lyricsmania.com
yes
4
 

songmeanings.com

yes

5
 stlyrics.com
yes
6
 lyricsreg.com
yes
7
 lyriczz.com
yes
8
lyricsondemand.com
yes
9
lyricstime.com
yes
10
lyricsdepot.com
yes
11
elyricsworld.com
yes
12
songonlyrics.com
yes
13
lyricstranslate.com
yes
14
karaoke-lyrics.net
yes
15
lyrics.astraweb.com
yes
16
kovideo.net
yes
17
oldielyrics.com
yes
18
poemhunter.com
yes
19
maxilyrics.com
no
20
lyricsboy.com
yes
21
anysonglyrics.com
yes
22
lyricsmansion.com
yes
23
absolutelyrics.com
yes
24
videokeman.com
no
25
digitaldreamdoor.com
yes
26
musicloversgroup.com
no
27
urbanlyrics.com
yes
28
asklyrics.com
yes
29
nomorelyrics.net
yes
30
plyrics.com
yes
31
lyricsforsong.net
yes
32
hotnewsonglyrics.co
yes
33
lyricsg.com
yes
34
hitslyrics.com
yes
35
sasslantis.ee
yes
36
lyricspinas.com
no
37
cowboylyrics.com
yes
38
guitaretab.com
yes
39
songtextemania.com
yes
40
lyrics59.com
yes
41
golyr.de
yes
42
lyricsera.com
yes
43
justsomelyrics.com
yes
44
allthelyrics.com
no
45
6lyrics.com
yes
46
lyricsfeast.com
no
47
hiplyrics.com
yes
48
lyricsprint.com
yes
49
paroles-musique.com
yes
50
muzikum.eu
no