And the number one question artists have been asking Digital Music News, in emails and comments?  That would be,
"How can I forcibly remove my content from Pandora?"
Which is why several months ago, DMN looked into the matter (with the assistance of an unnamed executive) and even started working on a very complicated instruction guide for boycotting Pandora.
The answer — way back then — was that a removal could probably be accomplished, but only with considerable difficulty.  Two months into the draft, we realized that lawyers were needed to double-check the language, but there was also disagreement over exactly what that letter would state and whether it would hold water.
The danger was that publishing an instruction guide with a form letter could be damaging, especially if any errors or revisions were required.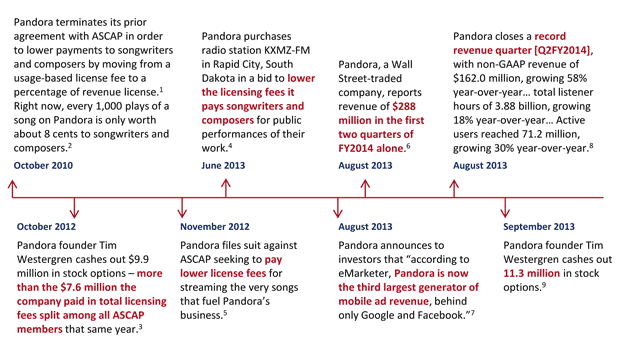 Fast-forward to this week, and it now seems nearly impossible, at least without also removing your content entirely from ASCAP or any other collecting society.  And the reason is contained in the court decision you probably just read, which determined that publishers and songwriters are not permitted to carve out separate deals while also maintaining a membership of a collecting society.  All of the content must be licensed, by law, not pieces of it, which means that artists are similarly unable to branch out, or carve out, their own deals.
All of which means, at least over the short- and mid-terms, any attempt to extricate content from Pandora comes with serious collateral damage: ie, removal from a collective licensing group, and the performance royalties contained therein.
Longer-term, however, and more solutions are possible: every day, technology continues to make direct licensing a reality.  Superstar-level artists, labels, and even services like Sirius XM Radio (with the help of MRI) are pursuing these options.  Which means, after a few years (ie, the end of 2015), Pandora may be dealing with a very spotty catalog choice and lots of selective removals.
If it makes you feel better, you can sign this petition drafted by ASCAP this morning.  It demands that Pandora's new CEO, Brian McAndrews, stop screwing songwriters and unscrew Pandora's horrific artist relations problem.  You can also lend your support to #StandWithSongwriters, tell your story to ASCAP (email [email protected]) and even make a presence on Capitol Hill (there will probably be more hearings ahead).
Again, if it makes you feel better: in reality, McAndrews doesn't give a f*&k, and Wall Street pushed the stock upward on the court decision.
In all reality, you have a better chance of keeping the US out of Syria than keeping your music off of Pandora.
But here's the petition, if you're interested.  Thanks.
(timeline supplied by ASCAP)