Streaming services may be paying you pennies, but at least they're lowering piracy.  But what if that isn't true?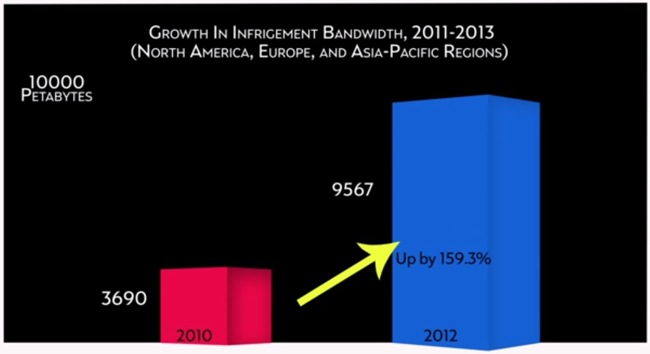 Enter Envisional, the research arm of NetNames that is finding massive and continued increases in media piracy.  And, an increasingly profitable black market.
Here's the research synopsis from study author and Envisional Director of Piracy Analysis David Price.

Back in 2011, we released a study under the name Envisional, which found out that 23.8 percent of worldwide bandwidth was being used for infringing content.  The absolute amount of bandwidth being used for infringing content grew by 160 percent over the period between 2010 and 2012.
For the 2013 study, we're looking at a much wider range of data points.  As well as looking at the amount of infringing bandwidth that we see online, we're also trying to estimate the number of users who are involved in accessing infringing content on a regular basis.  And we're focused on three key regions, which are North America, Europe, and Asia Pacific.  So in the 2013 study, what we're looking at is any type of infringing content at all – film content, television, books, software, games, music.  The only thing we're not looking at is pornography; it's often very difficult to work out whether a piece of pornography is infringing or not.
So in November of 2011, we saw 297 million infringing users.  By January 2013, that figure has grown to 327 million unique internet users, who are accessing infringing content at least once a month.
In 2010, we measured 3,690 petabytes of infringing content, it's the absolute amount of data that was being infringed.  By 2012, that had grown to 9,570 petabytes.  A petabyte is 1,000 terrabytes, a terrabyte is 1,000 gigabytes, and a gigabyte is 1,000 megabytes.  So you can see just how much content we're talking about.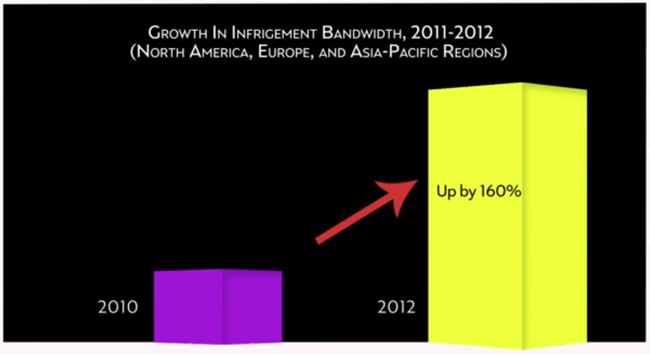 At present, there are three major types of piracy ecosystems that are used worldwide: they are BitTorrent, video streaming, and direct download cyberlockers.
So BitTorrent works, a user will typically go to a BitTorrent portal site.  They'll download a tiny little file from there which links to a particular movie or television show, they'll load that into their BitTorrent client, and they then join a swarm of other BitTorrent users all of whom possess that particular piece of content.  And they're all sharing little bits of data between themselves, so eventually the user is able to download the entire show in one go.
The vast majority of BitTorrent sites make money through advertising.
You go to any of these sites and you'll see banner adverts, pop-up adverts, they're usually replete with adverts of all kinds, typically for things like casinos, dating sites, and download managers.
On the infringing video streaming ecosystem, what we typically find is a large number of linking sites that tend to index and collate content.  A user will go to one of these sites, search for the latest film or television episode they're seeking, and the site then pushes them towards a hosting site, often called a video streaming cyberlocker, which actually hosts the video content that the user can then click and stream direct to their computer.
So most video streaming sites have a lot of advertising on them just as the BitTorrent sites do, but some of the video streaming sites also offer premium subscription.  They user pays a fee of anywhere between $5 and $10 a month, and for that they're able to access the video without any advertising, or more video over a particular period of time.
So the piracy sites that we've focused on for this study are very much driven by profit: they are generating revenue from advertising, they are generating revenue sometimes from premium subscription fees.  And obviously when enforcement shuts these sites down and or shuts down their payment processors, it's hitting directly at their revenue streams.
"So obviously what we've seen over the last two years is a significant rise in the amount of pirated content, and the amount of infringement that is taking place across the internet."