That's according to a recent survey from the Future of Music Coalition, which found musicians to be 'chronically under-insured' and drastically below national (US) insurance averages.  And perhaps unsurprisingly, the more dedicated you are to your craft, the less likely you are to be insured.
The reasons are strikingly simple.  Also unsurprisingly, roughly 88% of all musicians lacking health insurance simply couldn't afford it.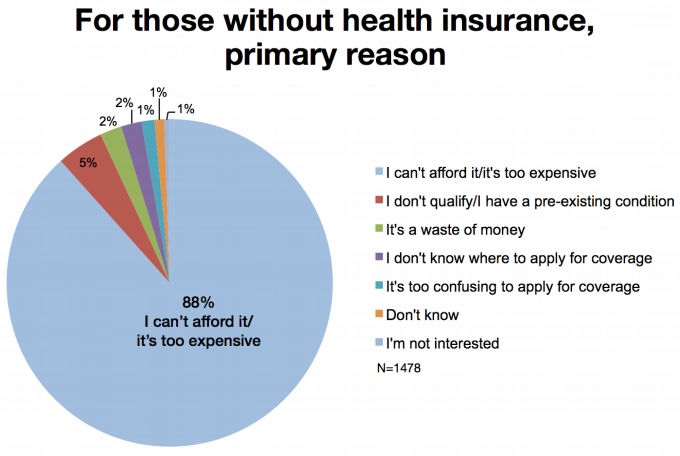 One question is what to do about this, and whether doing something would have any tangible impact on cultural output.  The perverse reality seems to be that great music often comes from desperate, poor corners of the world (for example, the Blue from the Mississippi Delta).  The extreme opposite of that can be found in hyper-wealthy corners like Norway, where lushly supported artistic communities aren't over-producing great artists relative to the rest of the world.
Anton Gunn, Director of External Affairs at the US Department of Health and Human Services, firmly feels that government assistance would improve cultural output.   "There's a fundamental difference in the quality and amount of good, artistic music that can be given to our community, when we have strong and healthy artists," Gunn asserted during a Future of Music Summit keynote in Washington, DC.
Gunn, who self-identifies as "I Am Hip-Hop" and grew up in the rap renaissance of Virginia Beach, pointed to painful situations involving hip-hop legends like J. Dilla (died from complications of Moschcowitz syndrome) and Phife Dawg (suffers from Type I Diabetes).  J. Dilla is widely lauded as one of the most influential producers in hip-hop; Phife Dawg is part of A Tribe Called Quest, one of the most influential rap groups in history.
"If you're not well physically or mentally, can you produce the kind of quality you want of in any field, much less music?" Gunn asked.
But there's also the simple human factor, which looks at artists as humans first, creators of important cultural relics second.  From that lens, it's clear that musicians are the most likely to to be assisted by Obamacare, and less likely to be generally miserable as a result.  "These results confirm what arts advocates and supporters already know; that US-based artists are much less likely to have health insurance," said FMC's Kristin Thomson, one of the authors of the report. "With vast swaths of the artistic community currently uninsured, and many either self-employed, low income, or under 65, self-employed artists are exactly who the Affordable Care Act is designed to help."
The FOMC survey, concluded over the summer, was coordinated alongside the Artists' Health Insurance Resource Center (AHIRC), a project of The Actors Fund.   The full report is here.