It's cold out there, especially for companies with terminal financial problems, unsustainable models, incredibly overpaid executives, or a complete unwillingness to adapt.  For example…
(1) Pandora.
Remember, the founder and greatest evangelist of Pandora is cashing out all of his available shares.  Once upon a time, Tim Westergren was a nanny pursuing an outlandish dream.  These days, he's investing in as many life rafts as his compensation package will allow.
Any why is he doing this?
(a) Pandora lacks a sustainable business model that includes paying content owners what the actual market would demand.  Eventually, publishers and other rights owners will figure out a way to extricate themselves from temporarily-binding court decisions and restrictive PRO memberships.  The technology exists, they just need time (and some will be hostile).
(b) Pandora has the ability to focus their model around paying, premium subscribers, but refuses to do so.  Instead, a freemium model commands greater mindshare and attention on Wall Street, but far less financial stability.
(c) iTunes Radio has already amassed 20 million active listeners in just one month, which is one-third that of Pandora.  So ask yourself, how many will iTunes Radio acquire in one year?  five years?
(2) At least one of the remaining three major labels.
Because extracting ransoms and squeezing equity shares on aging recording catalogs doesn't last forever.
EMI has already folded into Universal Music Group, which leaves Sony Music Entertainment and Warner Music Group as the other two survivors.  Unfortunately, only one of them is likely to survive the coming winters, or at least be left standing as a stand-alone by 2018.
The reasons for this are simple: Google, ISPs, YouTube, Spotify, and the Pirate Bay (or its replacement) have won the battle over music distribution and devaluation, which means the recording will continue to move towards $0.   Which also means that the number of companies that can build models around massive promotional muscle, while benefiting properly from non-recording assets, is limited.
(3) Spotify.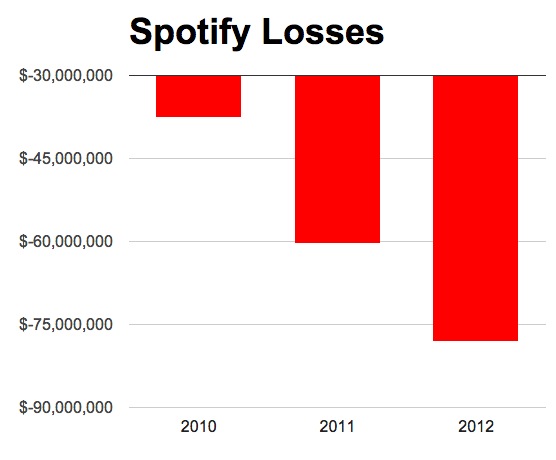 Spotify may represent the future of music consumption, but that doesn't mean Spotify will be around to enjoy it.  So forget about 2018, check out what's happening right now:
(a) Spotify doesn't have enough paying subscribers relative to active, free users.  And, it turns out that ad-supported doesn't support too much.
(b) Research (by Mark Mulligan and others) shows that attracting active, returning users – paying or otherwise – involves massive amounts of churn.  Which means that successfully converting a somewhat-interested listener into a Spotify devotee is extremely expensive and difficult.  Which brings us to…
(c) Spotify has already burned  well past $200 million in cash, and is running low on available cash.  The company is now reportedly considering bank loans to cover future operating costs, royalty expenses, and product expansions.
(d) As a result of financing levels that now surpass $288 million, Spotify has a valuation that is so extremely high that only a small number of companies (ie, Google, Microsoft, or the government of Sweden) could afford an acquisition.  Unless we're talking about a dump-off fire-sale…
(e) Which leaves a Wall Street IPO as a last-ditch possibility, if Spotify can make it that far.
(f) Oh, and there's one more problem: YouTube Music, which is coming this Christmas (and probably every Christmas for the next five years.)
(4) Live Nation
Consider these facts: Live Nation is a company that:
(a) has burned through nearly $1 billion in losses since 2005.
(b) Pays its top executives tens of millions in annual compensation, most notably longtime CEO Michael Rapino.
(c) Routinely acquires companies and things it can't afford.
(d) Carries a massive debt load of nearly $2 billion despite near-certain economic instability and credit issues ahead.
(e) Is getting outbid, out-smarted, and outdone in the sector that matters most right now: EDM.
(f) Has a CEO that recently cashed out 40 percent of his available shares.
(g) Recently said goodbye to one of its youngest and most talented executives, Nathan Hubbard (now at Twitter).
And this is sustainable because…?
(5) MySpace Music
Hypebot editor Bruce Houghton calls MySpace 'the internet cockroach,' but not even Justin Timberlake can keep this insect from being crushed in the 2010s.  The site, which has fallen off the relevancy radar for most musicians and artists (not to mention fans), will stop squeaking pennies from low-rent advertisers when it finally stops paying for the servers.
---
Image by Karen O'D, licensed under Creative Commons Attribution 2.0 Generic (CC BY 2.0).  Written while listening to Chopin.