Lady Gaga's new album ARTPOP is out now. With that comes an app of the same name.
The marketing campaign for the album is continuing without manager and tech investor Troy Carter, although Carter is reportedly still involved in some capacity. Carter had been with Gaga her since her first release, The Fame.
The ARTPOP app is available now for iOS and Android. It highlights the album through interactive features and includes direct purchase links to iTunes. However, the app also has two features that will not be available until spring 2014, 'Trakstar' and 'Gaga TV'. Another section of the app says Trakstar will include live user DJ sessions.
Even though Gaga called the app an "interactive jewel case" in a tweet earlier this year, it appears to aim for long-term relevancy.
When the app is first opened, it prompts users to enter information about themselves, including what album themes they most identify with. Options include "fashion-tech", "composition", and more.  A cluster of colored light called an "aura" is generated; the aura changes over time.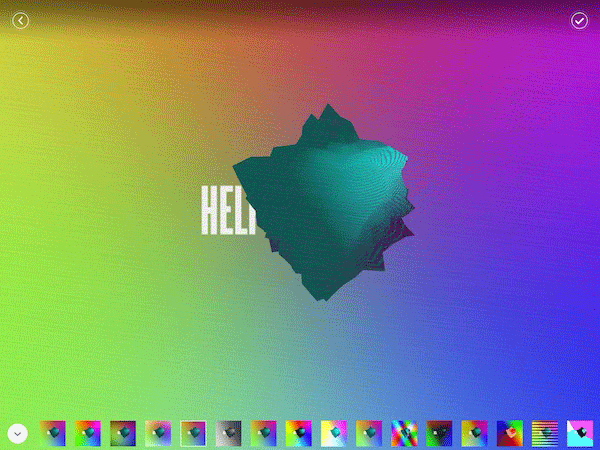 The most interesting feature of the app is a GIF creator. Users can create trippy GIFs using shapes, patterns, and quotes from the albums. The results look like they belong in the glitch art section of Tumblr. The app has a stream of users' creations and allows 'remixing' of GIFs in the stream.
The other aspects of the ARTPOP campaign also revolve heavily around the intersection of fashion, Pop Art, and technology, including:
ARTPOP's album cover features a realistic sculpture of Gaga created by Jeff Koons. The sculpture was shown at the album's release party.
A hovercraft dress called Volantis was also featured at the release party.
In 2015, Gaga will become the first artist to perform in space when she takes a Virgin Galactic vessel to the Zero G Colony hi-tech music festival.
H&M is carrying ARTPOP at 175 stores. Lady Gaga will cut the ribbon for the grand opening of H&M's new Times Square mega-store on November 14th.
The actual music is receiving mixed reviews, but Gaga's releases are no stranger to controversy. Whether Gaga's lofty post-Carter ambitions will generate higher sales remains to be seen.