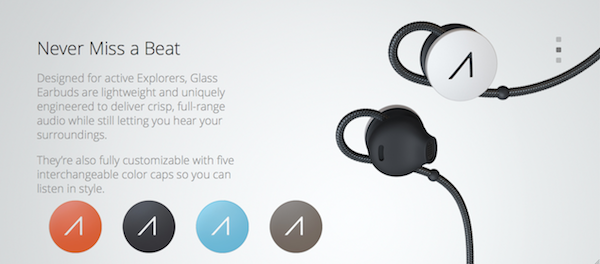 New features have been added to Glass, which isn't publicly available yet. The enhanced, music-oriented feature set includes:
Sound search: The feature has been added to voice commands. Music recognition technology is triggered by the phrase "OK Glass. What song is this?". Much like Shazam, it displays details such as artist, title, year, and album cover.
Google Play: Another voice command will pull up songs from users' libraries and from Google Play Music All Access. This can be triggered directly from sound search, making the process of listening to discovered tracks easy.
Glass Earbuds: These will be available at the end of November for a steep $85. The lightweight earbuds are designed for active users. They are "engineered to deliver crisp, full-range audio while still letting you hear your surroundings" and come in five colors.
Google Glass has posted a video of Young Guru putting the new features to work. He uses the device to help him speak Spanish, identify a song, email the song to a friend, listen to the song, and record and incorporate audio in a studio session. Young Guru is a DJ, producer, USC artist in residence, and is part of the Google Glass Explorer program.
Ed Sanders, head of Google Glass marketing, said:
"The ability to find and listen to music on the go is important to have as a feature for Glass."
Oh, and by the way, "on the go" doesn't mean "on the road".  A Google Glass user was recently fined for wearing the device while driving…