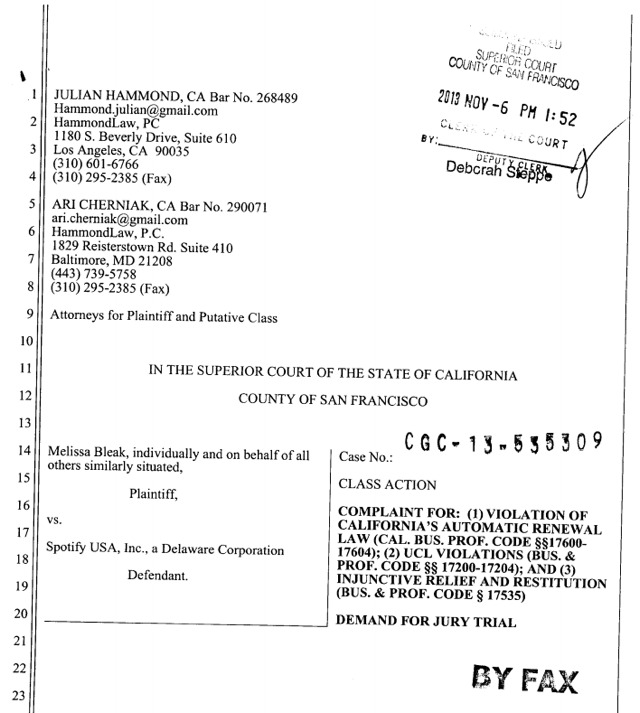 Here's another way Spotify can burn that $200 million.  According to legal paperwork obtained this morning by Digital Music News, Spotify USA now faces a class action lawsuit in the State of California for misleading and illegal billing practices.  The lawsuit, filed in the Superior Court of the State of California in San Francisco, finds Spotify negligent for unfairly roping customers into recurring subscription payments, without clearly spelling things out beforehand.
The question is whether this suit is completely frivolous, and more importantly, whether the process is only misleading according to technicalities of California consumer law.  More specifically, the suit points to a subscription sign-up process that warns customers of recurring monthly billing after credit card information is received, but fails to expressly gain their consent of the terms of service prior to starting the plan.  "In the premium plan notice, the defendant failed to provide a hyperlink to the terms, and the terms are not referenced at all on the unlimited plan notice," the complaint alleges.
"Moreover, defendant failed to provide a box to check or any other method by which plaintiff and class members could provide their affirmative consent to defendant's terms."
The suit was filed by Melissa Bleak, though ultimately appears driven by the attorneys at HammondLaw PC.  The complete filing (for viewing or download) is here.