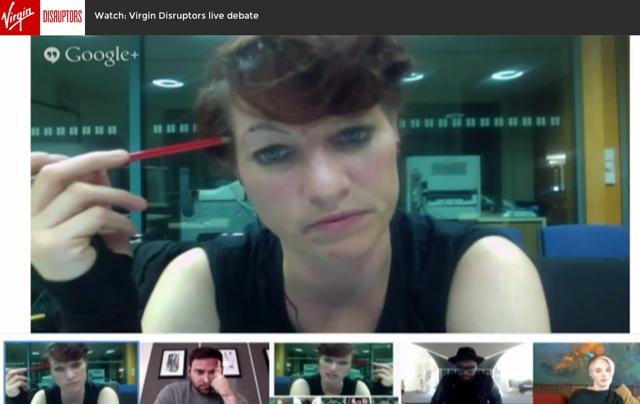 There used to be one band with the courage to do this sort of thing: Metallica.  Now, there are dozens of high-profile artists, with outspoken critics like David Lowery and Thom Yorke leading a previously-unthinkable level of protest against streaming and content devaluation.
Here are just a few of those voices that emerged in 2013.
(1) Amanda Palmer
Speaking at Virgin Disruptors in October, Palmer blasted leading platforms like YouTube, Spotify and iTunes for profiting handsomely off of artists while re-investing nothing in that content.
"And one weird thing is that iTunes, Apple, Spotify, Google, whatever, all of the people who are profiting – [and] YouTube – who are profiting off the artists from the small level to the huge levels aren't really feeding very much back into the creation of new content.  And, that's actually one of the largest problems, and even though my views aren't nearly as extreme as David Byrne's, he does bring up the giant question, which is 'where is the capital going to come from to make art?'  And people might think it's crazy for me to say that, because you can crowdfund, you can – there's a lot of things you can do."
"But wouldn't it seem that the place that is making the lion's share of the profit should actually also be putting money back into the creation of content to make a healthy ecosystem?"
---
(2) will.i.am
Speaking at the same event, will.i.am questioned whether VEVO and YouTube were unfairly forcing artists to accept certain branding associations, while carefully removing the artist from the profit stream.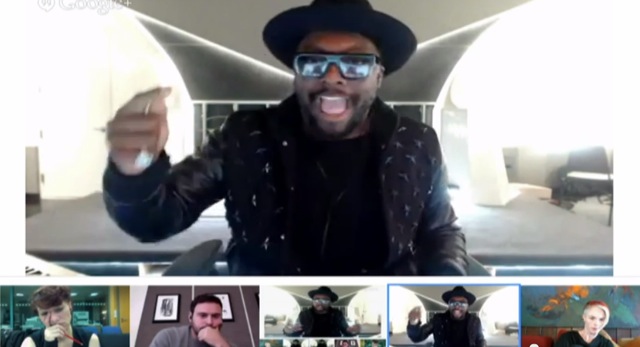 "And so while we're paying for our videos to be on that platform, to Amanda's point, at what point in time does VEVO pay for content, that gives them the ability to put commercials that we don't want before our content? And do we get to choose what commercials come before and after our content, when I'm the one paying for the video?"
"That's a very, very, very touchy, touchy, touchy subject that no one's talking about, as far as technology killing the music industry. Actually, the music industry has been redefined, utilizing the technology, leaving the artist out of the equation.
"So the power has to go back to the artist, and that's what we're experiencing here. Somebody's monetizing it, you can't just say a billion views and be like 'yup, you're free just like the artists are free'."
"Somebody's getting paid a lot of f*&ing money."
---
(3) Thom Yorke
July 14th, 2013, Yorke blasted Spotify for short-changing musicians while preparing for massive Wall Street millions.

more.
---
(4) Nigel Godrich
At the same moment, Radiohead producer announced a high-profile removal of certain Yorke and Atoms for Peace content from Spotify.

more.
---
(5) Zoe Keating
Keating has been publishing her criminally-low streaming music royalty statements for years, while also question whether touring really makes sense for the bulk of artists.  Speaking to the New York Times in January…
"In certain types of music, like classical or jazz, we are condemning them to poverty if [streaming] is going to be the only way people consume music…"
---
(6) David Lowery
The most outspoken, hated/loved, and most importantly – effective – artist activist in the world.   As portrayed by the New York Times in October…
"In public appearances and no-holds-barred blog posts, Mr. Lowery, 53, has come to represent the anger of musicians in the digital age. When an NPR Music intern confessed in a blog post last year that she paid very little for her music, he scolded her in a 3,800-word open letter that framed the issue in moral terms. Since then, he has attacked Pandora for trying to lower royalty rates, accused Google of masterminding a broad anti-copyright campaign and compared people who doubt the effect of piracy on musicians to those who think President Obama is a Muslim."
And, of course…
+ June 18th, 2012.  "Letter to Emily White at NPR All Songs Considered."
---
(7) Beck
In a rather relaxed interview, Beck described the difficult economics that now surround the inevitable.
"Streaming music is inevitable, it's something that is coming, like it or not.  But I question how I can hang on or stay afloat with this model, because what Spotify pays me isn't enough for me to pay the musicians I work with, or the people producing or mastering my music.  The model doesn't work, so we have to come up with ways in which people can help us to make music for free, or at least for much less.  But the current way isn't working, something's gotta give."
"If I tried to make my albums with that Spotify pays me, I wouldn't make them.  I couldn't hire other musicians or someone to master it; I'd have to do everything myself."
---
(8) David Byrne
In early October, Byrne deeply questioned whether platforms like Spotify, YouTube, and Pandora can adequately support newer artists – and culture in general.
"For a band of four people that makes a 15% royalty from Spotify streams, it would take 236,549,020 streams for each person to earn a minimum wage of $15,080 (£9,435) a year. For perspective, Daft Punk's song of the summer, 'Get Lucky,' reached 104,760,000 Spotify streams by the end of August: the two Daft Punk guys stand to make somewhere around $13,000 each. Not bad, but remember this is just one song from a lengthy recording that took a lot of time and money to develop. That won't pay their bills if it's their principal source of income. And what happens to the bands who don't have massive international summer hits?"
"The inevitable result would seem to be that the internet will suck the creative content out of the whole world until nothing is left."
Byrne has pulled off as much of his content from Spotify as possible; more in his essay (published by the Guardian).
---
(9) The Black Keys
The Keys were one of the first to speak sharply against Spotify, and pull their music.  Drummer Patrick Carney said this about Spotify in 2011, long before the onslaught.
"For unknown bands and smaller bands, it's a really good thing to get yourself out there. But for a band that makes a living selling music, streaming music royalties are not at a point yet to be feasible for us".
---
 (10) Aimee Mann
Back in January, Aimee Mann was still an early protesting voice.  "My record isn't on Spotify," Mann told the Telegraph.
"People may be outraged, but artists don't make money from Spotify."
"I think people have a totally different relationship to music these days.  There's a feeling that it's cheap, easy, disposable – and it's free and it's there.  Then you start thinking it should always be free, and always be there."
---
(11) Pink Floyd
In a very sharply-worded reaction this past June, the members of Pink Floyd blasted Pandora co-founder for tricking artists into signing and supporting an 85% paycut.
"Of course, this letter doesn't say anything about an 85 percent artist pay cut. That would probably turn off most musicians who might consider signing on. All it says about royalties is 'we are all fervent advocates for the fair treatment of artists.'"
"Meanwhile, artists are losing compensation at a dramatic rate. "For almost all working musicians, it's also a question of economic survival. Nearly 90% of the artists who get a check for digital play receive less than $5,000 a year. They cannot afford the 85% pay cut Pandora asked Congress to impose on the music community."
"Fine print is one thing. But a musician could read this 'letter of support' a dozen times and hold it up to a funhouse mirror for good measure without realizing she was signing a call to cut her own royalties to pad Pandora's bottom line."
---
(12) Anssi Kela
One of Finland's biggest pop stars is also a sensation on Spotify.  Too bad his paycheck isn't very sensational: just last month, Anssi Kela took the step of posting his entire streaming royalty statements online, revealing depressingly-low payouts.   "The Finnish market simply can't produce enough volume to make small streams into large seas," Kela relayed.
"At the moment, people need to listen to my song on Spotify about two thousand times before I've earned about the same as one sold CD."
---
(13) Mikael "Count" Eldridge
If David Lowery is the artist activist, Count is his producer-activist counterpart.  His recently-funded documentary-in-progress, Unsound, explores the massive (and often negative) changes affecting artists in the digital era.  That includes the oft-unspoken connection between piracy and streaming platforms like Spotify, both of which have radically devalued the value of recorded music.
---
(14) Blake Morgan
 In July, the recording artist, producer, and label owner questioned why Pandora and its founder, Tim Westergren, have been so thoroughly underestimating the intelligence of artists.
"Instead of lobbying Congress (as you have) to lower Pandora's rates, honor the rates Pandora, artists, and labels agreed upon together for Internet radio hand-in-hand with Congress in 2009. It's an agreement artists went into with you in good faith, that already dramatically lowered the rates Pandora had to pay. It's an agreement Mr. Westergren himself applauded at the time, famously and happily announcing on his own blog, "the royalty crisis is over!" It was also an agreement we were all supposed to continue honoring together, until 2015."
"Instead of claiming that artists like myself who have expressed disappointment in Pandora are being manipulated by our own performance rights organizations, understand that this is the smartest, best educated, best informed, most resourceful generation of musicians in this country's history, and we know fairness when we see it."
---
(15) East Bay Ray
The Dead Kennedys guitarist Ray Pepperell (aka, East Bay Ray) emerged as a staunch critic of Google-enabled piracy, not to mention unfair payouts by YouTube.  In February, Ray shared calculations with Digital Music News showing that YouTube was responsible for putting at least 12,000 musicians to work.
---
(16) The Entire Swedish Musicians' Union
Which is, a very large amount of artists in the strongest stronghold of streaming.  All of whom are question whether Spotify even has a right to use their music.
"We're saying that labels aren't even allowed to give out this digital content to begin with.  So we want our music deleted, from every streaming platform.  That way, we can start from scratch and start re-negotiating and see where it lands."
+ more.