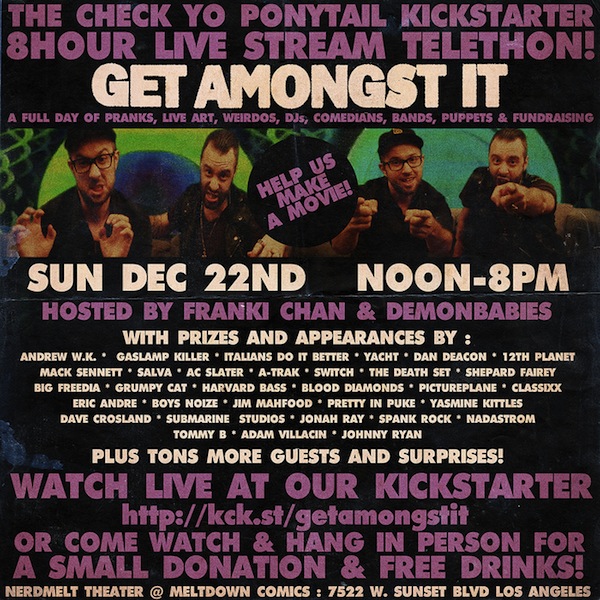 Check Yo Ponytail is hosting an 8 hour live streaming telethon to support their Kickstarter project.
Check Yo Ponytail is a Los Angeles based concert series. They're also put on a national tour and made appearances at SXSW. They have a Kickstarter going to fund a documentary titled Get Amongst It: The Story of The First Check Yo Ponytail Tour.

CYP films everything they do. They intend to use Kickstarter funds to combine footage they already have with new footage and animation. According to the press release, the film will serve as a "case study of what it takes to launch a true DIY tour in the current music industry landscape". It will tell the story of their tour that featured Spank Rock, Big Freedia, Pictureplane, and The Death Set.

An explanation of CYP and the project.


On the last day of the Kickstarter project, December 22nd, CYP will host a telethon / party that will also live stream on their project's page. This telethon will feature prizes and appearances from a host of characters, including Andrew W.K., Yacht, Dan Deacon, 12th Planet, A-Trak, Salva, Switch, Shepard Fairey, Big Freedia, Grumpy Cat, Blood Diamonds, Pictureplane, Classixx, Eric Andre, Boys Noize, and Spank Rock.