What percentage of artists are even marginally successful in the industry?
These stats come from Next Big Sound's 2013: The Year In Rewind.   NBS tracks an extremely large number of artists' online activities, or in their words, "more artists online than anyone else in the world".  The results on this massive dataset, however, were not exactly encouraging.
NBS used social media benchmarks to group artists.  They also took "artist milestones" into account, such as record deals, TV appearances, and charting on Billboard.  All of those milestones helped to inform the approximate level of an artist's success (or lack thereof).
Above is the distribution of all the artists they track.  These stats assume that successful artists have an online following.
Next Big Sound found that 80 percent of artists receive less than one new Facebook like per day.
Overall, over 90.7 percent of artists can be considered 'undiscovered'.
Turn that upside down, and you get these glaringly-lopsided network reach stats: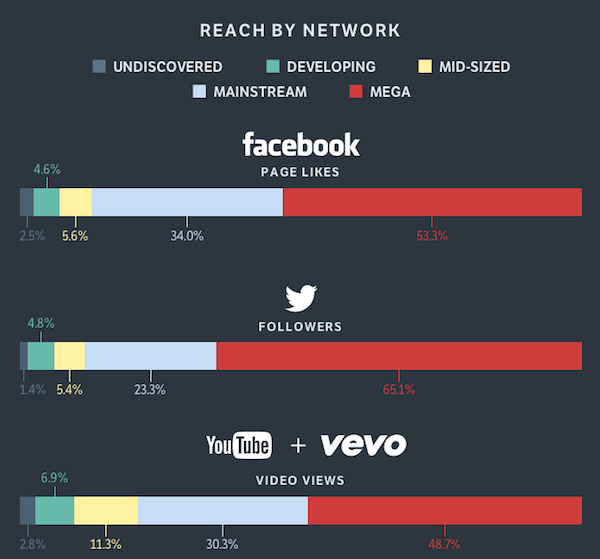 Mega-sized and mainstream  artists make up 1.1 percent of all artists yet have 87.3 percent of Facebook page likes. They also have 88.4 percent of artist Twitter followers.  Those imbalances quickly extend into other arenas, including YouTube and Spotify plays, and more importantly, earnings from recordings (streams and downloads) and live touring.
That said, smaller artists have more popularity on YouTube and Vevo. Undiscovered and developing artists get 9.7 percent of all artist views.
Interesting tidbit: NBS says Lorde moved from undiscovered to mainstream in less than eight months.