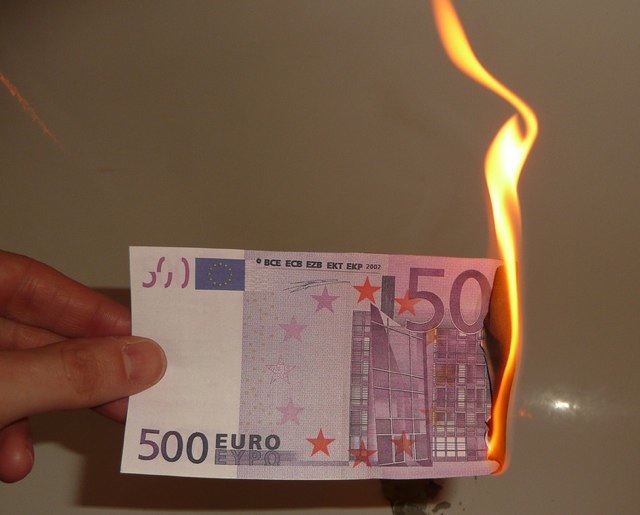 If you're into blowing money and wasting time in the South of France, then have fun at MIDEM, which starts early next month.  Otherwise, consider these reasons for scratching this crusty conference off the list:
(1) You Can't Afford It.
If you're already in Europe or a nearby country, then maybe this conference makes sense.  But if you're based anywhere else, especially the US, then you're paying thousands for flights, hotels, admissions fees, expensively-small portions, insultingly-overpriced drinks, and overpriced Wifi (if it's available and/or reliable).
Last year, I bought a '1664' beer for 12 Euros.  I never want to do that again.
But you booked early, got a cheap hotel, and eat at dives!  Great: have fun walking a kilometer to the conference (in the rain), eating Chinese food, and stressing about surprise over-charges.  Because unless there's a very clear ROI attached to this trip, you're probably wasting your cash.
(2) You Can't Afford the Time.
Even if you're coming from Europe, you may be draining your most precious resource: time.  Because all the flights, ground transportation, weather problems, delays, and time disconnected start adding up immediately.  Again, time = money, and if you're a serious professional you have a concrete valuation of what every hour is worth.  And it probably doesn't make mathematical sense for MIDEM.
The upside of MIDEM is that it still attracts a core of business-focused people, most of whom are dealmaking with fewer distractions.  The question is whether you couldn't do that same level of dealmaking, or more, at home, for a lot less money (and time).
(3) MIDEM Is Dying.  You Should be Growing.
Here's Exhibit A.  Any questions?
(4) French People Don't Really Like Americans.
Yes, there are amazingly awesome French people, and you will meet some of them at this conference.  But for the most part, French people don't really like Americans, even in the south.  And there's a decent chance they despise you (unless they are paid to pretend otherwise).
(5) The Conference Organizers Don't Really Like YOU.
This is a conference that takes place in a snooty place, with a snooty pedigree, and plenty of snooty attitude to go around.  And unless you're an extremely sought-after superstar artist or executive, you will feel this.
(6) Other Conferences Are Doing It Better.
Smart people have gotten this memo; especially the smartest people, who aren't attending Midem and shifting their resources to events like Music Matters, Eurosonic, SF MusicTech, or even SXSW.  And part of that is Midem's fault: this is a conference that has refused to shift locations and otherwise adapt.  They are also notorious for refusing to pay for top-level speakers, which means less top-level speakers and superstars show up.
(7) The Flights Suck
Again, the exception is in Europe, where a high-speed train, short flight, or even a drive can get you to MIDEM in a few hours.  Otherwise, prepare for a nightmarish journey: if you're crossing the Atlantic, then you've already committing at least 6 hours over the Atlantic, sans Wifi.  But that's not all, because it's nearly impossible to get an affordable direct flight into Nice this time of year, which means you'll be transferring terminals in London, Paris, Frankfurt, or some other European city that you won't have time to check out.
So have fun haggling with the airline, dealing with weather delays, and wasting money and time.  And when something goes wrong, it's gonna cost you (in both money, and time).
(8) It Sucks Once You Land.
Nice airport is far from Cannes!  If you're a VIP, you'll have a ride waiting for you.  Otherwise, try catching a bus, which is actually affordable and not nightmarish.
But wait: did you land too late for that bus?  Awesome: then you'll be paying up to 75 euros ($100) for a taxi ride to your hotel, with a cab driver that doesn't like you and thinks he's doing you a favor (welcome to France).
(9) The Weather Sucks.
If you're coming from Minnesota or Finland, the weather in Canne is amazing about now.  Otherwise, this is the completely wrong time to be hanging out here.  It's cold in January and February, and you can't enjoy the beach because it's drizzling.
(10) The Service Is Slooooowwww…
You will wait interminably for food and drinks, especially if you're used to New York restaurants and cafes.  Part of the reason is that waiters and waitresses aren't hustling for tips like in America, but even Europeans have a problem with this!  Oh, the other reason is that the help despises you (see #4).
(11) Cannes Is Completely Over-rated.
It's touristy, over-hyped, and cheap… except that it's extremely expensive.   So if you're on a budget, just head to the Subway, now right next to McDonald's in the center of town.  And watch out for the dog poop, which is everywhere.
(If you have the time, trek around surrounding areas, which are extremely beautiful…)
(12) No One Says Anything at MIDEM!
You think Daniel Ek is going to talk about some strategic secrets and trends?  Of course not!  He's busy doing other things, and announcing them later.  Which means you might pick up a nugget or two of good information, but most of the panels will be fluff and stuff you already know (or read on Digital Music News).
So if you've already booked your flights and hotels, then have fun and make great deals (and tell us about them).  Otherwise, do yourself a favor and save your money and precious time for something else.