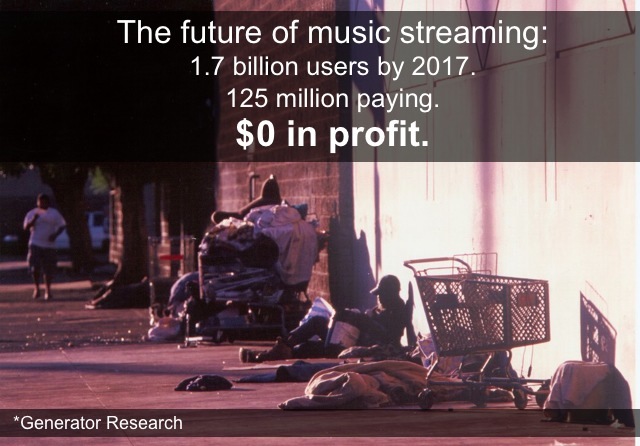 If the future of music is streaming, then it's a disastrously unprofitable one.  That's according to a blunt financial finding from Generator Research, which concludes that streaming services as currently structured have no hope of achieving profitability.  That is, barring a radical overhaul in the way royalties are structured, or a miraculous shift in the way music fans are monetized.
"Music subscription services are all losing money, and that is going to remain the case until they find a way to monetize a worldwide user base," the report states.
Generator projects massive increases in streaming usage and paid subscription, but no recognizable way to profit from it.  According to the report, the number of streaming users will balloon to 1.7 billion by 2017, up from 767 million in 2013.  Paid subscribers will leap to 125 million, up from 36 million currently.
Sounds incredible, except for the part where today's services starve financially.  Generator largely blames major recording labels for that bleak future: instead of fostering long-term growth, labels are squeezing roughly 70% of royalties from streaming services, not to mention massive upfront millions and generous ownership shares.  That unsustainable structure could spell the near-term collapse and consolidation of an overcrowded streaming sector, according to the report.
But unprecedented levels of free access are also setting a dangerous, and potentially irreversible expectation among music fans.  "Free music is a very dangerous thing, and we would not like our next generation growing up believing music is for free," Neeraj Kalyan of label T-Series told TechCrunch, shortly before pulling the plug on Dhingana.
"The streaming business has to slowly move from a free economy to a paid economy as the sustainability of an ad-supported revenue model is a big question mark."
The grim financial outlook comes as rumors intensify over plans by Spotify to go public.  But just like Pandora, Spotify's financials remain ugly and are unlikely to improve. "Pandora has never made a profit and we think that the company will never make a profit, unless there is a major change in strategy," Generator concluded.
Image: Eve Fouché, licensed under Attribution 2.0 Generic (CC BY 2.0).