I opened my Facebook today and saw the flood of various sites reposting the map of popular music in each state. BUT most people didn't actually read (or report on) what this map actually means.
It's not showing each state's most popular music.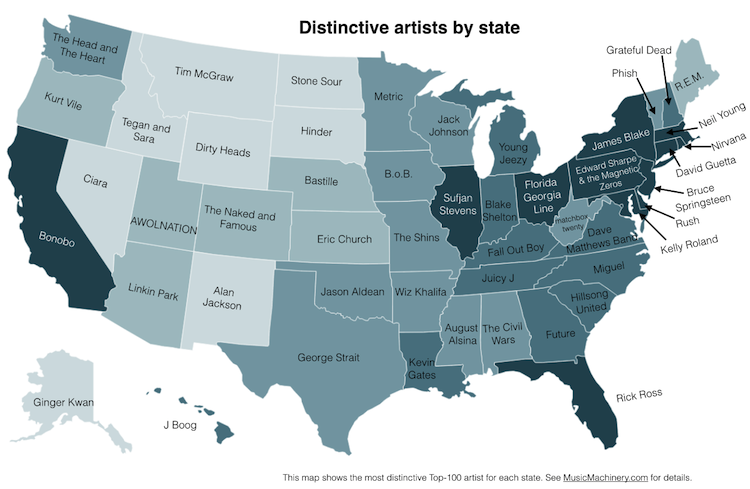 That would be very similar across the board – most likely what you see atop the charts. This data is from an algorithm created by The Echo Nest and Music Machinery and displays which states' most popular artists are more popular in that state versus the entire US.
Tom Ewig explained it as:
"Bonobo is the 28th most listened to act in California, but 85th in the USA as a whole, which earns it its spot here.

It has nothing to do with relative popularity [compared to] other states, and not much to do with relative popularity WITHIN the state – only [compared to] the US as a whole."
Now that we understand the map a little better, what does this mean?
Besides the fact that South Dakota and Arizona are keeping butt-rock alive?
The most interesting thing to me is that many bands are most popular in their home states (vs. the entire US).
DMB in Virginia. Phish in Vermont. Bruce Springsteen in New Jersey. The Head and The Heart in Washington. Rick Ross in Florida.
And Nirvana in Rhode Island.
Just kidding.
These bands are huge. Some have been consistently selling out arenas for decades.
Most artists hope to break out to become national stars someday. International stars.
But don't forget about your hometown.
Your hometown roots for your success and supports you through the rough patches.
Now, I'm not saying that DMB or Springsteen have had many rough patches, but it seems the fans who are most dedicated and continue to listen to them on a regular basis are from their home states (regardless of how long ago their last massive hit single was).
Don't forget about your hometown.
Build up your local fan base first, before you hit the road. You should become known locally before you attempt to break out globally.
When the world stops caring about you, you know you can at least rely on your hometown to still prop you up.
Oh, and if your most popular song is the name of a city (off of an album titled that state's name), you can bet on that state also taking a strong, loyal liking to you. Ahem Sufjan.
Ari Herstand is a Los Angeles based DIY musician and the creator of Ari's Take. His record release show is Saturday, March 29th at the Hotel Cafe in Hollywood. Get tickets here. You can listen to the first single here. Follow him on Twitter: @aristake