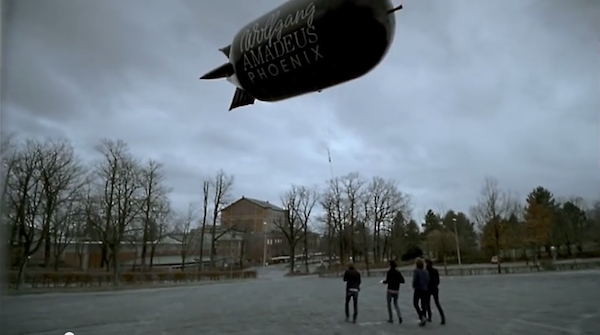 This is what happens when you wrongfully serve a takedown notice to the Creative Commons co-founder (who also happens to be a Harvard Law professor)…
The imbroglio began when copyright reform advocate Lawrence Lessig received a takedown notice from Liberation Music, Phoenix's record label.  Liberation wanted a video of Lessig's Creative Commons conference lecture removed because it contained clips of Phoenix's song "Lisztomania".
The clips were included in the lecture because Lessig was discussing a growing trend of call and response on YouTube. Users are creating, re-creating, and remixing videos as a form of communication.
Lessig showed a video clip that set scenes from The Breakfast Club to "Lisztomania".  Other users recreated and remixed the video, showing off their cities.  The clips appear in the lecture around 35:40:
The lecture was later uploaded in 2013.  Lessig soon received a DMCA takedown notice from Liberation Music. YouTube took down the video and said that they could close his account if another copyright issue emerged.
Lessig sent Liberation Music a counter-notice, since his lecture was fair use.  The label said they would take him to court for copyright infringement if he didn't retract the notice.  All of this over a lecture on fair use which highlighted some ways fans were using Phoenix's music to communicate.
Lessig withdrew the counter-notice and together with the EFF sued Liberation Music.
Unsurprisingly, the two parties have now agreed to settle the case out of court.
Liberation will pay an undisclosed amount in damages and say they will revise their copyright policies.
Liberation Music's managing director, Warren Costello, said:
"We regret that Liberation issued a take-down notice with respect to Professor Lessig's video… It was removed by a member of our staff without being reviewed and under a misunderstanding of the relevant law. Upon learning of the mistake we immediately reinstated Professor Lessig's video, amended our review process and have worked co-operatively with Professor Lessig to resolve this matter as quickly as possible."
Threatening to take Lawrence Lessig to court for copyright infringement doesn't sound like an "immediate" fix…
Lessig said: "Hopefully this lawsuit and this settlement will send a message to copyright owners to adopt fair takedown practices — or face the consequences."
Update, Friday Feb. 28: Phoenix have posted their support for Lawrence Lessig in a statement on their blog.  The band is upset that Liberation Music had the lecture removed.  They also encourage fans to re-interpret their music and post it online, saying:
"NOT ONLY DO WE WELCOME THE ILLUSTRATIVE USE OF OUR MUSIC FOR EDUCATIONAL PURPOSES, BUT, MORE BROADLY, WE ENCOURAGE PEOPLE GETTING INSPIRED AND MAKING THEIR OWN VERSIONS OF OUR SONGS AND VIDEOS AND POSTING THE RESULT ONLINE.

ONE OF THE GREAT BEAUTIES OF THE DIGITAL ERA IS TO LIBERATE SPONTANEOUS CREATIVITY – IT MIGHT BE A CHAOTIC SPACE OF FREE ASSOCIATION SOMETIMES BUT THE CONTEMPORARY EXPERIENCE OF DIGITAL RE-MEDIATION IS ENORMOUSLY LIBERATING."