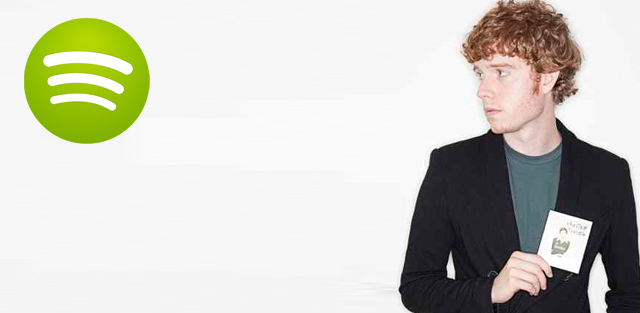 The 29 year old former lead singer of Chester French is the man behind SpotifyArtists.com. I sat down with singer/songwriter/producer D.A. Wallach Monday morning via Skype (even though we were literally less than 2 miles from each other – oh technology… and LA traffic).
Wallach was tapped by Spotify's CEO, Daniel Ek, 3 years ago to create and lead the Artist Services team. Joining the company before it launched in the US, Wallach has helped guide Spotify's image from the bowels of Thom Yorke's kitten graveyard to the shining beacon of Ron Pope's hot fudge sundae it is now. Who doesn't love ice cream?
Over the past year there has been a shift in artist perception about Spotify. It's now not cool to hate it anymore.
Artists are finally starting to realize the power the service has in building a fan base. Ron Pope, who has sold over a million iTunes downloads independently, mentioned in his pro-Spotify piece that the service paid him over $200,000 in 2013.
"If there's anyone who should be afraid of streaming, it's me. Instead, I'm watching my fanbase grow exponentially." – Ron Pope, Independent musician
Not only that, Pope said he was getting nearly a million streams in Sweden A MONTH (with virtually 0 iTunes sales) and because of this, was offered "a very respectable guarantee" to play at the Bråvalla festival last summer and had thousands of fans singing along to every song.
"We want Spotify to be the best place you connect with your fans," D.A. Wallach, Spotify's Artist-In-Residence
Along with the spotifyartists.com launch came Next Big Sound artist analytics which breaks down listening data by song, country, age and gender for the past 90 days (going back further will cost you $20 a month for a Next Big Sound account).
Wallach mentioned they hope to eventually break down the data by cities and even neighborhoods.
Artists setting up on a tour could (eventually) use this information to route very targeted tours. Why hit Chicago when most of your listeners are in Urbana? Spotify could one day setup a house concert service connecting the biggest fans in various regions with the artists directly to help create tours (and street teams).
Venues and Promoters would love to see these numbers when artists and agents request show dates.
But that's down the line.
Artists can request to see their Next Big Sound analytics here.
What is available now is Spotify's merchandise and concert ticket integration. Currently, every artist can add 3 merch items to their Spotify artist page by signing up with Topspin's ArtistLink here. Show dates and ticket info is automatically listed via Songkick (which scours all of the various concert listing websites to aggregate this data). Make sure the site you import your show data to reaches Songkick (or enter it directly to Songkick).
Spotify doesn't take a percentage of any merch or ticket sales – despite what the naysayers would like to believe.
"I'm the one driving the strategy and I'm an artist. What I've convinced the company to do is to just be totally open about exactly how everything works." – D.A. Wallach, Spotify's Artist-In-Residence
"We were, for a long time, slightly less explicit about exactly how our economics operated because we had to avoid exposing the proprietary royalty data related to our label and distributor partners and their content," Wallach mentioned when I asked him why it took so long for them to release any form of transparency. He said "[Spotifyartists.com] was the product of months of internal work to try and make the model as easy to understand for people and as open and transparent as possible."."
Why Are the Spotify Advertised Per-Stream Rates so much higher than Zoe Keating's numbers?
Zoe Keating is the most famous artist to release her numbers. Or rather, she is the best at garnering press. In her spreadsheet she listed she earned $1764.18 from 403,035 streams. That works out to be about $.00438 per stream. Well below the stated $.006 -.0084 per stream rate Spotify lists on SpotifyArtists.com.
Why the discrepancy? Well, Spotify pays out their advertised rate, but to various entities: a specified amount to the distributor (Tunecore, CD Baby, DistroKid, Orchard, Ingrooves-Fontana, etc) and the mechanical and performance royalties to collection agencies (Harry Fox in the US, PRS in the UK, etc).
Keating's cut is AFTER her distributor, CD Baby, takes a 9% commission. And, most people don't know,  Spotify (unlike iTunes in the US) pays out mechanical and performance royalties to Harry Fox as well.  These royalties do not go to the distributor.  So even though Ron Pope distributes his music through TuneCore which takes 0% commission, his stated numbers worked out to be higher than Keating's, but still do not fall within Spotify's advertised per-stream range.
Spotify's advertised per-stream rate is what they pay out. It's up to artists to collect all of this money from their Performing Rights Organization and from Harry Fox (or from their label and publisher).
Is there a discrepancy between what Major Labels make and what Indie Artists make?
Yes. But that's because the majors DO own some equity in Spotify. However, Wallach mentioned it's "a very small minority." He wouldn't say how much exactly. It's not half, like some have speculated.
But, setting the ownership aside, yes, Spotify pays out different rates to every label in the world. Spotify has struck deals with tens of thousands of labels and each deal is a little different.
However, Wallach said that these variances are so small that they work out to be a "rounding error."
Why Can't Spotify Strike Identical Deals with every label and distributor (and artist)?
Wallach mentioned that when iTunes launched it had different deals with each label as well. Eventually, over time, those initial deals concluded and iTunes struck up standard, "we take 30%" deals with everyone.  Spotify is working towards that point.  Their deals with the various labels end at different times and Wallach mentioned that when deals get renewed they are making them more consistent across the board.
"Our goal is: a play on Spotify should be worth the same amount no matter how it got to us" D.A. Wallach, Spotify's Artist-In-Residence
Most people forget that Spotify launched in the US 2 years ago. And in Sweden 5 years ago. It's still in its infancy.  People also don't talk about how YouTube is HUGELY more popular than Spotify and it's per-stream royalty numbers are abysmal.  Much worse than Spotify's.  And there are many more hoops to jump through to just grab ANY money from YouTube.
But people look at YouTube (rightly or not) as a promotional outlet.
Labels are starting to realize that streaming is quickly becoming MORE profitable than sales.  And artists soon will as well.
"Now, 2 Years after I released an album (independently), I earn way more from Spotify than I do from iTunes," Wallach reveals from his own music career.
Spotify rewards artists for creating music fans want to play over and over again.