You really want to see my streaming music royalty statements?
The following comes from Armen Chakmakian, a Grammy-nominated composer, keyboardist, and recording artist. 

There are tons of articles about music streaming sites like Pandora, Spotify, etc., in relation to recording artists making money or not.  Here's a screen capture of my quarterly royalty statement.
14,227 performances of music (almost every track 100% owned by me) generated $4.20.
Notice that performance of "Ceremonies" or "Distant Lands" on a streaming radio show like Hearts of Space.  That brings in 26 cents for the full writer's share.  Now, compare that to 2,088 performances of "Gypsy Rain" on Spotify, which brought in a total of 60 cents.
Someone's making money, and in true fashion with the music industry, it's not the artists.  I jumped ship and only write for television now because of business practices like these.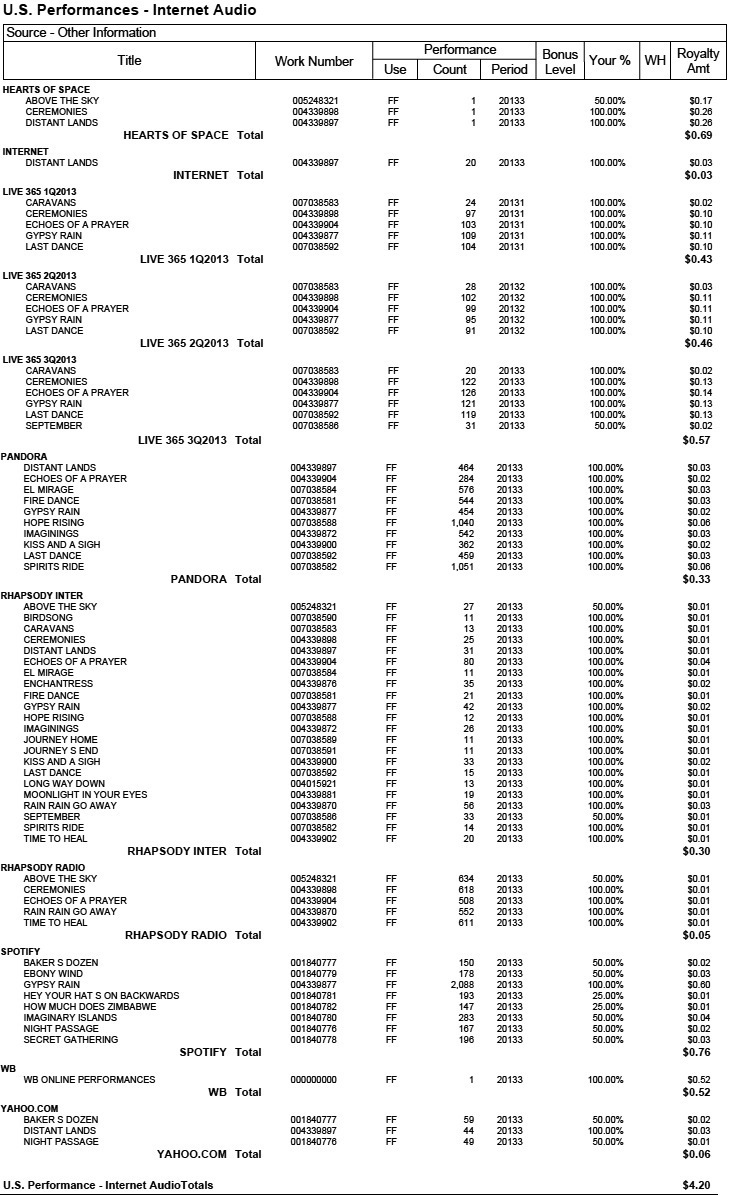 And since I'm in full-disclosure mode, I attached my SoundExchange artist royalty statement from the same period.  It shows a payment to me of $11.50.  I received a total of $30.89 from them — $11.50 for the artist; $19.39 for the label (I'm the label, TruArt Records).
Please note that the SoundExchange statement includes additional entities not listed on my BMI streaming section.  Please see the "Earnings by Entity" section of the SoundExchange statements.  You'll see Cable Radio, SiriusXM, Music Choice, etc.  Those companies are not part of that $4.20 payment from my BMI statement.
BMI and SoundExchange are my only known sources to collect money for my music that's used on these streaming music services.