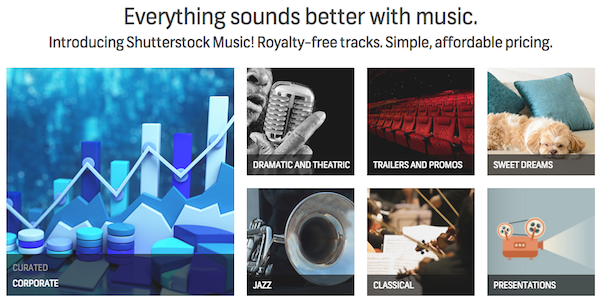 If you didn't like yesterday's news about royalty-free production music library Epidemic Sound, then you definitely won't like this…
Stock image and video site Shutterstock has added royalty-free stock music to their list of offerings.
The service has launched with 60,000 songs from partner site Rumblefish.
For now, Shutterstock is offering promotional prices on songs.  A standard license is $49, and covers one project.  It comes with unlimited web and podcast usage, broadcast usage for up to 1,000,000 people, and one country for  theatrical film usage.
An enhanced license is $419 and comes with unlimited use for one project.  Non-promotional rates are $79 for a standard license and $499 for an enhanced license.
Wyatt Jenkins, Shutterstock's VP of Product, told Adweek that the company hopes to have suggested songs next to their stock videos.  Further in the future, Shutterstock hopes to allow users to upload their video clips and have an algorithm suggest tracks.
Is Shutterstock trying to replace music supervisors?
When Nina Ulloa isn't writing for DMN she's usually reviewing music or at a show. Follow her on Twitter.