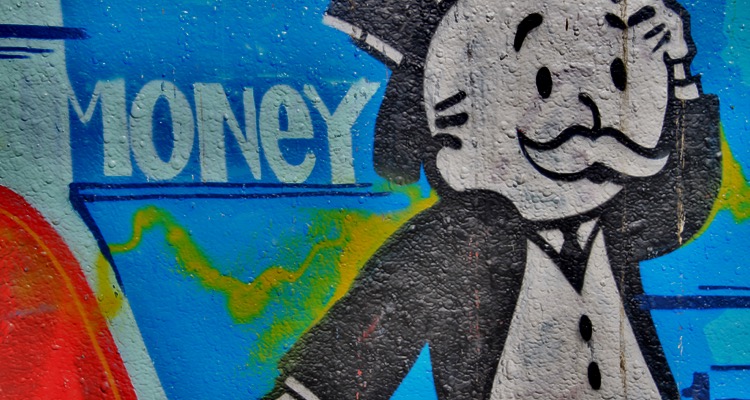 These are the bands that pull in more than $100,000 a gig, with a large number attracting more than several hundred dollars per show.  A select group pulls more than $500,000, with artists like Justin Bieber, Justin Timberlake, Dave Matthews, Madonna, and even James Taylor attracting more than $1 million for one performance.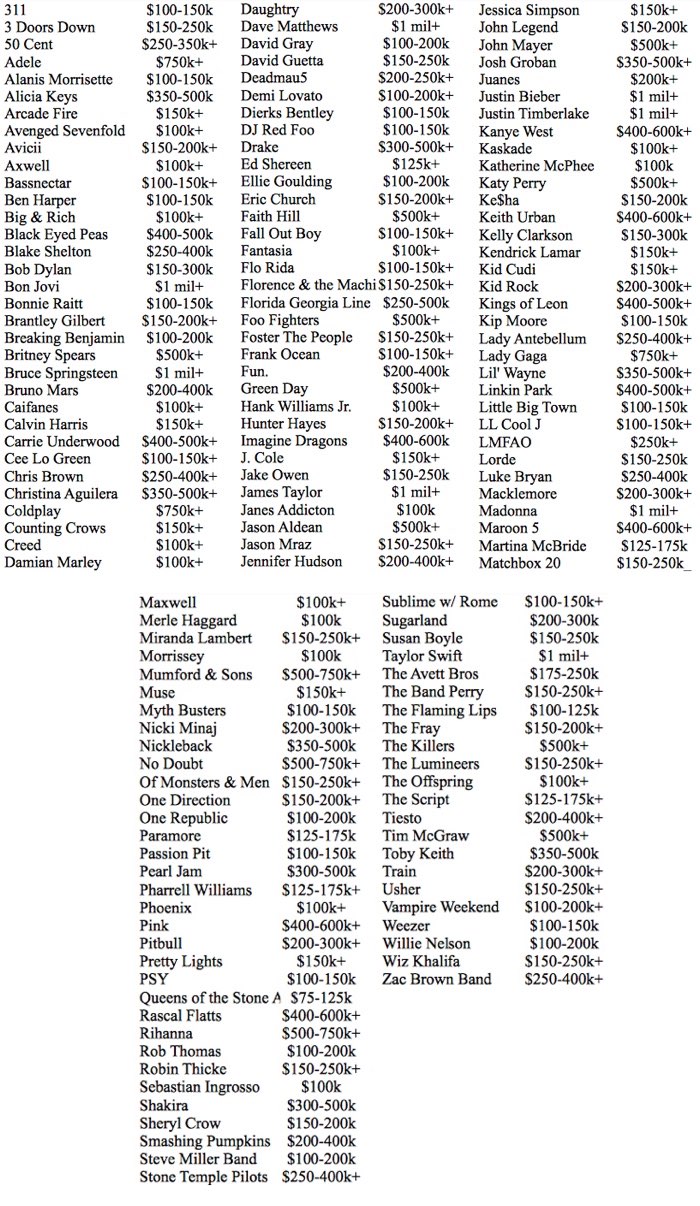 Keep in mind that most of these artists are making at least $100,000, with a '+' indicator suggesting that this is a starting point.
A long list of other pricing tiers below $100,000, here.  Here's a quick breakdown of artists starting at the $100,000 floor (ie, don't even pitch them on a lower amount):
Alanis Morissette
Axwell
Avenged Sevenfold
Bassnectar
Bonnie Raitt
Big & Rich
Ben Harper
Caifanes
CeeLo Green
Creed
Damian Marley
David Gray
311
DJ Red Foo
Dieks Bentley
Demi Lovato
Fallout Boy
Ellie Goulding
Frank Ocean
Flo Rida
Fantasia
Katherine McPhee
Kaskade
Jane's Addiction
Hank Williams, Jr.
LL Cool J
Little Big Town
Kip Moore
Morrissey
Merle Haggard
Sublime w/ Rome
One Republic
The Offspring
Myth Busters
The Flaming Lips
Passion Pit
Vampire Weekend
Phoenix
Weezer
Willie Nelson
PSY
Rob Thomas
Sebastian Ingrosso
Steve Miller Band
Swinging over to the higher end of things, these are the artists commanding at least $1 million for one show:
Bon Jovi
Bruce Springsteen
Justin Bieber
Justin Timberlake
James Taylor
Madonna
Taylor Swift
Adele is listed here as commanding a $750,000 floor, though that figure has probably pushed past $1 million at this stage. Perhaps James Taylor is the surprising member of the million-plus club, though older fanbases (combined with emerging, younger fanbases) can drive up a performer's price significantly.  Also, keep in mind that these figures are mere starting points: just recently, word leaked that Justin Bieber received a $5 million offer to play the Republican National Convention, which he allegedly turned down in part because of the Democratic leanings of his manager, Scooter Braun.
Top image by Thomas Galvez, licensed under Creative Commons Attribution 2.0 Generic (CC by 2.0).