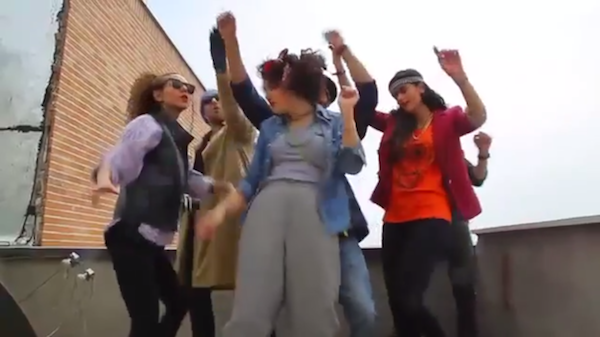 Pharrell's "Happy" is just good clean fun, right?  Tehran's police don't think so.
A group of young people in Tehran recorded a video remake of "Happy" and uploaded it to YouTube in March. This type of re-appropriation has become a huge part of what YouTube is about.
The video had well over 30,000 views before being taken down, but here's a reposted version:
Tehran police arrested between 7 and 13 people in connection with the video, according to various reports.
Police chief Hossein Sajedinia said the video is "vulgar" and has "hurt public chastity", according to the state-run SNA News Agency.
The women in the video are unveiled, which is illegal when in public.  Dancing is also looked down upon, especially between men and women, who are not supposed to be socializing.
Those arrested were interrogated on state TV.  They said officials had told them the interrogations would not be broadcasted.
In the interrogations, the participants said they were tricked into making the video by the director.  However, in an interview with IranWire, one of the participants discussed the difficulty of making the video in secret.
Pharrell wrote about the arrests on Facebook, saying: "It is beyond sad that these kids were arrested for trying to spread happiness".
Iran's President, Hassan Rouhani, has been advocating for less restrictions, especially in regards to the internet.  Following the arrests, Rouhani tweeted:
Now, Kambiz Hosseini, a New York based Iranian satirist, actor, TV and radio host, has tweeted: "All iranians in the happy video clip are free, except the director".
Nina Ulloa covers breaking news, tech, and more. She also runs West Coast Fix. Follow her on Twitter: @nine_u