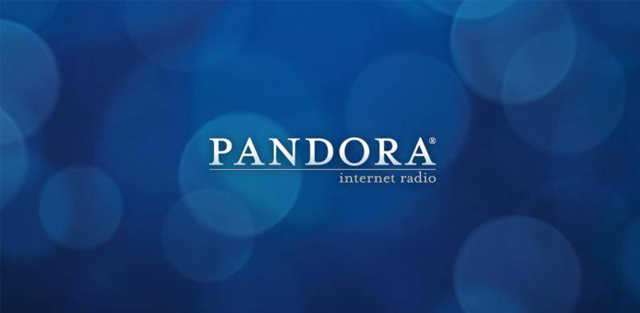 At the SF MusicTech conference in San Francisco this past Tuesday, Pandora's VP of Business Affairs, Chris Harrison, revealed (in a private chat after his panel) that Pandora is creating a backend interface where artists will be able to login and see their listener data. He didn't go into much detail, but it's safe to assume that data will include the number of streams per song, the top locations of where listeners are, full listener demographics, heat maps and other info to help artists understand what kinds of fans they have (and are gaining) on Pandora.
Director of Corporate Communications at Pandora, Mollie Starr mentioned that they don't have a planned launch date and "have not talked about exact features," but did mention that "features could include the ability to communicate with fans."
Being able to analyze listener data could help artists compare their actual streams on Pandora with the reported royalty reports from SoundExchange. There are thousands of artists who are not receiving accurate reports or checks from SoundExchange (myself included) and this could help give artists the ammunition necessary to get SoundExchange to take them seriously in paying out what is owed – or face a class action lawsuit.
Pandora has been an excellent way for independent artists to gain new fans. As an artist, I have heard from (new) fans who discovered me on the service and old fans who listen to my Pandora station regularly.
Pandora has experimented with ways to help artists over the years like integrating concert listings (which have mysteriously disappeared unfortunately) and iTunes and Amazon links.
With its 73 million+ active users in the US, New Zealand and Australia, this data is long overdue for artists.
Currently, the only artists able to see this data are those who visit the Pandora offices in Oakland, CA.

Pandora Now Allows Digital Submissions
Harrison mentioned that Pandora currently pays out 46% of its revenue to SoundExchange for sound recording royalties and 4% to ASCAP, BMI and SESAC for composition royalties. If you do the math, I'll wait while you grab a calculator, Pandora pays out 50% of its revenue to collections agencies. Note, they are paying collections agencies, NOT rights holders or artists directly. And it's nearly impossible for independent artists to collect all of their sound recording royalties from SoundExchange. SoundExchange seems perfectly content holding onto this money for itself and paying out only the labels that scream the loudest.

SoundExchange Is Screwing Me Out Of Money And There's Nothing I Can Do About It
Giving artists the ability to view listener data and demographics is a step in the right direction, but doesn't go far enough.
Pandora should (re)integrate tour information, physical merch stores (like Spotify does), the ability for listeners to "follow" an artist and get notified when they release new music, merch or tour through their area.
Pandora's Current Artist Page: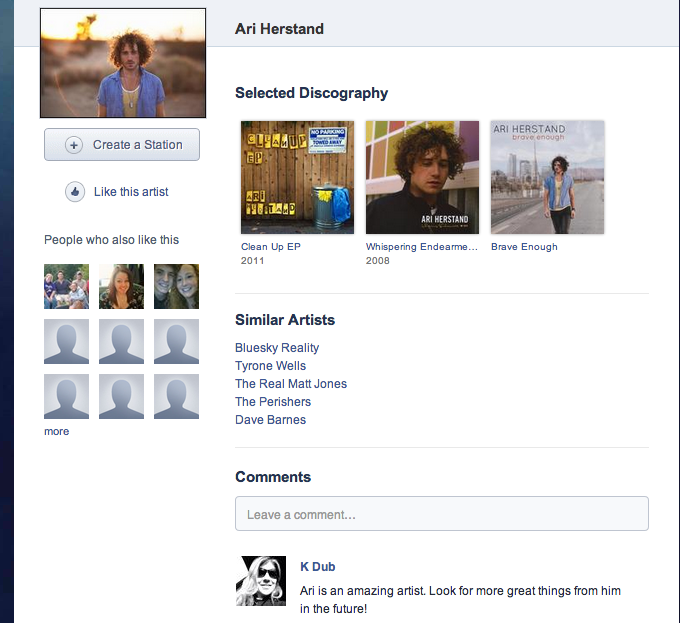 They could also expand the commenting section and encourage both artists and fans to utilize it bridging the gap between artist and fan over radio.
Pandora could also give artists the ability to create official profiles outfitted with everything above along with embedded videos, photos, bio, lyrics, discography, merch and news updates.
Bio and discography information on Pandora is currently only available via Rovi and lyrics via LyricFind (or directly from publishers). However, BandPage's  recent partnership with LyricFind will soon give artists the ability to get their lyrics added to many outlets including Pandora fairly easily. Not so with Rovi – which requires a physical press package and doesn't guarantee your bio will be submitted to their outlets.
iHeartRadio uses BandPage to present artist curated content (like bio and tour dates). If Pandora isn't going to offer artists direct access to display this important information, Pandora should at least partner with a 3rd party service (like BandPage) to display artist information allowing artists to gain fans and then access that fan data.
Pandora struck a deal with BandPage for concert listings back in January 2013. When asked about why Pandora removed its concert calendar and seemingly cut its ties with BandPage, BandPage's VP of Marketing and Artist Relations, Doug Scott, said "[Pandora's] concert calendar has indeed been deprecated. We remain on great terms with Pandora.  We can't comment on internal business decisions at Pandora."
Pandora's Director of Corporate Communications, Mollie Starr explained, "we weren't seeing a lot of traffic so have taken [the concert calendar] down while we re-evaluate our plans on how to integrate concert information into our site."
Will Pandora team up with Topspin's ArtistLink like Spotify did? Unlikely, now that Topspin has been acquired by Beats. Pandora is big enough where they could build a backend interface allowing artists to import all of their data themselves – however this massive project would require a new department at the company. PandoraArtists.com? Would be great to see!
Allowing artists to see the extremely valuable listener data is a great start, though. Once artists are able to use this data to route tours and work with promoters, Pandora's favorability with artists will increase tremendously.
Pandora's #1 focus should be finding ways to help the artists that make their service possible.
Unlike publishing companies, performing rights organizations and labels, touring independent artists don't care as much about how much money they can make off of Pandora streams, they care more about how they can gain fans and then get in touch with those fans. Yes, artists of course would like to see some decent revenue from Pandora, but approaching Pandora as solely a way for artists to make money directly from the service is completely the wrong approach.
Technology companies and artists can work together for mutual success, but both parties need get creative and approach it in drastically different ways.