I sat down with reps at 8 different digital distribution companies, CD Baby, DistroKid, Ditto Music, Loudr, Mondotunes, ReverbNation, Symphonic, Tunecore and Zimbalam, to get a full in-depth look at each company and for the reps to explain to me their company's best features (that I may have missed scanning their FAQ).
Being a musician, I asked them questions I deemed most important for independent musicians. I have personally distributed 8 releases to date using a few of these services.
This review is just taking a look at companies that will get your music into digital stores and streaming services, like iTunes, Spotify, Google Play, etc and NOT about stand alone, digital download, self-managed stores, like BandCamp.
I also left out distribution companies who only work with labels (like The Orchard and Believe). Any artist can signup to any of these distribution companies without having to be approved.
Full disclosure, I should say, I have used CD Baby, Tunecore, DistroKid and Loudr to release my music in the past. I just released my latest album and this piece honestly helped me decide who the best company for this release was.
There is no "winner" necessarily because each company has unique features that may be super important to some artists and not at all to others. Every artist's situation is different.
If you have any questions or have used any of these companies please let me know in the comments below!
On to the Comparison!
(in alphabetical order)
I spoke with Kevin Bruener, Director of Marketing and a musician himself. He has been at the company for 8 years and worked alongside founder (and music biz icon) Derek Sivers for many years. This is one of the biggest (and the first) independent digital distributors in the world. They have over 330,000 artists signed up to their service.
Best:
* Because they have been along for so long, they are proven and aren't going out of business anytime soon (your releases (and reports) are safe).
* They offer physical CD and Vinyl distribution as part of the digital signup price (they will fulfill (mail out) CD/Vinyl orders for a fee of $4 a pop).
* No yearly (or hidden) fees. Once you signup an album you never pay again for any service (other than publishing).
* iTunes weekly Trend Reports. Still don't get paid for a couple months, but you can see how the new release is doing.
* They also offer their publishing service CD Baby Pro that will link up. I did a full report on that here.
* Only company to collect SoundExchange (Rights Owner) royalties for you. It's a massive process (and headache) to signup as a rights owner (and fill out their catalog spreadsheet). CD Baby covers this for you. You still have to signup as a Featured Artist on your own with SoundExchange, but this cuts a lot of the hassle down.
Worst:
* They take 9% commission.
* They charge $5 for single UPC or $20 for album UPC. These aren't optional add ons. You can't distribute your album without a UPC – so add on an additional $5/20 for each release.

I spoke with the founder, Philip Kaplan about his service. He is a musician and programmed it all himself. He is also the founder of the musician meet up site, Fandalism with over 600,000 musicians signed up. DistroKid is the newest service on the market. It opened up to the public on October 10th, 2013. It's a completely different model than all the other digital distributors. They have been recommended by Derek Sivers (founder of CD Baby) and Jeff Price (founder of Tunecore) – who no longer work at the companies. It now has over 90,000 artists in its network and has distributed over 700,000 songs.
Best:
* Unlimited songs. You heard right. Whether you release 1 song or 1000 songs, it's still $19.99 a year.
* Their website is SUPER clean and simple and you can get started with no headache.
* They offer revenue splitting for your collaborators and will pay them directly whatever percentage you designate. They are the only distribution company that has this process automated (Loudr does this, but you have to contact support)
+DistroKid Will Now Pay Anyone Who Worked On Your Song
* They do not take commission.
* They clear cover songs with a check box (and get you the proper mechanical license)
* Email every step of the way. Every step that you complete you will receive an email – including when it's live on the store (only company that does this).
Worst:
* They charge for their "Store Maximizer" feature which automatically adds all your releases to any new store that comes out. Worth noting, you can manually add your releases to new stores (for free), but who is going to keep checking back to see if any new stores are added? Adding releases to new stores should be built in for free. **Update 5-4-15
* They do not work with an admin publishing company to collect all of your composition royalties. To collect these, you will need to work with SongTrust or Tunecore Publishing in addition to DistroKid (CD Baby Pro does this, but only for songs distributed through CD Baby)
* Extra features prices (like the Store Maximizer) is not clearly stated in their FAQ or their pricing page. It's only on the actual Upload page.
* They charge $.99 PER SONG for Shazam atop of the $20 a year

I spoke with Lee Parsons, the co-CEO and co-founder of Ditto Music (his brother is the other co-CEO/founder). He is a musician from the UK (now living in Nashville and heading up the US operations). Because Ditto started in the UK its main focus (and angle) is for UK artists. Anyone in the world can signup, but there is a clear UK focus on the website (just like there is a clear US focus on the other sites). They have about 60,000 total artists (now nearly split evenly US/UK and many coming in from Sweden and Australia). Not the biggest, but definitely large!
Best:
* Will distribute up to 10 songs to (just) iTunes for free
* They do not take commission
Worst:
* Lots of expensive extra services (which are free with other companies).
**Update 7/25/14 Customer Service. I've heard from many readers, once you pay for services you never hear from them again. This is more than one isolated incident so I have to mention it. I originally had Customer Service under one of their "Bests" as it is listed on their website that they have won awards here. But unfortunately, I'm moving it to one of their Worsts because of the responses I've received.
**Update 10/8/14 Ditto threatened to sue me for asking a question. They are hiding something. I've heard reports from readers that they cannot get their albums removed from stores and aren't getting paid. STAY AWAY
* They do not work with an admin publishing company to collect all of your composition royalties.
To collect these, you will need to work with SongTrust or Tunecore Publishing in addition to MondoTunes (CD Baby Pro does this, but only for songs distributed through CD Baby)

**Update: 3-4-16: Loudr has handed its distribution services over to CD Baby. As of now you can still signup with Loudr distribution through their site, but in the future they will be completely transitioning over to CD Baby's services. Read what I wrote about this transition here.
I spoke with the founder, Chris Crawford. The service was created by 8 musicians. This is the 2nd newest service (by 16 days) and launched October 1st, 2013. Chris had a previous distribution company primarily used for A Cappella groups. Loudr's digital distribution service is mainly for cover artists to easily get their music on iTunes. Loudr goes directly to the publishers and gets licenses directly for their artists (instead of the artist having to hunt these down). Chris used to work at iTunes so has "an in" there still and understands it a bit better than most new distribution companies. They have a stand alone download store, similar to BandCamp, which is their main focus, but I felt it was worth to include their digital distribution feature as it's innovative and unique.
**Update 4-27-15: They have recently added a mechanical licensing service so you can obtain a license from Loudr and distribute with other services.
Best:
* No signup fee. You heard right. This is the ONLY company that is free to get unlimited music on iTunes. Whether you're releasing a single or 10 simultaneous albums, it's free.
* Obtains mechanical licenses for your cover songs
* Revenue splitting. If you have multiple artists creating a song together (like collaborations) and all artists are owed revenue from the downloads, they can all sign up for Loudr accounts and Loudr will pay out the respective percentages to each artist. This is especially great for "YouTubers" who constantly collaborate on cover song videos.
+Watch Out Harry Fox, Loudr Is Coming For You
Worst:
* They only distribute to 7 outlets – the fewest of any company
* They take 15% commission. (If you want Loudr to clear cover songs and obtain the mechanical license for US downloads it's 30% – just for US downloads though, it's still 15% for streams/international downloads)
* Most of their features like iTunes pre-order setup and digital booklet creation you cannot do on the site, you have to work with a support member.
* They do not work with an admin publishing company to collect all of your composition royalties. To collect these, you will need to work with SongTrust or Tunecore Publishing in addition to Loudr (CD Baby Pro does this, but only for songs distributed through CD Baby)
* They have passed off distribution to CD Baby and will be discontinuing their distribution services in the coming year. They WILL NOT, however, rip down your music though. So don't worry about losing reviews or rankings. They will just transition your existing catalog to CD Baby's reps for support.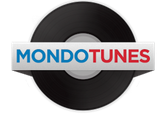 I spoke with the co-founder Steve Norris, a self proclaimed "serial entrepreneur" and a musician. They do not have direct partnerships with their outlets, but rather work through Interscope/Universal Music Group's (UMG) distribution arm.
Best:
* They distribute to the most outlets by far. They are the only distributor that gets you to the same outlets UMG will. Other distributors built up direct relationships with retailers over the years, while Mondotunes just teamed up with UMG's distributor who had these relationships already.
* No yearly fees
Worst:
* They threatened to sue me for calling out the fake, very pro-MondoTunes (and anti-others) comments on this report on Ari's Take. Steve sent me a loooong 8 paragraph email trashing the other services (before I posted this review). The fact that they have to go out of their way to trash others and are so defensive makes me think they are hiding something serious.
* The look of their website. Their website is so ugly and unprofessional looking it may get some to disregard all their good features and run away fast. Seriously guys, get this shit updated ASAP! They need a logo upgrade and a graphic design artist and web programmer who understand how images work on the web (pixelated edges, sloppy logo, etc). Their toolbar looks like it is out of a 1997 Website Building for Dummies book. With how many artists they infer are signed up (they would not give me a number) they should have the money to seriously overhaul this sloppy site.  I have a guy if you're looking.  Seriously.  Sorry for the rant, but come on, you're competing with the big boys now.
* (Up to) 30 days to get on iTunes. Because they're working through another distributor it takes them much longer to get releases out. They have set their release date (by default) to 30 days. Sometimes it's quicker. Sometimes it's longer. If you'd like to have it expedited (1-14 days guaranteed, it costs $25).
* They DO NOT pay 100% of net income (like they claim on their FAQ – awfully misleading).
Their distribution partner (they asked me to withhold name) takes 10% commission of net income from retailer. They have since updated their FAQ to mention this (only after my initial report came out and made mention of this clear, misleading omission).
I spoke with reps from ReverbNation twice. First with Ferol Vernon, Senior Vice President and General Manager of Artist Services, when I initially worked on this report for Ari's Take (11/2013), and most recently for this updated report I spoke with the CEO, Mike Doernberg.
ReverbNation is a one stop shop, "all in one package" for new, young musicians. They don't target established musicians and they have built up a huge network of bands just starting off who don't know where to begin (their website boasts 3.56 million). RN tries to keep everything in house (email services, EPK, social media sync, etc), which is great for bands starting off, not good for more established, mid-level bands. They also do not have direct relationships with outlets but use INgrooves Fontana for distribution (like Mondotunes).
Doernberg explained to me the vision of ReverbNation and explained they are currently in a company transformation. Since I first posted this initial report on Ari's Take, ReverbNation has updated many of their policies, price points and distribution outlets. I guess blogs can make a difference!
Best:
* Packages. For $19.95 a month they offer a mailing list service (up to 10,000 subscribers), free song downloads, the ability to submit to opportunities such as TV placements and festival slots, and distribution of 2 releases per year.
* Tons of Data. Because they have so many bands who have registered so many shows, they have a touring database built up (similar to indieonthemove.com) that can help bands find venues of similar size in multiple cities.
Worst:
* Everything a band sets up with ReverbNation is branded heavily with ReverbNation. It's hard to operate independently from them in any respect.
* They do not work with an admin publishing company to collect all of your composition royalties. To collect these, you will need to work with SongTrust or Tunecore Publishing in addition to ReverbNation (CD Baby Pro does this, but only for songs distributed through CD Baby)
* They are built for the beginning bands and don't offer "professional" services for bands that outgrow the beginning model.
The newest company to this comparison review, however, not the newest company on the list. I added Symphonic because I'd been getting many questions from readers and felt I should check them out. Right off the bat, I'm impressed. I sat down with the founder and president, Jorge Brea. They are another boutique operation (like DistroKid and Loudr) and only have 15 employees.
Symphonic is one of the few distribution companies out there that caters more to EDM artists, DJs and Producers (but distributes artists of every genre).  This company was started in 2006 by Brea and now has a roster of over 15,000 artists and 3,500 labels.
Best:
* They do not take a commission
* No yearly fees
* They distribute to Beatport and Pandora
* Have a deal with the global not-for-profit independent digital rights agency, Merlin, which allows them special preference and benefits like Pandora/Beatport acceptance and higher royalty rates. Merlin bargains on behalf of their 20,000+ members (labels/distributors)
* They offer physical CD and Vinyl distribution (in part, powered by CD Baby). They have also partnered with Alliance Entertainment to get your records in shops around the world (must apply for this – not all are accepted).
* Symphonic has an opt-in admin pub service (they use Tunecore Publishing)
* Symphonic distributes to China and Korea.
Worst:
* High signup fees
* up to 2-3 weeks to get up in stores
* They don't distribute cover songs (automatically). Their FAQ actually states they don't. Period. But Jorge mentioned that they will if you write in and send the paper work. This is a lot of work, whereas other companies either do this for you or have a check box.
* Their slogan is "Become Major" which is misleading as every musician equates "major" with "major label."

I spoke with Chris Mooney, Senior Director of Artist Promotions and Strategic Relationships. That's a mouthful. They are one of the biggest distributors and he mentioned that 1 in 3 artists playing SXSW this year was a Tunecore artist.
**Update 9/21/15 – Tunecore has been sold to Believe Digital.
Best:
* They do not take a commission
* iTunes, Spotify and Amazon MP3 Trend reports. You can see how much you sold on iTunes and Amazon (and streamed on Spotify) THE NEXT DAY. You still don't get paid for a couple months, but this is a great way to see how a release is doing.
* Their backend stats are the best. They have better (more transparent) reporting of your sales, streams and demographics than any other service. Hands down.
* They've been around a long time and are proven. Like CD Baby, they're not going anywhere anytime soon. Your releases (and reports) are safe!
* They have a publishing service linked up that you can read more about here.
Worst:
* Yearly fees
* Additional store costs. Every store they add after you initially sign up costs $2 to send your existing release to them. Or you can signup for their "Store Automator" for $10 per release to distribute to all future stores at no extra cost. Imagine my horror that releases I had with Tunecore from a few years ago were NOT sent out to a bunch of popular (newer) stores and now I owe over $150 to get it to them?! That's great they continue to add stores. It's super shitty they charge for each store. Ouch. No other company does this.
* High fees for most extra features
* They are now owned by Believe. I don't trust Believe after what they did to Zimbalam artists once they acquired Tunecore (they made every UK artist take down all their releases – losing all reviews, ratings and playlists – and redistribute through Tunecore). Whose to say they won't do the same to Tunecore artists down the line for another company they acquire? Or just directly through Believe.

***Update 9-13-15
Zimbalam is shutting down.
+Believe Digital Acquires Tunecore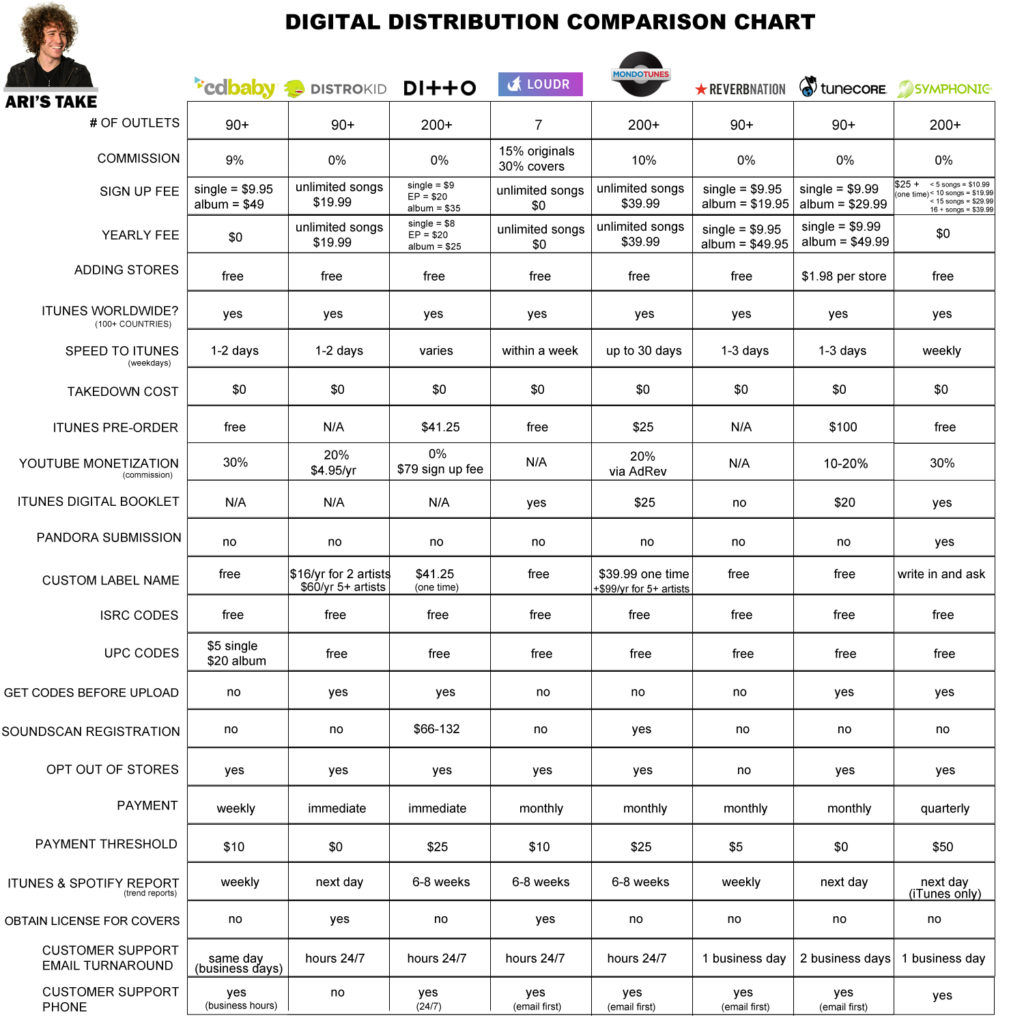 Chart updated 10-3-2016
Terms from above chart:
Number of Outlets:
It's very tough to get an accurate number from anyone. I got a (somewhat) complete list from Ditto, ReverbNation and Mondotunes, but they claimed they hit more stores than their list stated. All distribution companies said numbers fluctuate so much because many outlets are sub distributors (like Medianet and 24-7) who send your music to stores they are partnered with. The outlets listed on each distributors' site are just the biggest. Mondotunes has by far the most (they hit most of Asia. Symphonic hits China and Korea). While Ditto seems to be a close second claiming they hit "all stores." It seems CD Baby, Tunecore, Reverbnation and DistroKid send it to about the same places, while Loudr are very clear they only support the ones listed. At some point this numbers game got way too absurd.
More, though, isn't necessarily better.
All distributors hit iTunes and Spotify worldwide.
AND REMEMBER, just because you're in more stores doesn't mean you'll make more sales. You have to be able to promote to people who buy from those stores.

Commission:
How much the company takes of the net amount. Meaning, after iTunes takes their cut of 30%, these stores will take 0-30% of the remaining amount.
Signup Fee:
This is the fee the distributor charges to get your album distributed and covers the first year of distribution.
Yearly Fee:
This is the fee the distributor charges after the 1st year signup fee. CD Baby, Mondotunes, Symphonic and Loudr don't have this, the others do.
Adding Stores:
All of the distributors are constantly bringing on more stores and outlets based on those that rise and fall in popularity (some shut down like turntable.fm and others pop up and take over the industry like Spotify). Only Tunecore charges per store they bring on. DistroKid has a Store Maximizer option to automatically add stores for a fee, or you can login and manually add each new store for free.
iTunes Worldwide:
Every distributor sends it to iTunes in 100+ countries. It's important for someone in Venezuela who falls in love with your YouTube video to be able to download it from iTunes.
Speed to iTunes:
Chris at Loudr used to work at iTunes and explained that "there's no guarantee with Apple." However, CD Baby and Zimbalam have proven to Apple that their content is up to Apple standards and they no longer get flagged for review. Apple randomly flags releases for review from all the other retailers and if your album gets flagged it can add an extra 16 days to get to iTunes, HOWEVER, any distributor can ask iTunes to expedite it by simply clicking a button on their end.
Takedown Cost:
The cost to remove your album from all digital retailers. Distributors used to charge for this, but thanks to this report, none do anymore. Boom! The power of transparency!
iTunes Pre-Order:
You know how you can buy some artists' albums on iTunes for about a month before the release date and then get it at 12:01AM the day it's released? That's pre-order. Some companies offer "instant gratification" song(s) that customers can get the moment they pre-order the album. Some also are able to set the pre-order price different than the sale date price (like $7.99 pre-order vs. $9.99 day of).
YouTube content ID monetization program:
Will you get paid for your songs on YouTube. Be careful, though, no company should take a % of revenue generated from your videos on YOUR channel – both CD Baby and Tunecore's affiliates do. Audiam does not. However, typically you can "whitelist" your channel with most YouTube monetization companies (however you then have to signup for Google's ad service which is a headache).
And to clarify, no company REQUIRES YouTube monetization. These are all opt in add ons.
+11 Mistakes Every Young Band Makes
Digital Booklet in iTunes:
The ability to offer a PDF booklet that accompanies the album when it's downloaded.
Pandora Submission:
You no longer need a physical CD to submit to Pandora! Hallelujah! Read more about how to submit to Pandora digitally (anyone can) here.
+How To See Your Listener Data On Pandora
Symphonic Distribution is the only company that will submit you directly to Pandora.
Custom Label Name:
All retailers want to know who the label is. If you don't list one, the retailer will most likely default to the distributor name or the artist name. To have control over this create your own label name when distributing.
ISRC / UPC codes:
ISRC codes are identification codes encoded into the digital files (and in your CD – you should send these codes to your mastering engineer) that helps with tracking and charting. To register with Soundscan you need a UPC code. UPC bar codes are also necessary if you want to sell your CD/Vinyl in stores.
+How To Hire Freelance Musicians
Get Codes Before Upload:
Some mastering engineers like to encode the CD with the ISRC and UPC codes before sending the CD to replication. This ensures that all digital files will be encoded properly and chart accurately. Not being able to get the codes before you are able to upload the masters inhibits tracking. That being said, with sonic recognition software coming out and very few people importing CDs anymore, it's not super necessary to encode the CD with these codes anymore, so don't let this be the deciding factor on who you choose.

Soundscan Registration:
It's free and super simple to do. Go to http://titlereg.soundscan.com/soundscantitlereg/ to do this. All digital retailers report their sales to Soundscan for chart placement. By registering your UPC on the Soundscan website it insures that the sales are tracked to the proper release (and artist). If your physical CDs are sold in physical stores (remember those?), those stores will report their sales as well based on your UPC code. Worth noting that Ditto's "Chart Breaker Package" registers for worldwide charts (not just Soundscan).
Opt Out of Stores:
Some independent artists have territory specific record deals and cannot distribute their album independently in certain territories (like a deal with Universal UK – not US). It's important to have this flexibility. You never know what lies ahead for your career.
Payment:
When payment will be in your bank account (or Paypal)
Payment Threshold:
How much you have to have in your distribution account before you can withdraw the money.
iTunes Reporting:
DistroKid, Tunecore, ReverbNation, Zimbalam and CD Baby are the only services that will let you know how your release is doing in iTunes day by day (Tunecore, DistroKid) or week by week (CD Baby, Zimbalam and ReverbNation). All the others will let you know when they get paid from iTunes 6-8 weeks later. Some have added Amazon, Spotify, Deezer trending reports as well.
Obtain License for Cover Songs:
If you want to releaser a cover you must obtain a license first. It's kind of a headache, but you can do this from Harry Fox Agency, Loudr or Easy Song Licensing.
+ How To Legally Release Cover Songs
Customer Support Email Turnaround:
I tested all of this
Customer Support Phone:
Sometimes it's important to get a response right away.
Conclusion
Clearly, there is no "best" service. MondoTunes and Ditto, though, are the worst. After MondoTunes trolled my comments board and threatened to sue me, I can comfortably put them in the "do not work with this company" category. And the Ditto CEO lashed out at me and threatened to sue me for asking a question. What is it with CEOs and a lawsuit power trip! I went into this review with absolutely no bias, but digging deep into these companies have really shown me their true colors. And Ditto and Mondo's ain't pretty. I'll leave it at that.
+How To Guarantee Your Music Is Heard By A Film/TV Music Supervisor
As for the best?
Well, you have to decide what is best for your situation. Distrokid is best for constant creators; for those who don't work in album cycles, but create music all on their own and want to put it out in the world immediately. Loudr is ideal for cover artists, collaborators and those who don't want to pay any upfront fees. CD Baby and Tunecore are great for all their extra features and because they've been in the game for so long. Symphonic has a deal with Merlin, so they get some special benefits. ReverbNation is good for beginning artists who like everything bundled together with the utmost guidance. Where do you belong?
It's also worth mentioning that Mondotunes and Ditto took swings at the other companies when chatting with me. Props to the others for only talking about the companies they represent. This isn't a political election!
If you have any questions, comments or experiences with any of these companies please list them in the comments.
+CD Baby Pro vs. Tunecore Publishing (The Full Report)