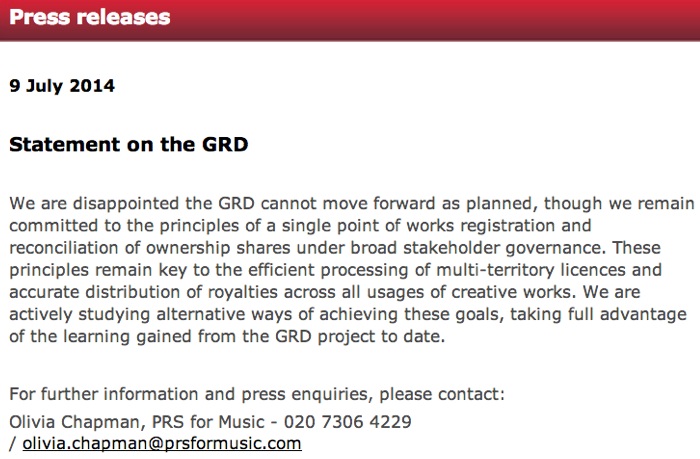 (Official statement posted by UK-based rights society PRS for Music on prsformusic.com) 
Imagine a massive, global database of every song ever created, worldwide, with a complete listing of every rights owner.  Now, keep imaging that.  
According to an official white flag issued by PRS for Music, the Global Repertoire Database (GRD) will not be moving forward, despite significant investments north of £8 million (or $13.7 million in USD).   That money is now somewhere in the music industry ether, as critical contributions from participating collection societies and publishers never materialized.
Which means that searching, finding, and paying for the use of a song worldwide will remain a hopelessly complicated, nearly-impossible headache.
The vision behind the Global Repertoire Database was deceptively simple, but perhaps unfathomably complex: to facilitate easy licensing and payment on virtually any musical work, with available information spanning publishers, artists, labels, administrators, and appropriate collection societies.
Sounds unfathomably complex, except that complex problems can be resolved if the participants want them to be resolved.  But in the case of GRD, there is significant evidence that enough stakeholders didn't want this to succeed. "Some argue that having the societies involved in this venture at all, beyond becoming data providers, is counterproductive, because if and when the publishers start licensing digital services directly, an efficient repertoire database would render the societies redundant in that domain," noted Complete Music Update journalist Chris Cooke.
"And with the bigger societies all busy expanding their digital and multi-territory operations, they won't want that."