Makeup vlogger Michelle Phan has responded to Ultra Records' copyright infringement lawsuit.
Michelle Phan is one of the most popular YouTube personalities. She has over 6.5 million subscribers, and her videos have up to 50 million views each. Phan has appeared in advertising campaigns, and has released a book and a makeup line. Cosmopolitan claims that Phan made $5 million in 2013, largely due to endorsement deals.
Ultra's official complaint says that Phan willfully copied, altered, publicly performed, and distributed music that they own the rights to. Ultra says Phan monetizes the videos containing their music through ads. The label says they informed Phan that she was using their music without a license, and that she continued to infringe. In the complaint, Ultra says that Phan responded to a DMCA takedown notice with a counter-notification. Now, Ultra is seeking $150,000 for each song used.
Phan's spokesperson told the BBC that Ultra's complaint "lacks any merit," saying:
"Ultra agreed to allow Michelle to use the music and Michelle intends to fight this lawsuit and bring her own claims against Ultra… Michelle's intention has always been to promote other artists, creating a platform for their work to be showcased to an international audience. Kaskade, whose music has been featured in Michelle's videos, has publicly defended Michelle against Ultra's claims and acknowledges the success he's gained from her support."
Ultra's lawsuit revolves almost exclusively around Kaskade's music.  Thirteen of the 45 songs listed in the lawsuit are the sole work of Kaskade. Two songs are collaborations between Kaskade and deadmau5, and one song is a collaboration between Kaskade and Project 46. Twenty seven of the songs are by Late Night Alumni, a group comprised of Kaskade, Finn Bjarnson, John Hancock, and Becky Jean Williams.  The remaining two songs are by Haley, who frequently collaborates with Kaskade.
As I pointed out in my first story on this lawsuit, Kaskade wrote a blog post exactly one month ago.  In this post, Kaskade explained that he sold the rights to his music to Ultra, and that these songs now belong to Sony. Kaskade can't post these songs to his SoundCloud page because they are automatically taken down. Kaskade went on to say that record labels aren't adapting, that they're clinging to copyright law that wasn't made for the digital age:
"The laws that are governing online music share sites were written at a time when our online and real-life landscapes were totally different. Our marching orders are coming from a place that's completely out of touch and irrelevant. They have these legal legs to stand on that empower them to make life kind of a pain-in-the-ass for people like me. And for many of you. Countless artists have launched their careers though mash ups, bootlegs, remixes and music sharing. These laws and page takedowns are cutting us down at the knees."
Kaskade voiced his support for Michelle Phan on Twitter:
Ultra Records' filed complaint is below.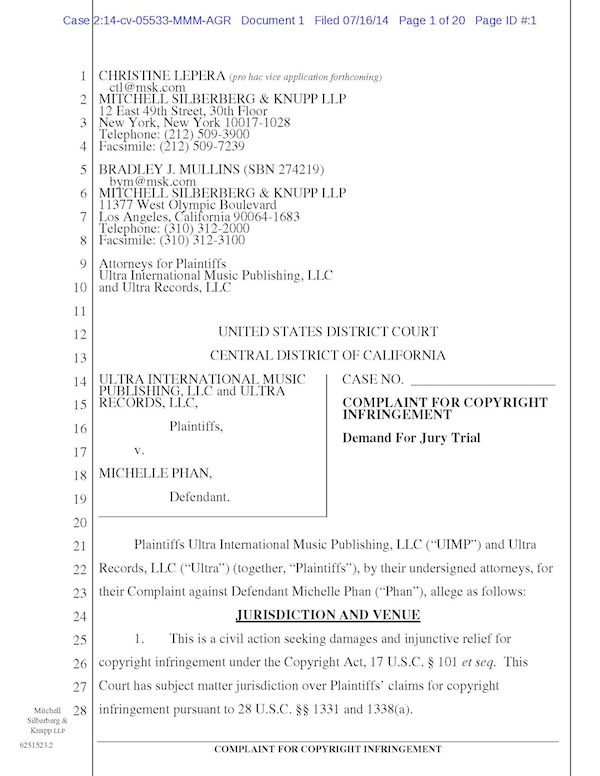 Read the rest of the complaint here.
Nina Ulloa covers breaking news, tech, and more. Follow her on Twitter: @nine_u