Back in June, a leaked Lady Gaga contract exposed just how artists get screwed out of their streaming royalties by major labels.
But that was just one trick in the bag: according to a just-filed lawsuit by American Idol label 19 Entertainment, major label Sony Music Entertainment has been using a clever game of mis-categorization to dramatically reduce streaming royalty payouts.
The trick, according to the lawsuit, works like this:
(1) Sony Music agrees to pay 50% of all streaming revenues, for everything from online radio (i.e., Pandora) to on-demand (i.e., Spotify).
(2) Sony then mis-categorizes all streaming revenues as 'distributions' or 'sales,' which are typically used for one-off transactions like CDs, album download, and vinyl.
(3) Sony's payment obligation is slashed by more than 70% (if they pay at all).
(4) The result is that all 19 artists, which include everyone from Kelly Clarkson to David Archuleta, receive a dramatically lower payout (if they're paid at all).
Here's the section of the complaint that describes the trickery: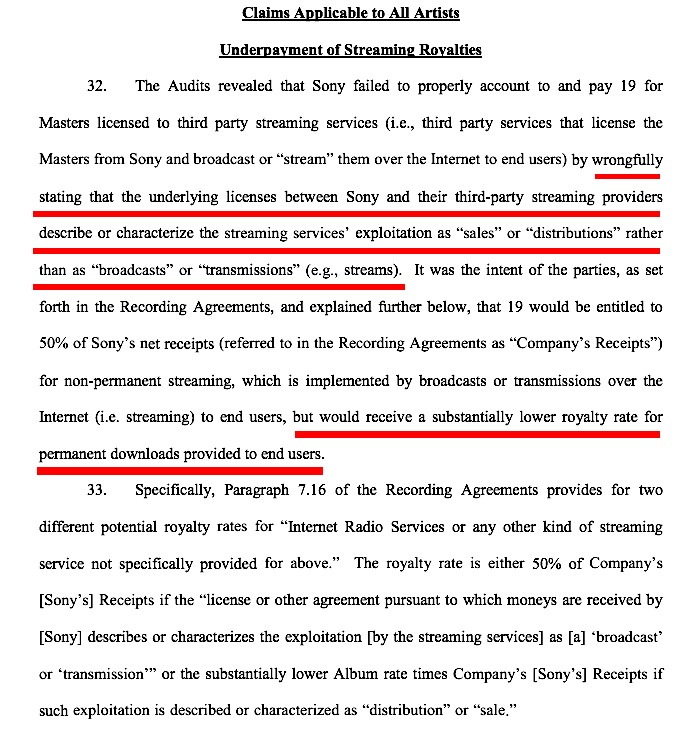 The full legal complaint is here.
Story thumbnail image by LawPrieR, licensed under Creative Commons Attribution 2.0 Generic (CC BY 2.0).