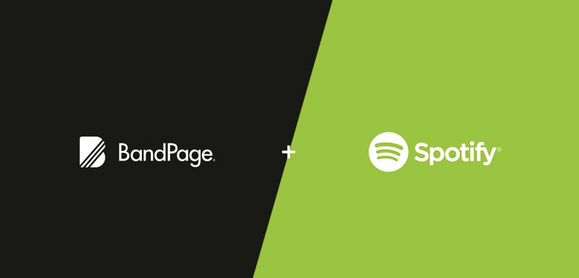 To say it was a headache to try to get merch listed on Spotify through Topspin's ArtistLink is an understatement. Since Spotify announced this partnership with Topspin this past December, I've been attempting to get merch listed on my Spotify artist profile. To no avail. I even worked with someone at Spotify directly to streamline this process. No luck.

So when Spotify announced their partnership with BandPage today to allow the sale of merch and experiences on artist profiles, I breathed an 8 month sigh of relief.

As of today, any artist around the world can get their merch and experiences listed on their Spotify profiles.
Neither Spotify nor BandPage Takes A Commission of Artists' Merch Sold Through Spotify
+Why BandPage Is Going To Be The Most Powerful Player In Music
BandPage started as a Facebook integration tool for musicians back in 2010. They have since evolved to be the preeminent artist hub in digital connectivity. Artists can upload photos, music, bio information, shows, videos, merch and "experiences" to their BandPage account and BandPage seamlessly integrates it to outlets that fans interact with daily, like YouTube, Rdio, Rhapsody, Shazam, iHeartRadio, Google, SongMeanings, Xbox, and now Spotify.
Thousands of artists currently offer experiences and specialized merch through their BandPage profiles, like meet and greets, soundcheck passes, autographed guitars, and pre-show guitar lessons and ping pong tournaments.
Mark Williamson, Director of Artist Services for Spotify, mentioned to me on the phone this morning:
"We see a huge opportunity, not only for the artist, but for the fan as well. You can discover your new favorite artist within Spotify. You can explore their catalog, but now you can also check out their merch table. The position that we're in to do this, with the engagement that we have on Spotify, is unprecedented." – Mark Williamson, Director of Artist Services for Spotify
With today's launch, thousands of artists have already gotten their merch and experiences listed on their Spotify profiles. Ariana Grande is offering access to an exclusive online concert. Miranda Lambert is selling a beer coozie/T-shirt combo. Porter Robinson is selling the mask that was featured in his new music video, along with a meet and greet. The Stone Foxes are offering a pre-show, sound check experience. And Tea Leaf Green's drummer and producer is selling an opportunity to collaborate with him on a track at his studio.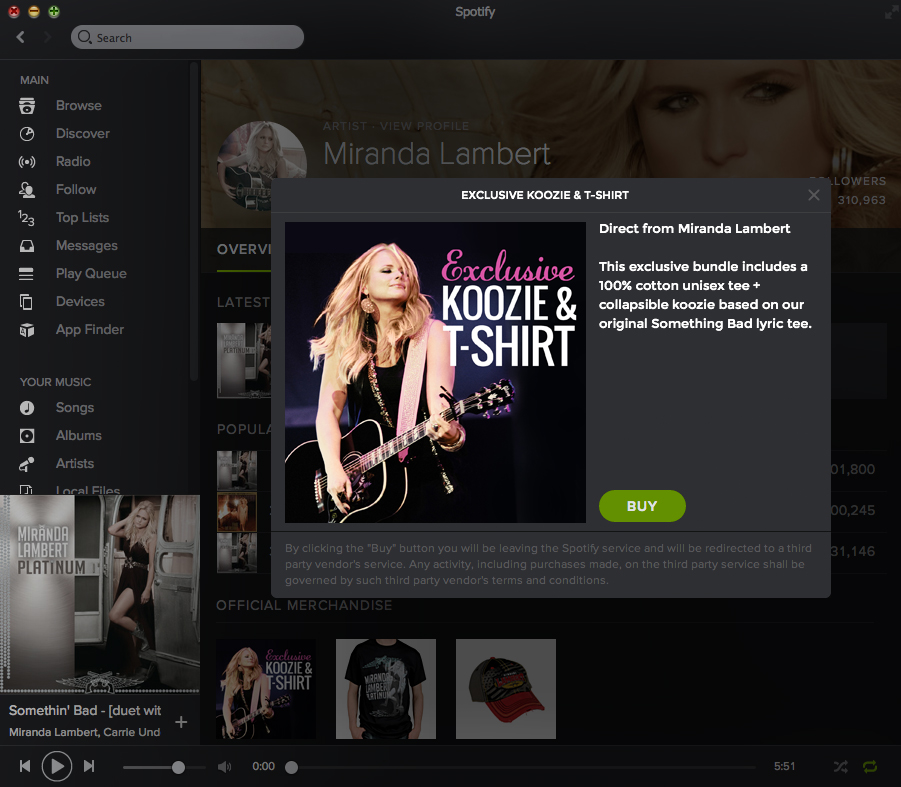 BandPage CEO J Sider explained to me this morning:
"Our main goal, and the reason I started this company, is to increase revenue for musicians and help grow their audience" – J Sider, CEO, BandPage
With BandPage's 500,000 artists and Spotify's 40 million users, both Williamson and Sider mentioned that they are excited to analyze the data over the coming months and see what is selling best on Spotify. Williamson mentioned, "If we find out that instant gratification merch works really well, like an online concert, and t-shirts (or something that has to come through the post) isn't working as well, we can then start to advise artists on that."
BandPage normally takes 15% commission on experiences and merch sold directly through the BandPage platform, but Sider explained that he is happy to forgo this commission (on items sold directly through Spotify) to help artists reach a larger audience – and of course get more artists to signup for BandPage in the process. To clarify, if a fan purchases an item on Spotify, the artist gets 100% of that sale, if a fan purchases the same item on BandPage, the artist gets 85%.
Spotify has never taken a commission from artist's merch integrated via Topspin's ArtistLink or via BandPage. Williamson affirmed, "if we can deliver value to artists and to our users, there's no reason for us to be taking cuts out of this."
Williamson said that artists who have their merch currently listed on Spotify via Topspin's ArtistLink will still be able to continue selling it that way. But why would they? BandPage will get any artist's merch listed on Spotify in 3 days. And artists can update that at anytime.
With the obscenely low streaming royalties earned from platforms like Spotify (with many of those royalties never actually making it back to the artist), it's nice to see Spotify exploring alternative ways to help get artists paid through their platform. Spotify lists that they pay out about $.006-.0084 per stream, but according to many artist's royalty statements, this is not entirely accurate. From my own analysis of various artists' Spotify royalty reports (mine included), it seems that the average rate (to the independent artist at least) seems to linger around $.004 (or less) per play. I don't have internal access to Spotify's data and would be curious to see the difference in royalty rates paid to major label artists versus independent ones. Or the difference in rates between artists getting millions of streams and thousands. The question, though, is why does Spotify list a royalty range when so many artists fall below it? Why list a range at all? Why not just list an average rate of one number? These questions may never be answered. But at least Spotify is working on ways to get artists paid through their platform aside from streaming royalties – as that seems to be a lost cause.
+Can This Company Save Streaming… And The (Independent) Music Industry?
With interactive artist profiles, a concert calendar and now a merch store, Spotify is providing the fan a full artist experience that iTunes has been too arrogant to ever consider.
Back in 2010 iTunes botched a promising service, Ping, when it positioned it as a social networking system and not an artist/fan bridge. iTunes officially killed Ping in 2012. Today, iTunes outfits artist profiles with photos and concert listings for only the labels who have a direct relationship with iTunes. Independents and DIYers? Forget about it.
Spotify is quickly figuring out that if it provides the fan a better experience and helps generate more income for the artist, it will win the music platform war.
The companies that develop their platforms with the DIY and independent artists in mind are the ones who will succeed in the long run. The companies that are trapped in the old system, pandering to the big labels, and don't realize the importance (and power) of the new independent musician, will be left behind.
"We see this huge opportunity that really sets Spotify apart. We have people coming back to Spotify to explore artist pages time and time again. Whereas our focus is on paying royalties and the way music is streamed, there's obviously this huge opportunity when it comes to ticketing, merchandise and other areas of an artist's life," Williamson remarked.
Spotify doesn't currently offer ticketing, but it seems they are looking into integrating this soon.
Starting today, any artist can offer merch and experiences on their Spotify artist page by setting it up through BandPage.
"The traditional merch table at the gig has been dragged into the digital world [and artists] are still doing a lot of the same things [digitally] that they were doing [at the gig] on their merch table, but I think the opportunity is much larger than that. There are a lot of artists who have been doing really interesting stuff so now that we can work with a partner like BandPage with our 40 million users, I think we can update what the merch table looks like in the digital world. " -Mark Williamson, Director of Artist Services for Spotify.