Back in April I came across the Gramofon Kickstarter page and immediately became excited. The Gramofon is essentially a box that connect to your home WiFi. Connect it to your existing speaker system via auxiliary cable and play music using your iOS or Android device as a remote. Pretty handy, and a perfect way to add a cloud music player to my 20 year old speaker system.

The Gramofon Kickstarter raised $315,295 in April, surpassing its $250,000 goal. Units sold for around $50. Gramofon units are currently being shipped to Kickstarter backers.

+Gramofon: An All-In-One Cloud Music Player, Social Jukebox, and Router…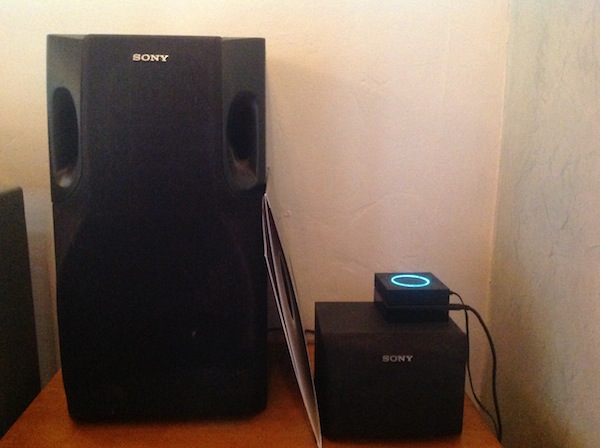 I recommend the Gramofon, but setting it up wasn't smooth. The first demo unit I received wouldn't update and wouldn't reset after I plugged it in. I had to return this unit, and the company shipped me another. Once I had a working unit I had to figure out the settings. Understanding the provided documentation and software was difficult, and I basically had to ask their team to walk me through it.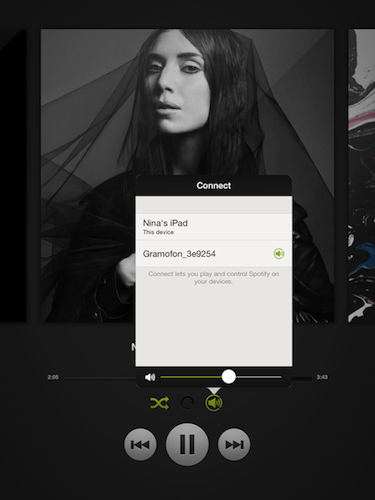 Currently, there's two ways to play music through the Gramofon: Spotify and the Gramofon app. The team says they'll add more music services in the future through a software update.
Spotify Premium is by far the easiest way to play music. Just connect your phone or tablet to the same WiFi network as the Gramofon, open Spotify, click on the Spotify Connect button, and choose the Gramofon from the menu.
The Gramofon app controls settings and plays music via WahWah Radio. I didn't have very much luck with this app. The volume of the music was entirely too loud and didn't sound good, and I had trouble using it to change settings. I had to change setting using the web. Navigating to http://fonera while on the same WiFi network as the Gramfon brings up a settings menu.
The Gramofon also allows multiple users to pick songs, adding them to the play queue, but I haven't tested this feature yet.
Despite the bugs, I do recommend the Gramofon. In fact, a second unit from the Kickstarter campaign is being shipped to me now. First generation tech always comes with bugs and a learning curve. If you're willing to work through the issues you can add a cloud music player to any existing speaker system.
Nina Ulloa covers breaking news, tech, and more. Follow her on Twitter: @nine_u