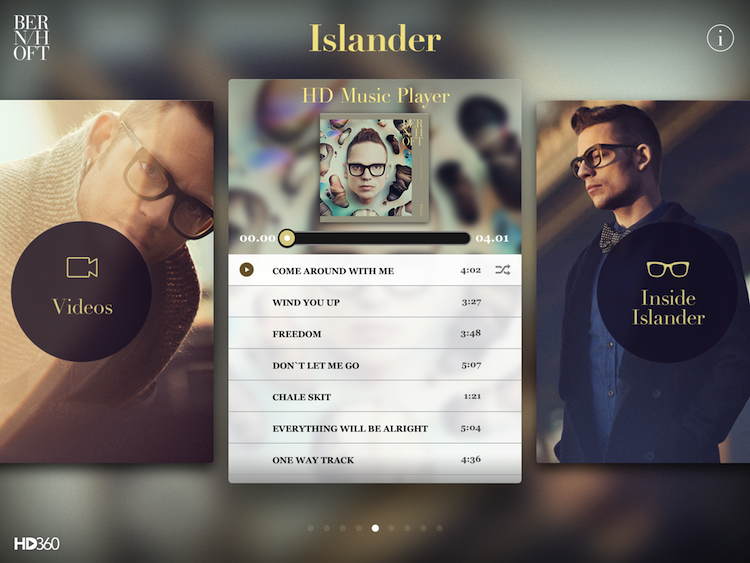 HD360 is a new app-based release platform for iOS devices. The company recently released their first app, an audiovisual version of Bernhoft's album Islander.

The purpose of the app is to bring the feeling of physical packaging to modern technology. Bernhoft says:
"…I've come from the world of vinyl, to CDs, to file sharing, to streaming and then back to a vinyl focus… What we wanted to do with the app was to bring all this together and get the feeling of a gatefold sleeve into the digital world."
The price of the app is a steep $19.99. Those who want "the feeling of a gatefold sleeve" might be better off spending that money on vinyl. Regardless, the app has some forward-thinking features.
The Islander app has48k 24bit HD album tracks. It also has 11 videos, stories, images, photos, a merch store, social media feeds, a loop station, and a mixing console.

The 360 degree video is pretty cool. It features a panoramic view of five Bernhofts playing the song "Come Around With Me".

The studio feature has a digital eight track mixing console of the song "Come Around With Me". Users can change the volume, panning, and reverb of the vocals and instruments. There's also an empty track so users can record their own audio, adding it to the song.

The looping station breaks the song "Wind You Up" into various parts. Users can create their own version of the song by triggering the loops.

The app may be expensive, but it's incredibly fun to use and is well designed. This is a good investment for Bernhoft fans, but casual listeners probably won't be willing to spend $20 on an app.

+Gramofon Review: Add a Cloud Music Player to Any Speaker System…


Nina Ulloa covers breaking news, tech, and more. Follow her on Twitter: @nine_u