Subpoenaed phone records from Verizon Wireless now show that the officer, Deputy Andrew Francis Wood, was actively texting with his wife in the moments immediately before mauling former Napster executive Milt Olin.  In total, nine separate personal text messages were recorded in the minutes leading up to Olin's death, including one message recorded less than one minute prior.
Olin was cycling on the curvy Mulholland Drive in Los Angeles on the afternoon of December 8th, 2013, when officer Wood veered into the bicycle lane and struck Olin, killing him almost immediately.  Olin was instantly lunged from his bicycle to his death.
Wood will not be charged for the mauling death, and is now back on the job.
In an official evaluation by the Los Angeles County District Attorney's office (top page above; full document here), witnesses indicated that Wood veered into the bicycle lane because of sloppy, distracted driving.  Wood was not pursuing another vehicle, and was not actively responding to an emergency.   Wood did not even apply the brakes prior to the collision, and said he didn't even see Olin prior to the accident (at 1:05 pm in the sunny afternoon).
Which makes sense, given this information revealed on page three of the same report (the collision occurred at 1:05 pm):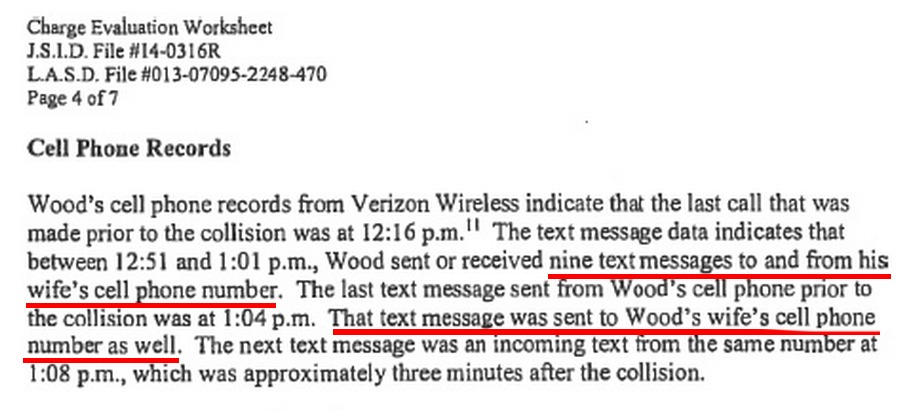 In a discussion this week with the Los Angeles Times, Olin family attorney Bruce Broillet said that the Los Angeles Police Department has denied any access to critical forensic evidence from the patrol car and scene.  That includes any access to a black box or dashcam (if that even existed at the time of the crash).  Furthermore, the family has not been given access to critical forensic evidence collected from the crash scene by LAPD officers.
The family is pursuing a wrongful death lawsuit.  "The family is deeply frustrated by the lack of information coming out of the Sheriff's Department's investigation," Broillet offered in a statement. "We intend to seek justice for Milton Olin and his loved ones."
 The complete Charge Evaluation Worksheet from the Los Angeles County District Attorney's office can be found here.